Wednesday, November 5, 2008
Dynamic duo of Gray, Jemerigbe leads St. Mary's to No. 1 preseason ranking

---
By Mindi Rice
ESPN HoopGurlz



There is a special something happening on a basketball court in Stockton, Calif.
Chelsea Gray and Afure Jemerigbe are among the top two junior guards in the country.
The St. Mary's girls' basketball team is a fun, giggling bunch, but the competitive group won't hesitate to keep score during practice or push each other to improve every day.
And the driving force behind St. Mary's success is the dynamic backcourt duo of junior stars Chelsea Gray and Afure Jemerigbe.
"It's a rarity that you have two players of that level on the same high school team," said St. Mary's coach Tom Gonsalves. "They're a level above most high school players. And they both can step up to another level against tough competition."
That's going to be the most important switch for St. Mary's this season, as the Rams have earned the top spot in ESPN RISE's preseason girls' basketball FAB 50. The Rams finished the 2007-08 campaign with a 33-1 record and a No. 9 ranking from Full Court Press, and they have loaded this season's schedule with some of the country's top teams.
Girls' Basketball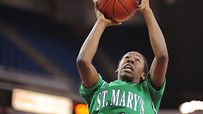 St. Mary's is in the driver's seat, as it starts the season as the No. 1 ranked team in the ESPN RISE Girls' Basketball FAB 50. Check out ESPN HoopGurlz's preseason content:
FAB 50 rankings / Regional rankings
Rice: St. Mary's earns No. 1 ranking
Kallam: Jemerigbe ready to take the shot
A season-opening trip to Beaverton, Ore., could set up an early game against preseason top-10 Regis Jesuit of Colorado, while a stacked Black Bracket at the Nike Tournament of Champions in Phoenix also will lead to showdowns with other highly ranked national opponents.
"We are fast," Jemerigbe said this summer. "We have a lot of chemistry; we've been together for a while and we have a lot of experience with each other."
The girls aren't cocky about their success, though, underplaying it, if anything. Gonsalves credits one of their early role models -- former St. Mary's standout and current USC player Jacki Gemelos -- for the girls' attitudes.
"She was the best point guard in the country and they all grew up watching her play," Gonsalves said. "She set the standard so high. … They're not cocky, not overconfident. They just continually try to get better, and they have the passion to get better."
It may seem tough to get better when you're already among the best, but it hasn't kept Jemerigbe and Gray from a continuous level of healthy competition -- battling with each other on who can push the other more. Perhaps Stockton's newspaper, The Record, will just name them co-players of the year this season; Jemerigbe got the nod as a freshman, while Gray earned the honor as a sophomore.
"Our practices are wars," Gonsalves said in October. "We don't run the first team together much, so it's pretty even competition, and we always keep score."
Early in the season, though, the task might be tougher for the 5-foot-10 Gray, ranked No. 15 in the ESPN HoopGurlz 100 class of 2010.
Jemerigbe injured her left ankle during a July tournament, and while she is on the road to recovery, she isn't completely healed or ready to play. Gonsalves said he and his staff won't push her rehabilitation and wouldn't give a time line, but his two-point-guard system will perhaps shift focus with one-half sidelined early.
But Gray should be up to the challenge after leading a tough Cal Storm squad during the summer; plus, she already has the experience of playing with her St. Mary's teammates.
"The minute Chelsea stepped on the floor as a freshman, she was our leader," Gonsalves said. "There was no doubt. … She's so cerebral, she just makes everyone on the team better."
Chelsea Gray will take the reigns while Afure Jemerigbe nurses an ankle injury.
And when Jemerigbe, a 5-foot-11 explosive speedster, does return, it should be at full force, which is a scary thought for opponents. The 19th-ranked player in her class, Jemerigbe is so fast that she'll catch your attention before you can figure out which player she is.
But no matter how the season fares, that one loss from last season -- a one-point defeat at the hands of in-state rival and then-top-ranked Sacred Heart Cathedral for the Division III Northern California title -- will still be on their minds, at least with anticipation.
"We're going to have to be more disciplined," Gray said this summer. "We know what to expect, so we're going to have to play up to those expectations."
As fate would have it, the Rams may get another shot at Sacred Heart this year. St. Mary's staff applied to move up to Division I this year, so when the breakdowns came out, Gonsalves and school officials were surprised to still be in Division III.
"When we called the section office, they said they'd never gotten our paperwork," the coach said. "It wouldn't have made things any easier though … you pick your poison. Either Scared Heart in [Division III] or Long Beach Poly in [Division I]."
The Rams will work with it, though, and hope to find success given the experience of the squad. Led by Jemerigbe and Gray, there are nine juniors who have played varsity since their freshman season. A scary thought for next year's opponents: There are also no seniors.
But with the tenacious duo on the court, a passion for the game and strong work ethic in practice have built the program into a force to be reckoned with this season and for the future.
"They've set a high standard for the rest of our team," Gonsalves said. "Every college in the country has been at our open gyms."
This season, more than just college coaches will be watching the Rams' path through some of the toughest possible opponents.
Discuss this on our Message Board.
Mindi Rice is a staff writer for ESPN HoopGurlz. She previously was an award-winning sportswriter at the Tacoma News Tribune and a barista at Starbucks, and grew up in Seattle, where she attended Roosevelt High School before graduating from the University of Oregon with a degree in journalism. She can be reached at mindi@hoopgurlz.com.


---