Getty Images
Must-See Game
By Jay Bilas, ESPN

No. 3 Wake Forest (15-0) at No. 9 Clemson (16-0), Saturday, 3:30 p.m. ET (ABC)
Outlook: I was among the very fortunate to have had Skip Prosser as a friend. When he had one of his best teams at Wake a few years ago, Prosser and I were sitting together after his team had practiced. He took out his team's statistics for the year and pointed to his team's defensive field goal percentage. It was hovering at just over 42 percent.

Prosser said: "This is the number that will cost us. We have to get this down." He was right, and it was a struggle for that team to have a defensive mindset when it knew it could just outscore opponents and win.

Well, look at Wake Forest now. Any quarrel one would have with the Demon Deacons over the last several years would have targeted defense. This season, the young Deacons lead the ACC in field goal percentage defense (36 percent) and are third in 3-point defense (28 percent). And with a plus-7.6 rebound margin, Wake limits opponents to just one shot for the most part.

Wake Forest is guarding people, and as a result, the Demon Deacons are one of the best teams in the country. Wake is the most athletically gifted and talented team in the ACC, and that includes North Carolina.

Jeff Teague is one of the top five guards in the nation, James Johnson is a special talent, and Al-Farouq Aminu is one of the five best freshmen in the country. Chas McFarland is a big body that can finish plays, and Dino Gaudio has a lot of long and athletic bodies that he can throw on the floor and wear you down.

Clemson was expected to be good, but after losing three seniors, the Tigers were not expected to be better. So far, Oliver Purnell's team has been better than last season's version, which went to the ACC tournament final and earned a No. 5 seed in the NCAA tournament.

Clemson is led by interior load Trevor Booker. The lefty big man is averaging 15 points, 9.1 rebounds and an ACC-leading 2.8 blocks and is shooting an ACC-leading 57 percent from the field. Booker struggled with fouls last season but has stayed on the floor in large measure because he has been put at the point of the Clemson press. Instead of being on the back end of the press and facing a 2-on-1 or 3-on-2 that might lead to a foul, Booker is guarding the ball and avoiding fouls. He is a confident scorer -- Clemson can throw it to him in the post and have him score over people. If the Tigers play through Booker, they run better offense. Another lefty, K.C. Rivers, is the primary perimeter scorer, and he has big-shot capability. Rivers has put up good numbers and is a steadying influence on the floor.

Clemson's best shooter is sophomore Terrence Oglesby, who is the J.J. Redick of the Tigers. Oglesby has deep range, and has hit 42 treys on the season, tops in the ACC and only one of two players in the league with 40 or more (along with Miami's Jack McClinton). Oglesby has done a better job of getting into the lane and diversifying his game.

Clemson loves to press full court, and any time you press, you create opportunities. There are opportunities for you to force turnovers, and there are opportunities for your opponent to get open shots once the initial line of defense is breached.

Key Matchup: Wake's Jeff Teague vs. Clemson's Demontez Stitt
Teague is the best young player in the ACC, and he is absolutely impossible to stay in front of. Teague is very good in transition and is the only player in the ACC with multiple 30-point games. Against Clemson's press, Teague will have the chance to create advantage opportunities for himself and his teammates. Stitt has been a pleasant surprise at the point. He is averaging over 8 points and 3.6 assists per game, and he is a penetrating point guard who can attack off the bounce and get to the rim and the free throw line.

Key Stats: Rebounding and Turnovers
Both teams are athletic and long and can play at a fast tempo. In this game, every possession will be valuable, even though there will be a lot of them. For Clemson to win, the Tigers have to force Wake Forest turnovers and gain more possessions through their defense. Clemson is not a great rebounding team, and if Wake can win the battle of the boards and take care of the ball while still applying pressure to score, the Deacons will have a great shot to win a road game. Wake won at BC on Wednesday but was not a good road team last season (1-7 in the ACC).

X-Factors: Al-Farouq Aminu and Terrence Oglesby
Aminu is a very talented player who can score and finish around the goal. He could get a lot of opportunities on the back end of the press offense. Oglesby has got to hit some shots against the Wake perimeter defense. He is capable of a big shooting game.

Who Wins? Wake Forest
The Demon Deacons are younger and less experienced, but they are confident, long-armed and talented. I like Wake to win on the road in a very tough environment.
More Big-Game Breakdowns
By Jay Bilas, ESPN

Pittsburgh at Louisville: The Cardinals struggle to shoot from the perimeter against grinding defenses, and Pitt can grind it out with the best of them. The Panthers are just as deep as Louisville and are more physical. Unless the Cards hit shots, Pittsburgh will get a win in Freedom Hall. The difference can be Levance Fields and his ability to handle pressure and DeJuan Blair and his ability to dominate on the glass. Blair has the length and offensive-rebounding capability to really bother freshman Samardo Samuels.
The Winner: I like Pittsburgh to win on the road.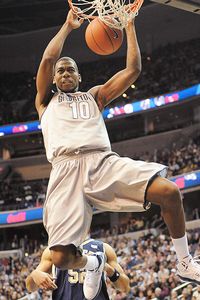 James Lang/US Presswire

Greg Monroe and the Hoyas will look to give Duke an ultra-rare nonconference loss at home.

Georgetown at Duke: The Blue Devils are guarding really well in ACC play. In three games, they've allowed 44, 58 and 56 points and have the best defensive efficiency in the country. Duke does a great job of pressuring the ball and forcing offenses further out on the floor, and the Blue Devils do a great job of taking away patterned movement. Georgetown is coming off a superb performance against Syracuse -- shooting almost 60 percent from the floor. Can Georgetown execute against Duke's pressure and gain backdoor opportunities to soften up the defense? Remember, Duke was beaten by Michigan's similar offense in Ann Arbor when the Wolverines used the Devils' overplay against them and forced them into taking a ton of 3-pointers. Duke has not shot the ball well over the past two games and must be better offensively to win. If Georgetown does not do a better job of rebounding, the Blue Devils will get second shots and take the game.
The Winner: Duke is deeper and better, but I like Georgetown in a really tight game.

Arizona State at UCLA: This game features the nation's best all-around player in Arizona State's James Harden and the best point guard in the country in UCLA's Darren Collison. ASU is the most efficient offensive team in the country, and the Sun Devils face a very good defensive team in UCLA. The difference could very well be Arizona State big man Jeff Pendergraph, who is one of the most efficient big men in the country, and one of the hardest-working.
The Winner: I was leaning toward ASU at first, but I'm going to have to go with UCLA at Pauley Pavilion.

Miami at North Carolina: The Hurricanes escaped the clutches of Maryland down in Coral Gables after the Terps had built a 17-point lead in the second half. Miami has size up front and a special guard in Jack McClinton, but North Carolina will be stinging from the two losses to Boston College and Wake Forest and should play with the same intensity that saw the Tar Heels win each of their first 13 games by double digits. Miami is an NCAA-tournament team, but UNC has too much to play for and is too strong.
The Winner: North Carolina will win by double digits.
Stuff To Impress Your Friends With
ESPN Research

• Duke will put its 67-game home winning streak against nonconference opponents on the line Saturday versus Georgetown. The last non-ACC team to beat the Blue Devils at Cameron Indoor was St. John's on Feb. 26, 2000. Only four of the 67 games since have pitted Duke against a ranked opponent, including a 61-52 win over the Hoyas on Dec. 2, 2006.
• Even before its game at Cameron Indoor, Georgetown has already played the most Top 25 teams (six) of anyone in the country. The Hoyas are 3-3 in those contests.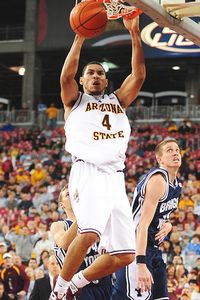 Mark J. Rebilas/US Presswire

Jeff Pendergraph and ASU have had their share of road struggles against quality opponents.

• UCLA has won eight straight against Arizona State, by an average of 12.9 ppg.
• An even worse omen for ASU? The Sun Devils have lost 18 straight road games to Top 25 opponents, losing those games by 15.8 ppg. The good news? The last win came in 2002 … at UCLA.
• When Mike Montgomery makes the short trip to Palo Alto to face the Stanford program he coached for 18 years (1986-2004), he will do so with a Cal team that easily leads the nation in 3-point percentage (48.3 percent). The next closest? The 42.2 percent by Oklahoma State, led by another first-year coach, Travis Ford.
• This will be the fourth time that Syracuse and Notre Dame will meet as ranked opponents, and if the past three are any indication, expect a classic. All three of their previous Top 25 meetings were decided by four points or fewer.
• Of all the teams that have played at least five games at the Carrier Dome, Notre Dame actually has the highest win percentage (.462, 6-7). Villanova is second at 11-13 (.458).
• Notre Dame's Luke Harangody has nine straight 20-point games, the first Fighting Irish player since Adrian Dantley in 1975-76 to score 20-plus points in at least nine consecutive games.
• Notre Dame has struggled on the road against ranked conference opponents -- and "struggled" is perhaps too nice a word. In their last 16 such games, the Irish are 1-15.
• Speaking of struggles away from home, Wake Forest has lost 10 straight road games against ranked teams.
• Clemson (16-0) is one win away from tying the best start in school history, while Wake (15-0) is one win away from breaking a tie with the 1926-27 team for the school's best start.
• If Indiana loses to Penn State on Saturday, the Hoosiers will have an eight-game losing streak, which would tie the 1963-64 team for the longest at IU since World War II.
• Since joining the ACC in 2004, Miami is 1-10 on the road against the North Carolina schools (UNC, Duke, Wake, NC State). The only victory came in Chapel Hill in 2006.


-- Researchers Jeremy Lundblad, Ryan McCrystal, Tyler Korn, Jason McCallum and John Zoni contributed to this report.
Viewer's Guide
(All times ET)
Saturday:
11 a.m.: "College GameDay" (ESPN)
Noon: Notre Dame at Syracuse (ESPN)
1:30 p.m.: Georgetown at Duke (CBS)
2 p.m.: Oklahoma at Texas A&M (ESPN)
3:30 p.m.: Wake Forest at Clemson (ABC)
3:45 p.m.: Arizona St. at UCLA (CBS)
4 p.m.: Illinois at Michigan St. (ESPN)
6 p.m.: Pittsburgh at Louisville (ESPN)
8 p.m.: California at Stanford (FSN)
9 p.m.: Miami at North Carolina (ESPN)
Midnight: "Midnight Madness" (ESPN)

Andy Katz previews Miami-UNC
Player To Watch
Terrence Williams, Louisville

The matchup between freshman Samardo Samuels and sophomore DeJuan Blair will draw much of the attention, but if a steadily improving Louisville team is going to pull the upset of top-ranked and undefeated Pittsburgh on Saturday (6 p.m., ESPN), the real man to watch is Williams.

Williams

He's not the most gifted shooter, yet he's third on the team in scoring. Far from the biggest guy on the roster, he leads the Cardinals in rebounding. He's not the point guard, but he's tops in assists. The stat-stuffer has been cramming the box score during the Cardinals' four-game win streak, averaging 14.2 points, 10.7 rebounds, 6 assists and 1.7 steals. A relentless defender, Williams might have his own intriguing matchup, perhaps against a like-minded but better-shooting Sam Young.

Williams is also the emotional leader for a Louisville team that just a month ago looked lost. Mired in a horrible shooting night against Villanova, Williams still had the courage -- not to mention the strength and talent -- to slip in the winning finger roll, cradling the basketball like a football as he drove to the rim. He said afterward that the reason he had the nerve to take the shot was that "I'm too old not to make that shot.''

This Louisville team appears to be on the brink of a run similar to the one that took last year's Cards to the doorstep of the Final Four. Saturday will offer a more definitive answer. And the chatterbox "T-Will" will help supply it.

-- Dana O'Neil, ESPN.com
Louisville's Rick Pitino on facing No. 1 Pitt
Key Games This Weekend
Saturday


• No. 13 ND at No. 8 Syracuse, Noon, ESPN


SU coach Jim Boeheim couldn't be too excited about how his team's brutal 10-game stretch started Wednesday night at Georgetown. The Orange were beaten badly, 88-74, which ended their seven-game winning streak. Worse, Syracuse was lethargic and almost lackadaisical on defense. Georgetown's 88 points were the most allowed by the Orange this season (and the most the Hoyas had scored against a Big East opponent during the John Thompson III era). The Hoyas shot 59.3 percent, including 12-for-21 on 3-pointers.

The Big East exhibition games are clearly over for Syracuse. The Orange's first four Big East opponents are a combined 1-16 against conference foes. Cuse will play seven ranked teams in its next nine games, starting with Saturday's home game against Notre Dame at the Carrier Dome. Fighting Irish guard Kyle McAlarney had to be licking his chops after watching film of Syracuse's defense against the Hoyas. McAlarney, who has made 47.9 percent of his 3-point attempts this season, scored 19 points with five 3-pointers in an overtime loss at Louisville on Monday night. Fighting Irish forward Luke Harangody scored 28 points, his ninth consecutive outing with 20 points or more.

• No. 3 Wake Forest at No. 9 Clemson, 3:30 p.m., ABC regional coverage
Is it finally time to call Wake Forest the best team in the ACC? A road game against the ACC's only other unbeaten team will go a long way in determining that. The young Demon Deacons beat then-No. 3 North Carolina, 92-89, on Sunday night. Then on Wednesday night, in a game many considered a trap, Wake won at Boston College, 83-63. How much has Wake Forest improved? The Demon Deacons lost at BC by 39 points last season but led the Eagles by as many as 25 points at Conte Forum this season. Wake had never beaten Boston College in its previous seven tries.

Wake guard Jeff Teague scored 29 points against BC, but coach Dino Gaudio told the Winston-Salem (N.C.) Journal, "I don't think he played well." Teague apparently had too many defensive lapses and turnovers for Gaudio's taste.

The Tigers are 16-0 for the second time in the last three seasons and can tie a school record for consecutive victories with a win over the Demon Deacons. The Tigers also have won 16 straight games at Littlejohn Coliseum. Look for a close one. Each of the last four games between the schools was decided by two points or in overtime.

• No. 15 ASU at No. 7 UCLA, 3:45 p.m.
For all the good things the Sun Devils accomplished last season -- sweeping games against rival Arizona and winning 21 games -- they were embarrassed in two games against the Bruins. UCLA defeated the Sun Devils 84-51 at Pauley Pavilion last season, and then handed them a 70-49 loss in Tempe. Arizona State sophomore James Harden, a native of Los Angeles, hopes his homecoming trip is more enjoyable this season. It didn't get off to a good start Thursday night. Harden scored only four points on 0-for-8 shooting in an ugly 61-49 loss at USC. Last season, he scored only nine points on 2-for-6 shooting in the loss at UCLA. As for the men of Westwood, the Bruins improved to 4-0 in Pac-10 play with an 83-60 victory over Arizona at home Thursday. UCLA has won 10 straight since a 68-64 loss at Texas on Dec. 4. • Illinois at No. 10 Michigan St., 4 p.m., ESPN
At 4-0, Michigan State is off to its best Big Ten start since a young chap by the name of Earvin Johnson was roaming campus in 1978. Can that really be true? To remain the only unbeaten league team, the Spartans will have to get by an Illinois squad coming off a double-digit, revenge win over Michigan. The Illini, 3-1 against Top 25 teams (1-8 last season), will almost certainly return to the NCAA tournament after a one-year absence. After winning 16 games all of last season, Bruce Weber's group is off to a 15-2 start.

But it'll be a tough task to steal a victory at the Breslin Center, where the Spartans have won 27 straight games, the third-longest active streak in Division I. How about this stat? MSU point guard Kalin Lucas -- point guard, remember -- has turned the ball over more than once in just three of his team's 16 games this season. Amazing.

• No. 1 Pitt at No. 20 Louisville, 6 p.m., ESPN
Another Big East game, another big challenge for Louisville forward Samardo Samuels. The freshman from Jamaica leads the Cardinals with 13.9 points per game and is third with 6.1 rebounds. In Monday night's overtime victory over Notre Dame, Samuels helped hold Harangody scoreless after the 5:35 mark of regulation. Samuels finished with 18 points and four blocked shots.

He will need an even bigger effort against Pitt forwards Sam Young and DeJuan Blair, who combine to average more than 33 points and 18 rebounds per game. The Cardinals will be going for their third victory in a row over a ranked opponent. The first two weren't easy. Along with the overtime victory over the Fighting Irish, Louisville beat Villanova 61-60 on the road. Terrence Williams put the Cardinals ahead, and then the Wildcats missed two shots in the final seconds.

-- Mark Schlabach, ESPN.com
UPS Whiteboard: Duke's Defense
---