Thursday, February 26, 2009
Updated: March 17, 6:10 PM ET
Interact: Women's NCAA Brackets!

---
SportsNation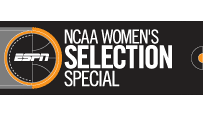 NCAA Women's Bracket Special
Tuesday, March 17, 7 p.m. ET (ESPN)
Get the experts' takes on toughest regions.
Here at ESPN we want you to get interactive by voicing your opinion through internet conversation, video uploads, text messages and poll voting during our NCAA women's basketball selection special and analysis!
3 Ways To Interact!

Comment!

Video!

Vote!

Get on the screen by text messaging SELECT to 43776 (Standard rates apply) or joining the LIVE DEBATE!
Here's your chance to Sound Off and show how much you support your favorite team.
UPLOAD VIDEO!
Regardless of the bracket, will UConn win the National Championship?
VOTE NOW!
Check back during the Women's NCAA Tournament coverage on ESPN to follow Rebecca Lobo as she Twitters from courtside!
---