Friday, March 27, 2009
Updated: March 28, 9:35 PM ET
March 22-28 best: Fans take it to the rim

---
CommunityEds

Fans hooped it up all week, enjoying the madness of March and looking ahead to Opening Day in baseball, the NFL draft, new coaches, and NHL and NBA playoffs.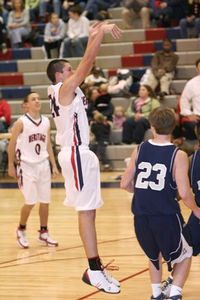 The Heritage High School soph bombs away like Missouri against Memphis.

Click through the links below to respond directly to the ESPN.com poster. Best blogs
GCS Infuego: Oh No He Didn't
When I filled out my brackets, I thought it would be all fun and games, but sadly it wasn't. I found myself cheering for teams I would never cheer for, and in the end, it seemed to take some of the fun out of it. When Missouri beat Memphis, I went "shoot" instead of "yeah" because I had Memphis winning that game, whereas, normally I would have pulled for the underdog (Mizzou). Bob Diff: Favorite moment at the park
I always see crazy people walking around a stadium, but, that is the joy of ballparks. I was wondering what your favorite moment at the park was. I'll tell ya mine. So, I was walking out of U.S. Cellular stadium. It is about the best stadium I've been to because it is pretty new. When I got to the car, I saw these teenagers sticking a blig blue L sign out of the sun roof instead of a W. I wish I had a pic, but I don't. bondotiger38: New holiday
Baseball's Opening Day should be a national holiday. Well to me and other legions of fans it is. It would be a nice gesture to have it official. I think that would take away some of the glory of it, like playing hookey from school or work just to see your favorite team play on this glorious occasion. goliathxr: Top 10 Sports Movies
3. Rudy 2. He Got Game 1. Rocky Soldierboy75: No More
I am getting tired of people tagging a person as the next Michael Jordan, Wayne Gretzky, Larry Bird, Barry Sanders. I think you get me point. You see the thing is there is no next any of those guys. Not even their offspring will be the next. You want to know why? It's because they are not. They are their own selves. Instead of tagging some one as the next, how about letting them be the first.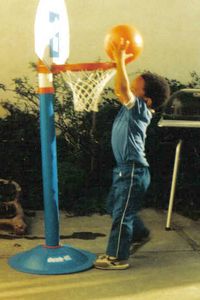 Drop-step dunkin' at age 2. Reminds us of Pitt's game.

josephj1109: The Best Deal in Pittsburgh
For $35 a person you can go to one of the most beautiful stadiums in the country, enjoy unlimited refreshments and depending on the night, if you bring your mitt you may be asked to play center field because the Pirates are probably going to be that bad. Again. HuffyT13: Top Ten
No. 10: The Yankees, with the re-vamped pitching staff, take first in the division but are beat in the ALCS.
No. 9: The Mets will finish first in their division thanks to the much needed boost in the bullpen provided by Francisco Rodriguez.
No. 8- Hank Blalock returns to the lineup healthy, Josh Hamilton repeats last year's performance and Michael Young returns to form to help the Rangers take second place in the AL West for the second straight year. Pitching proves to be the Achilles heel for the franchise once again. therealacevenom: Steroid Users Will Eventually Make Cooperstown
That's the battle cry of people who would deny Mark McGwire, Sammy Sosa, Roger Clemens, Rafael, Palmeiro, Barry Bonds and now Alex Rodriguez a shot at enshrinement. So far, they've gotten their wish. Zlatan66389: Big East Still Has To Prove Itself
All I am trying to say is that no champions are crowned in the Sweet Sixteen, so it would be a disservice to many other conferences to presume that it was head and shoulders above the others.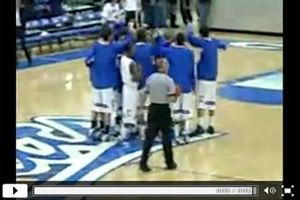 Bric875: ESPN THE NEWEST DATING DOT.COM SITE
Recently a few of the folks I have become acquainted with were communicating with me regarding one of my previous blogs "Sports Junkie Needs A Wedding Date." And two questions came out of that particular blog as a common theme. Most commented stories
1. Missouri at Memphis
2. Officer delayed Moats
3. Mel Kiper's 2009 NFL mock draft
4. Gonzaga at North Carolina
5. Villanova at Duke
6. Lakers at Thunder
7. Draft conversation: Lions
8. Kansas at Michigan State
9. Lakers at Pistons
10. Syracuse at Oklahoma
Parting thought
"Twitter has become as overexposed as Favre."
-- fx772k1 in Cuban tweets ref angst after loss

Questions? Comments? Opening Day tickets you can't use? Send a note to CommunityEds.

Profiles | Groups | Videos | Conversations | Message boards | SportsNation | Widgets


---