Tuesday, May 26, 2009
Updated: May 29, 3:44 PM ET
Broken records, inspiring stories mark 2009

---
By Mark Tennis
ESPNRISE.com



The cheers of spring sports champions and graduation speakers can only mean one thing: The 2008-09 high school year is coming to a captivating close. From the balance beam in Beijing to the mound in Tampa, Fla., high schoolers around the country broke records, won championships and inspired their classmates and neighbors. Before school lets out for summer, ESPN RISE reflects on the top 10 headlines of the year.
Avery Bradley led Findlay Prep to the NHSI title and the No. 1 ranking in the ESPN RISE FAB 50.
10. Findlay Prep crowned
For the first time, a postseason invitational national high school basketball tournament was held in April. Findlay Prep (Henderson, Nev.) outlasted a talented field to take home the first ESPN RISE National High School Invitational championship. The Pilots took on famed Oak Hill Academy in a nationally televised final and won 74-66 behind the play of guard Avery Bradley, who was later named the EA Sports Mr. Basketball USA. The team's unbeaten record also made it easy to rank the Pilots No. 1 in the final ESPN RISE FAB 50. Findlay Prep, a privately funded basketball academy whose players attend the nearby Henderson International School, is in its third year of existence. Bradley and classmates D.J. Richardson and Carlos Lopez are seniors. The team's top junior, Tristan Thompson, transferred to the program in February after leaving St. Benedict's (Newark, N.J.).
Greely basketball manager Patrick Thibodeau hit two 3-pointers on Senior Night.
9. McElwain's magic spreads to Maine
In a story seemingly inspired by Jason McElwain, the autistic teen who scored 20 points in the last four minutes of his team's high school basketball game three years ago, boys' basketball team managers Josh Titus from Edward Little High (Auburn, Maine), and Patrick Thibodeau (Greely High of Cumberland, Maine), both played in their school's final home games. Titus, who is autistic, scored nine points and brought the house down. Thibodeau, who has Down syndrome, did the same when he hit a pair of 3-pointers. The duo was later honored with Spirit of Sport awards at the Maine McDonald's All-Star Banquet, where they were joined by McElwain.
8. Economy affects high school sports
The economic downturn that began just before the start of the 2008-09 school year is forcing drastic cutbacks in high school sports across the country. School boards from Washington to Florida debated whether to slash freshman or junior-varsity teams or charge fees to keep the cutbacks to a minimum. Schedules were altered in the name of travel costs, and building improvement projects were put on hold. The struggling economy is threatening to affect even more schools into the next academic year.
Jordan Hasay showed why she's one to watch at the Olympic Trials.
7. Hasay shines on biggest stages
Jordan Hasay's year started with a 1,500-meter high school national record and a chance to make the Olympic team. Although the California teenager didn't get a trip to Beijing, she electrified the crowd at Eugene, Ore., by qualifying for the final. The senior at Mission Prep (San Luis Obispo, Calif.), followed up that experience with a dominating prep cross country season. She was the Foot Locker national titlist for the second time, became the only four-time winner of a Foot Locker regional and was named the Gatorade Girls' Athlete of the Year.
6. Swine flu suspends sports
The H1N1 virus, which is believed to have started in Mexico and spread to countries around the world, forced high school administrators to close schools and suspend spring sports in late April and May in many parts of the U.S. State associations in Texas, Alabama and New Mexico stopped all interscholastic sports in an effort to slow down the spread of the virus.
Shawn Johnson won a gold medal and a "Dancing with the Stars" crown.
5. Johnson's star is born
She doesn't participate in a traditional high school sport, but there isn't a more prominent teenage athlete in America than 17-year-old Shawn Johnson. The Olympic gold medal winner in gymnastics followed her performance in Beijing by winning this season's "Dancing With the Stars" reality television competition. She also was in the news for a scary stalking incident and for winning the Sullivan Award, which is presented to the nation's most outstanding amateur athlete. Johnson was a student at Valley High (West Des Moines, Iowa), before the Olympics and has said she would like to graduate with her class next spring.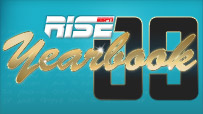 As the school year comes to a close, ESPN RISE has gathered our top teams and athletes as well as the top stories and moments of the year to make the ESPN RISE Yearbook. And what would a yearbook be without your photos?
// Senior Superlatives
// Stories of the year
// Top moments
// Record-breaking performances
// Entertainment headlines
// Award winners
// Running with Jordan Hasay
// Your Photos of the Year

4. Griner becomes YouTube sensation
The YouTube video of Brittney Griner, the 6-foot-8 slam-dunking, shot-blocking girls' basketball phenom from Nimitz (Houston) High School amassed nearly 3.8 million page views. Her dominance on the court this season was also remarkable. She set a national record with 25 blocks in her first game and ended her season with averages of 27.2 points, 12.5 rebounds, 8.4 blocks and 2.6 assists per game. Griner, who is headed to Baylor, had to skip the McDonald's All-American Game when her high school principal said the game would make her miss too much class time. She did play in the Women's Basketball Coaches Association All-America Game and had 20 points, nine rebounds and eight blocks in her team's 79-77 win.
Patrick Schuster's no-no streak caught the nation's attention.
3. Schuster throws four straight no-hitters
It's rare for ESPNEWS to cover a high school event live, but when Mitchell (Tampa, Fla.) High's Patrick Schuster attempted to pitch his fifth straight no-hitter, the nation took notice. Alas, Schuster didn't continue his streak, but his accomplishment of four straight no-hitters was captivating. Schuster is a potential early pick in the June major league baseball draft. The senior lefty, who has signed with Florida, pitched his no-hitters in wins against Land O'Lakes (2-1), River Ridge (10-0), Clearwater Central Catholic (2-0) and Pasco (5-0). He had 60 strikeouts and just seven walks in those outings. Schuster's streak ended against Gaither Prep (Tampa) on a double by Drew Doty in the third inning of the district tournament game. The 9-4 loss ended Mitchell's season and Schuster's high school career.
2. Final score sparks controversy
There have been ridiculous routs before -- such as the 179-14 win by Riverside (Calif.) Poly over Norte Vista (Riverside) back in 1982 -- but the 100-0 win by Covenant School of Dallas over Dallas Academy in January created a wave of media attention. Dallas Academy only had eight girls on the team and hadn't won a game in four years. The story gained more headlines when administrators at Covenant School called the blowout "shameful." Coach Micah Grimes publicly disagreed with that statement and was promptly fired. The Dallas Academy team was later invited to watch a Dallas Mavericks game in owner Mark Cuban's suite.
Jeremy Tyler is skipping his senior season to play pro ball in Europe.
1. Tyler leaves high school for pros
Less than a year after EA Sports Player of the Year Brandon Jennings skipped college to play professionally in Europe, San Diego High School's Jeremy Tyler, a 6-foot-11 junior, did him one better. In April, Tyler announced he would skip his senior season of high school with the intention of turning pro and playing two years in Europe before entering the NBA draft. Tyler figured to be one of the nation's top recruits next year after averaging nearly 29 points per game this season. He had previously committed to Louisville.
Mark Tennis is a deputy editor of ESPN RISE.
---