So, you came here to read about the week in golf? OK, here we go ...
U.S. Open Live Blog
ESPN.com blogger extraordinaire Jason Sobel will be filing updates all this week -- starting Monday -- from Bethpage Black while his often-imitated, never-duplicated live blog will begin during the first round of the 109th U.S. Open, on
Thursday at 8 a.m. ET
Anna Nordqvist was a surprise winner of the LPGA Championship, Brian Gay once again lapped a field en route to victory in Memphis and John Daly made his long-awaited U.S. return, finishing T-59.
Whew. Now that I've gotten that out of the way, let's discuss this week's festivities at Bethpage Black, site of the U.S. Open.
This edition of the Weekly 18 is all-Open, all the time, beginning with a potential storyline that could serve as an all-timer.
It can be argued that of the 108 previous editions of the U.S. Open, none offered greater theater than last year's event at Torrey Pines, as Tiger Woods claimed his 14th career major title with a torn ACL and multiple leg fractures in a sudden-death playoff on Monday afternoon.
(OK, add the 1913 and 1950 versions of the tournament to the debate, too, as the stories of local boy Francis Ouimet and Ben Hogan's comeback from a near-fatal accident were both inspirational and entertaining. And yes, movies were made about both of 'em.)
Yet one year after Woods limped his way to the title, there is a chance this week's U.S. Open could provide even more drama.
U.S. Open on ESPN360.com
Can't be near the TV for the first two rounds at Bethpage Black this week? Check out all the action from the U.S. Open on ESPN360.com.
Thursday, 10 a.m. ET
A native of California who attended school at Arizona State, Phil Mickelson has always been a favorite of the New York fans. They felt his pain three years ago at Winged Foot when Lefty led the Open coming to the 72nd hole, only to post a double-bogey and lose by a stroke to Geoff Ogilvy.
Those fans will feel a different sort of pain this week. It was announced last month that Phil's wife, Amy, was diagnosed with breast cancer. After a few weeks off, the pro returned to action at the St. Jude Classic and now has his sights set on a first U.S. Open title, one that would be as emotionally charged as anything we've witnessed on a golf course in a long time.
"In 2002, Bethpage, it was an emotional experience for me then," Mickelson said prior to teeing off in Memphis. "I anticipate it being an emotional experience playing this year's U.S. Open. My quest is to win my first U.S. Open after four seconds, numerous close calls, me caring about this tournament so much. But right now I'm just fortunate that I'm going to be able to play and I hope to play well. I know that after that, I got something going on that's more important and takes my mind off it."
Chances are, Phil won't be able to let his mind wander much. Expect such vocal support from the galleries for the Mickelson family that he may need to avoid injuring his hand with all the thank-you waves he'll likely be making toward the crowd.
Of course, rooting for a player doesn't make his ball get into the hole any quicker, so Mickelson will still need to hit the shots -- and the putts -- needed to win.
In shaking off the rust in Memphis, he finished T-60, though it should be noted that a pre-major championship cold streak doesn't necessarily spoil his chances of winning. Back in 2004, he finished 8 shots back at the BellSouth Classic before winning the Masters one week later; two years after that, he won the BellSouth by 13 and claimed the green jacket once again.
"I'm not playing just to play," Mickelson said. "I think Bethpage is a golf course that suits my game, that I love playing on that course, I love playing in the New York area. ... Again, there's a lot of question marks that I'll have. But that's the goal."
And with that goal, the adopted son of New York's golf scene has transformed from the sentimental favorite to an emotional one, too.
2 Tiger Woods.
Those who believe Woods will win his 15th major championship this week will point to his recent triumph at Muirfield Village as proof that he's ready to make a run. Those who think he won't prevail have a few facts to back their case, though, too.
U.S. Open Rankings
So who has the best shot at capturing the year's second major? ESPN.com's Jason Sobel ranks the entire U.S. Open field, from No. 1 to No. 156.
Coming Wednesday
At the Memorial, TW played a near-flawless final round, finding every single fairway en route to a 7-under 65 ... and still won by "only" a single stroke. What followed were cries of, "It's all over!" in regard to Woods' prospects at the U.S. Open. Lest we forget, however, that just two months ago, there was a similar notion going into Masters week following a win at the Arnold Palmer Invitational, but he could only parlay that success into a T-5 result.
That said, Tiger is the prohibitive favorite this week -- just like any other time he tees it up. He is, in some respects, defending two titles at Bethpage; Woods not only won last year's Open, but was also the champion the last time this event was played on the Black Course.
Personally, I'll be watching his practice rounds closely. The venue will play to 7,426 yards on the scorecard and is known for its length. But it will be very interesting to see how often he can get away with hitting 3-wood instead of driver.
If Woods can afford to hit 3-wood on, say, 10 of the 14 driving holes, he'll obviously find more fairways and have greater success; if that number is reversed, though, expect more consternation with the driver, never a club that goes very straight for him.
3 Brian Gay.
Give the guy some credit: When Gay wins, he wins big.
Following a 10-stroke victory at Harbour Town two months ago, he earned his third career victory at the St. Jude Classic this week, taking this one by 5 strokes.
Gay earned more than another title with Sunday's win, though. As one of six players who was seeking his second victory of the past year entering the week, he wasn't already eligible for the U.S. Open. With the victory, he became exempt into this week's major.
"It's a major. I'd love to play in it," Gay said after Saturday's third round, when he held a 1-stroke lead. "I expected to be off next week."
Instead, he'll be booking flight reservations to New York. While his most recent result should give him plenty of confidence heading to Bethpage, you can bet Gay is all too aware of his previous U.S. Open results. In five career starts, he's pulled an oh-fer, having never reached the weekend dating back to 1996.
If his ball-striking and putting -- both of which were sublime at TPC-Southwind -- make the trip to New York, as well, expect Gay to not only make the cut, but also find himself on the leaderboard on the weekend.
4 David Duval.
While the former No. 1 player has seen his game sink to vicious depths in recent years, it hasn't been all bad news.
Back in 2006 -- one year after making just one cut in 20 appearances on the PGA Tour -- Duval ascended on the leaderboard at the U.S. Open, eventually finishing T-16. Last year, he played in the penultimate pairing on Saturday at the British Open, but dropped to T-39 by the end of the weekend. And prior to missing the cut in Memphis this past week, he had earned money in two straight events, though nothing better than T-58.
Some of the most impressive golf Duval has played of late, however, came at the U.S. Open qualifier in Columbus, Ohio. The 13-time PGA Tour champ shot 66-69 to gain entry into the field for the first time since '06.
"My strategy was exactly what I possibly had gotten away from a little bit and need to play a little better when I played the qualifier. I just intended to play smart, play safe, away from the flags, get it close to the flag as I could on the safe side and hit lots of greens," Duval recalled. "I figured after I shot 6 under in the first round, if I could go out and hit 18 greens I figured I could qualify. And I hit 18 greens and qualified."
Through it all, Duval sounds like a guy who has put it all into perspective, who understands that his days of being handed exemptions into major championships are no longer here.
"We play golf for a living and it's [an] incredibly lucky thing to do," he said. "And rarely do we have to 'work,' if you will. The qualifiers like yesterday, or the British Open, that's working. You're working at that point. You're competing for a chance to compete."
While it would be wishful thinking to declare Duval a serious contender to the title come Sunday evening, it's not out of the realm of reason to expect a solid performance at Bethpage. He has never minced words about the U.S. and British opens being the two events nearest and dearest to his heart, and when he can play for pars and not have to go birdie-hunting -- like in the second round of that qualifier -- he can achieve some semblance of success.
5 Robert Karlsson, Dudley Hart and Trevor Immelman.
Being injured is obviously never any fun for a professional golfer. Being so injured that you're forced to withdraw from a major championship is like adding insult to injury.
And yet, these three qualified players have already made it known that they won't be around for the festivities this week at Bethpage.
A legitimate contender who finished T-4 a year ago at Torrey Pines, Karlsson WD'd on Friday due to an eye infection, which according to a statement released by the USGA, "causes no depth perception in his left eye." New York native Andrew Svoboda, who grew up near Winged Foot, will take Karlsson's spot in the field.
The next player to bow out of the field was Hart, who is listed with a back injury. After finishing 29th on the money list last season, he has yet to place better than T-28 in 13 starts so far in 2009. He was replaced by 20-year-old amateur Scott Lewis, the only player who didn't qualify in a four-men-for-three-spots playoff at the Somis, Calif., sectional.
And on Sunday, 2008 Masters champion Immelman was forced to forgo the U.S. Open due to tendinitis in his left wrist and elbow. Since prevailing at Augusta National, the South African owns only two top-10 results in two dozen PGA Tour starts. In his place will be Clinton Jensen of Jupiter, Fla.
Check out the final-round scoring average of Tiger Woods' playing partners over the years and you'll find that there's a price to be paid for being paired with the world's No. 1-ranked player on a Sunday afternoon.
For Letzig, that price was more tangible than for others.
After competing with the eventual winner at Muirfield Village during a final round at the Memorial Tournament in which the PGA Tour sophomore shot a 3-over 75 to finish in a share of 14th place, Letzig embarked on a trip to Memphis, but didn't make it to the sectional qualifying site for his tee time.
Once he did reach the city, Letzig stayed around for the St. Jude Classic, where he shot 69 to finish T-23. But he'll still have the upcoming week off.
7
Adam Scott
.
For the first two rounds of last year's U.S. Open, the USGA grouped the top three players on the Official World Golf Ranking. In order, they were Tiger Woods, Phil Mickelson and Scott.
Exactly one year later, Woods and Mickelson still rank 1-2, but the final member of that erstwhile threesome has dropped to No. 40 in the world.
Since making the cut in his first four events of the season, including a T-2 result at the Sony Open, Scott has MC'd in six of seven starts. The only time he finished in the money was a T-64 at Colonial a few weeks ago.
Currently working on what he calls "swing tweaks" with instructor Butch Harmon, Scott's season-long stats are an absolute mess. He ranks 164th on the PGA Tour in driving accuracy, 134th in greens in regulation, 154th in putting average and 166th in overall scoring average.
Yikes.
This week, the Aussie comes to a tournament in which he's never reached the top 20 in seven career starts -- and that's when his game was in good shape.
Expect more struggles this week for Scott, who certainly hasn't shown the form needed to succeed at a U.S. Open venue.
8 I wish a victory would get players into the U.S. Open field -- well, at least one in the final tourney before it starts.
A few years ago, Augusta National officials announced that all regular-season PGA Tour champions would be granted a spot in the Masters field, reverting to a longtime practice which had been temporarily discontinued.
It was a solid move, one which resulted in every non-exempt tournament winner exalting over how a berth in the year's first major meant more than any million-dollar check or two-year PGA Tour exemption combined.
And it's about time the USGA followed suit.
Instead, tournament winners must qualify for the Open via other means. At no event is this more detrimental than the St. Jude Classic, which would receive a huge boost if its champion was guaranteed a place in the next week's field -- whether he was already exempt or not.
There were only a half-dozen players who could have reached the field at Bethpage with a victory, however; Richard S. Johnson, Parker McLachlin, Michael Bradley, Brian Gay, Marc Turnesa and Jerry Kelly each would have qualified through a rule which states any multiple winner in the past year is offered a spot.
I understand that offering a berth in the Open field to every winner would mean fewer chances for the dreamers who reach the tourney through local and sectional qualifying, but would it be too much to ask for just the winner of the last event before the major to be included, no matter his prior accomplishments?
9 I wish the USGA could create the groupings for every tournament.
For some reason, PGA Tour officials insist on issuing "random" computer-generated tee times for their tournaments. The quote marks around that word are to show my skepticism toward the entire practice.
I mean, how else can you explain the fact its two top-billed players, Tiger Woods and Phil Mickelson, are never part of the same early-round wave?
The USGA, on the other hand, has no qualms about pairing players to capitalize on interest, intrigue and, well, just downright silliness. In some cases, it's almost as if tournament officials stayed up late at night, giddily thinking of ways they could have fun with the tee times.
Last year, Woods and Mickelson were paired together with Adam Scott; this year, Woods will play alongside fellow recent major champions Angel Cabrera and Padraig Harrington.
Allow me to break down some of the other categorizations:
-- The Name Game: Playing partners include Eduardo Romero and Andres Romero (no relation), Vijay Singh and Jeev Milkha Singh (no relation) and Soren Kjeldsen and Soren Hansen (uh, no relation) and Peter Hanson (ditto).
-- The Country Men: There are three French players in the field -- Thomas Levet, Jean-Francois Lucquin and Raphael Jacquelin -- and they'll all play together. Laissez le bon temps rouler!
-- The Old College Try: Wonder if there will be any side bets between the threesome of Clemson Tigers (D.J. Trahan, Lucas Glover and Kyle Stanley) and Oklahoma State Cowboys (Bo Van Pelt, Casey Wittenberg and Rickie Fowler)?
-- The Age of Enlightenment: Tom Lehman (50), Kenny Perry (48) and Rocco Mediate (46) are a combined 144 years old; Dustin Johnson (24), Anthony Kim (23) and Rory McIlroy (20) are a combined 67.
-- The Bash Brothers: Alvaro Quiros is regarded as the longest hitter in the elite professional ranks and J.B. Holmes isn't too far behind. They'll be joined by Nick Watney and his paltry -- by comparison -- 302.7 average yards per drive.
Nothing random -- or even "random" -- about the USGA's early-round tee times for the U.S. Open. And isn't it better that way?
10 I wish the Bethpage galleries would be loud and boisterous, but respectful and courteous, too.
Maybe it was because I'm a Long Island native. Maybe it was because the galleries helped transform it from golf tournament to rock concert. Maybe it was a little of both.
Whatever the case, I've never had more fun covering a major championship than during the U.S. Open's maiden voyage to Bethpage back in 2002.
The atmosphere was electric, its undercurrent developing from a blue-collar spectator population that likely included more football and baseball fans than golf junkies. Nothing wrong with that. Bringing new people to the game is one of the USGA's major goals.
However, my fear is that even more folks who heard about the rollicking good times outside the ropes seven years ago and want to join in the fun may not have all the proper motives in mind. Being supportive, loud and boisterous are all a fan's prerogative ... but only during the proper moments.
Quite honestly, these practices were borderline in 2002 -- even if it was just a very small minority of the gallery which was breaking golf's genteel, unwritten rules.
So let's get a few things straight right off the bat ...
Cheering for a player when he is announced on the first tee? Good. Screaming that player's name during his backswing? Not so good. Silently counting a player's number of strokes to the green? Yes. Loudly shouting his number of waggles while standing over the ball? No. Applauding a holed birdie putt? Absolutely. Booing a missed par attempt? Absolutely not.
I have no doubt this week's Open will rival the 2002 edition in terms of pure entertainment value from a spectator's perspective. Let's just hope the fun doesn't cross the line into disobedience during tournament rounds.
Jason Sobel is a golf writer for ESPN.com. He can be reached at Jason.Sobel@espn3.com.
Early weather forecasts show a possibility of thunderstorms at Bethpage both early in the week and during each of the first three rounds. On a course already renowned for its length, wet conditions will only make things play even longer.
Which players will be most affected by such conditions? Here are five potential contenders who should be doing an anti-rain dance in advance of the Open:
5. Rocco Mediate. Hey, he reached a playoff last year at Torrey Pines, which played more than 200 yards longer than Bethpage.
4. Mike Weir. Diminutive lefty is actually a mudder; how else to explain his sparkling record at Pebble Beach?
3. Luke Donald. If he could hit the ball 20 to 25 yards longer, he might be a top-5 player right now.
2. Zach Johnson. Having a superb season with two victories so far, but even his 2007 Masters win came on a fast, firm course.
1. Jim Furyk. Betcha didn't know he ranks 173rd (out of 190 players) in driving distance this season at 275.1 yards per poke.
More than one player will finish under par this week.
When the U.S. Open was first held at Bethpage Black seven years ago, it was hailed as a dastardly setup, the longest in tournament history to that point, featuring some of the gnarliest rough ever seen to the left and right of any fairways.

As a result, only one player -- his name is Tiger Woods -- finished in the red that week, coming in at 3-under 277 on the par-70 venue, followed by second-place finisher Phil Mickelson at even par.
There's no reason to think scoring conditions will be any easier this time around, unless you consider that this is a kinder, gentler USGA presiding over the festivities than in years gone by. Remember, 2002 was pre-Shinnecock; that edition of the Open took place back in the days when the organizing committee seemed to take particular delight in torturing the world's best players.
Now, however, the committee appears intent on adhering to the famous line stated by former USGA president Sandy Tatum some 35 years ago. "Our objective is not to humiliate the best players in the world," he said. "It's to identify them."
Last year at Torrey Pines, a whopping two total players -- Woods and Rocco Mediate -- broke par for the week, though it should be noted that the scorecard played as a par-71, the first Open to do so since 2000. Then again, this number was also two more than had surpassed that barrier for each of the past three editions of the Open combined.
USGA officials contend that there is no precise winning score in mind when the course is being groomed for this event, but based on recent history it's likely that even par will be a strong barometer. In fact, I think that score -- 280 on the nose -- will be enough to claim the title.
Consider the above statement to be FICTION.

As we come up on the one-year anniversary of that epic Tiger Woods-Rocco Mediate playoff at the 2008 U.S. Open, the runner-up sat down on the ESPN.com Hot Seat. Among the topics discussed were the upcoming U.S. Open at Bethpage, the one thing he'll always remember about the playoff against Tiger and his new book.
---
Two-time PGA Tour winner Anthony Kim, who won't turn 24 until Friday of U.S. Open week, recently sat down on the ESPN.com Hot Seat to discuss his confidence level, his maiden voyage to Bethpage and the one thing that he knows he can do better than Tiger Woods.
---
Who might be the most influential person who never picks up a club at this week's U.S. Open at Bethpage Black? That would be the USGA's setup man, Mike Davis.
The USGA's senior director of rules and competitions sat down on the ESPN.com Hot Seat to talk about changes to this year's venue, which players have a strong sense for course architecture, and the real designer of this year's host site.
This week's e-mail comes from Matt in Boston:
Since Colin Montgomerie failed to qualify for the U.S. Open, will Sergio Garcia serve as Public Enemy No. 1 with the fans at Bethpage?
As you may recall from 2002, Garcia tended to waggle ... and waggle ... and waggle ... every time he addressed his ball. The result was an endless shower of, "Hit the ball, Sergio!" catcalls from outside the ropes.
What you may not remember, however, is that El Nino finished solo fourth as a 22-year-old -- one of only two top-10s he's produced at the Open.
Sure, there are some who will chide Garcia for his previous swing interruptions -- he no longer waggles over his shots -- or his recent breakup with Morgan-Leigh Norman. Then again, if he can get himself into contention on Sunday afternoon, the New York fans may find themselves cheering for one of the biggest names on the leaderboard. Love him or hate, at least they've all heard of Sergio Garcia.
To answer your question, I can't name another player who will bear more criticism from the galleries than Garcia, but he also has the potential to turn such attention in his favor, too.
Wanna be considered for future W18 columns? Hit me at Jason.Sobel@espn3.com or follow along on Twitter.
Either Tiger Woods or Phil Mickelson has finished first or second in each of the past five editions of the U.S. Open and eight of the past 10.
The only years during that span when neither won nor finished runner-up was 2001 (Woods was T-12; Mickelson was T-7) and '03 (Woods was T-20; Mickelson was T-55).
"I do like the idea of the majors. They do seem to be easier to win in some ways. ... They feel like you're in a marathon rather than a sprint. A regular event, it feels like a quick dash. If you don't get off to a good start, you feel you're a little bit behind. Whereas in a major championship, you know it's going to come down to the last nine holes on Sunday. It's all about getting yourself in position."
-- Padraig Harrington
Long drives, solid ball-striking, great putting ... they're all important virtues at a major championship, but consider me firmly entrenched in Camp Harrington when it comes to the foremost characteristic needed to win these tournaments.
And that is ... wait for it ... wait some more ... and just a little ... bit ... more ...
Patience.
The players who most understand that being T-37 after Round 1 isn't a death sentence or that aiming for the tucked flagstick over a bunker instead of simply hitting toward the middle of the green isn't a good idea are going to be the ones still standing on the leaderboard come Sunday afternoon.
With three of the past seven major titles under his belt, maybe it's time some other players start heeding Harrington's advice, as well.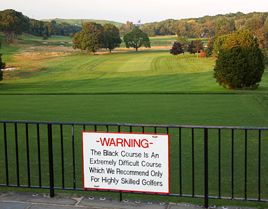 David Cannon/Getty Images
You'll only see this sign, oh, a few hundred times during the week, but it's for good reason. Most golf courses have a signature hole; Bethpage Black has a signature sign.
"WARNING: The Black Course Is An Extremely Difficult Course Which We Recommend For Highly Skilled Golfers"
Yep, any course that comes with its own warning label affixed to the first tee is to be at once feared and revered. While each of the 156 players on site this week will qualify as "highly skilled," expect some of the dreamers -- club pros, mini-tour players, college kids -- to post some scores that don't exactly reflect as much.
---