Wednesday, July 8, 2009
Updated: July 9, 11:41 AM ET
Celebrity alumni give Poly a Hollywood atmosphere

---
By Jeremy Willis
ESPNRISE.com



There's the Snoop Dogg who is the international hip-hop star, actor and reality-show dad … and then there's the guy who has to stop by his son's high school.
The Doggfather causes a stir when he returns to his alma mater.
"He acts like any other parent," said Poly (Long Beach, Calif.) principal Shawn Ashley.
Such is life at Poly, the 104-year-old institution where Snoop Dogg went to high school and where his son is a student.
Snoop Dogg, who went by the name Calvin Broadus when he roamed the halls in the late 1980s and '90s, wasn't the only Jackrabbit who would someday be famous.
Before he was a first-round draft pick and three-time Super Bowl champion with the New England Patriots, Willie McGinest was a defensive stud for the Jackrabbits football team and also played basketball. McGinest was an all-state selection, racking up 107 tackles before playing college football at USC.
Cheering for McGinest at football games was Cameron Diaz, a fellow member of the Class of 1990. Diaz had already begun a modeling career when she was a member of the Polyettes dance team.
Ashley has been at Poly for 14 years and has seen his share of his students go on to become high-profile people, especially the athletes. He credits the Poly atmosphere for the success of its former students.
"Being at Poly is a magical place. Between the athletes, the great musicians and students, the school has hard-working kids, teachers and coaches that make it special," he said.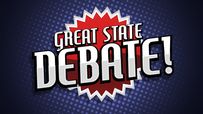 The Great State Debate of Pop Culture is out to settle the score once and for all. Which state is the coolest and most pop-culturally relevant? You decide. Here are the finalists:
• No. 1 seed California
• No. 2 seed Texas
• No. 3 seed North Carolina
• No. 4 seed New Mexico

Agree? Disagree? Join the debate.

Blog about what makes your state cool.
But there has to be more to it than that. There are six Poly alumni on NFL rosters, the most of any high school. And it's not just football. Poly had alumni on both the American and National League rosters in last year's MLB All-Star game: Milton Bradley, who was playing for the Texas Rangers, and Chase Utley of the Philadelphia Phillies.
"If you look at Long Beach, we're fortunate to be surrounded by great athletes in baseball, track, football -- all sports," said football coach Raul Lara.
Lara knows firsthand what has made Jackrabbit athletics so successful. He played linebacker for Poly, graduating in 1984. He's been coaching full-time at Poly since 1991 and is in his ninth year as head coach.
Lara has also seen and coached his share of top athletes. Among his former players now in the NFL are McGinest, Winston Justice, Marcedes Lewis and DeSean Jackson.
"The kids are really good people. They're good and from down-to-earth families," Lara said.
It's those families and the surrounding community that Ashley says contribute to the students' achievements at the school and after graduation.
"The feeling in Long Beach is that this is their school, their birthright. Parents went here and they want their kids going here," Ashley said.
For Lara, being a Poly graduate carries extra responsibilities.
"I'm trying to do the same things for the community that helped me," he said.
This loyalty keeps alumni coming back, and it's the kids that benefit most. Not every school can have a four-star general speak to its ROTC program or have producers and actors speak to its drama class or have athletes work out alongside the talented and successful former Jackrabbits. If anything, it gives current students self-confidence.
"The kids say 'If he can do it from Poly, I can do it, too,'" Ashley said.
Poly coach Raul Lara has seen his share of players go to the NFL.
Ashley knows the value of the school's high profile. Poly is home to two of Southern California's top magnet programs, which have put more students into the University of California system than any other school. This fame brings admissions, as well as athletic, recruiters to the school and helps create the next generation of prestigious Poly graduates.
"The people that come to Poly know they're getting a clear look at high-profile students and athletes," Ashley said. "They come here looking for a certain student or athlete and find others [students and athletes] too."
Recruiters aren't the only ones coming to Poly. It seems everyone in Hollywood eventually finds the Poly campus. TV shows like "NCIS" and MTV's "Made," music videos and feature films like "American Pie" and "Fired Up" have been shot on campus.
With camera crews on campus and celebrity alumni, you'd think the Hollywood aura would affect Poly's almost 5,000 students. Not exactly, says Ashley.
"The kids are the most low-key about it," he said.
Except when Snoop Dogg returns to his alma mater. Whether it's to shoot an episode of his reality show "Snoop Dogg's Father Hood" or just to do his duties as a parent, the reaction is a little less subdued.
"He's the only star that comes back to campus and it's a disruption. He has so many fans at Poly that it creates a frenzy," Ashley said.
Having on-campus movie productions, MLB All-Stars, an NFL pipeline and calling Snoop Dogg "any other parent" -- such is life at Poly.
Jeremy Willis is a general editor of ESPNRISE.com.
---