DRAFT CLASS WATCH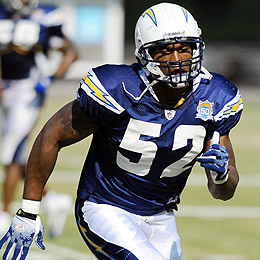 Larry English: Immediate impact expected.
Summary:
This is an interesting class for the Chargers. It is believed around the league that the Chargers have one of the premier rosters. Several of the team's key players are in their prime. This is not an overly old team. Still, general manager A.J. Smith has brought in a handful of players who are expected to play right away. This power-packed roster is going to get an influx of youth at a few areas as the Chargers try to both ride the power of a strong veteran roster and add key talent before it's too late.
What to expect:
San Diego is looking for significant help from about four rookies. It will be no surprise if linebacker Larry English (first round), guard Louis Vasquez (third round), running back Gartrell Johnson (fourth round) and safety Kevin Ellison (sixth round) all receive significant playing time. The Chargers believe all four players are NFL ready and will make impacts. English and Vasquez may be particularly ready to play.
Wild card:
The Chargers believe they have a future star in the form of fourth-round pick Vaughn Martin. The defensive lineman is from Western Ontario University in Canada. Martin is very raw, but he has terrific natural ability and the Chargers think he has made great strides in training camp. He is a powerhouse who is also bright. He is a fast learner and the game doesn't seem too big for him. It wouldn't be a shock if he plays in the defensive-line rotation this season.
-- Bill Williamson, ESPN.com
FANTASY STARS
LaDainian Tomlinson, RB

On the one hand, in 2008, Tomlinson produced his fewest touchdowns in a season since his rookie year and his fewest rushing yards and attempts ever. On the other hand, he still eclipsed 1,100 yards, scored double-digit touchdowns and tied for the most pass targets among running backs. Some will claim he's cooked, while others will claim he's undervalued. There are so many factors working against LT. He's 30. He has Darren Sproles, who was clearly the more effective player by the end of '08, pushing him for playing time. He has gotten hurt in two straight seasons now. Coach Norv Turner can whistle past the graveyard, telling reporters he thinks Tomlinson will win this season's rushing title, but the fact is that the Chargers nearly cut LT this winter. Shaun Alexander, Edgerrin James, Priest Holmes, Ahman Green ... history tells us not to blow top-five picks on guys with these warning signs.
2009 Projection: 1,156 rush yds, 14 TD
---
Philip Rivers, QB

Nobody benefited more from the relative demise of the 2008 Chargers running game than Rivers, who recovered incredibly fast from post-playoff ACL surgery to lead the NFL in yards per attempt, tie Drew Brees for the lead in touchdown passes, take one sack fewer than Peyton Manning, crush the NFL in passer rating and exceed his career high in passing yards by 621. If not for Brees, Rivers would've been fantasy's top quarterback last year, and with LaDainian Tomlinson's effectiveness as perhaps 2009's most pressing question, the Chargers may be primed to become a pass-first team. (Last year, they ran pass plays on 53.2 percent of offensive snaps, 20th in the league.) We still have niggling concerns about Rivers' maturity, but doubts about his talent are gone. He's climbed among the elite quarterback options.
2009 Projection: 3,865 pass yds, 28 TD, 13 INT