Jamie Squire/Getty Images
At just 19 years old, Sergio Garcia caught America's eye as he battled down the stretch -- but fell short -- against Tiger Woods in the 1999 PGA Championship at Medinah. He'll tee it up at Hazeltine National Golf Club this week at "Glory's Last Shot" with the hopes of grabbing that first major win before he turns 30 in January.
How could a professional golfer have both a terrific season and a disappointing one at the very same time?
No, this isn't one of those brain-teasing riddles nor is it some ancient golf joke that barely merits a chuckle. Instead, it sums up Tiger Woods' accomplishments so far in 2009, as he's won five PGA Tour victories in a dozen starts, yet still doesn't consider it a successful campaign without a major championship title to his credit.
Woods' fourth and final chance comes at this week's PGA Championship -- hey, they don't call it Glory's Last Shot for nothing -- where he'll attempt to avoid a "lost season" by cashing in with his 15th career major triumph.
If TW should fail to follow wins at the Buick Open and WGC-Bridgestone Invitational with a victory at Hazeltine, his misery will at least have some company in the form of Sergio Garcia, who has now eluded the winner's circle at a major for a full decade since first taking the golf world by storm 10 years ago.
This week's edition of the Weekly 18 includes plenty on Tiger and his chances to earn No. 15 this week, but begins with the tale of El Nino and his journey toward success.
Exactly 10 years ago, the future of golf was seemingly unfolding before our eyes.
It was at the 1999 PGA Championship when 23-year-old Tiger Woods held off hard-charging, free-swinging, scissor-kicking Sergio Garcia, four years his junior, to earn his second career major victory.
Sergio Speaks Out
Sergio Garcia sits down to talk about his early success at the 1999 PGA Championship and what direction his career has taken since that week in suburban Chicago a decade ago.
Watch The Interview
A decade later, it's difficult to think back on that result and not construct this simple two-word question: What if?
What if Woods had faltered down the stretch at Medinah? What if Garcia had posted a few more birdies? What if -- think big here -- their places had been reversed on the final leaderboard? How would such a result have changed the landscape of professional golf?
Sure, it's revisionist history to wonder how, exactly, things would be different today had Sergio finished 1 stroke ahead of his competition that day instead of 1 stroke behind. Perhaps this twist of fate would have meant nothing. It's quite possible that Tiger would just own one fewer major victory while Garcia would still be seeking his second, having endured a lost decade spent chasing his youth.
Maybe, though -- just maybe -- winning a major championship as a teenager would have vaulted the Spaniard into that upper echelon of superstardom we've been expecting for so long. It could have given him the confidence to compete with the world's best player, initiating a true rivalry between them as opposed to the current state, in which Garcia is simply one of many whose accomplishments -- and talents -- pale in comparison to those of Woods.
While it sounds absurd to suggest this scenario now, 10 years ago it wasn't such an abstract proposition. In fact, just days after finishing as runner-up, Garcia was asked whether he and Woods would be main rivals for the next 20 years.
"Well, I don't know," he said at the time. "I am sure there are going to come some great players, but that is going to be a great thing for either Tiger and me. I don't know if it will be better for him or me -- probably for me because I am younger. But to have Tiger around me playing against me and, you know, that makes me improve my game. And I think it also makes him improve his. So probably I won't be able to play as well as I am playing without Tiger."
Yes, some other great -- well, very good, at least -- players have gotten themselves into the mix, but that has hardly translated into a "probably better" situation for Sergio. Instead, he has spent the past decade grouped among that tier of players ranked well behind Woods. Through waggles and middle fingers, spitting incidents and blaming the golf gods, Garcia has transformed himself into the sport's Benjamin Button, becoming more immature with age.
He currently owns 18 worldwide victories -- including seven on the PGA Tour -- and has finished fourth or better at each of the four major championships during his career. The Spaniard might go down in history as one of the greatest Ryder Cup performers of all time, but he is largely known for both on- and off-course petulance, which has left him the subject of ridicule from many U.S. fans.
PGA Championship Live Blog
Our blogger extraordinaire, Jason Sobel, will be on site at "Glory's Last Shot" -- aka the PGA Championship -- sharing his expert analysis from the year's final major. Sobel will be blogging from the grounds of Hazeltine National Golf Club.
Starts Thursday
It wasn't always this way, though. Back in '99, the Medinah galleries actually favored him over Woods, another notion that seems backward today. Exemplified by his famed slicing 6-iron shot around the tree on No. 16 and subsequent sprint up the fairway, Garcia brought youthful exuberance to a sport in need of some energy. It wouldn't have been off the mark to declare him the potential Arnold Palmer to Tiger's Jack Nicklaus for the duration of their careers.
"The crowds were helping me a lot," Garcia said afterward. "You know, it was something really amazing, because they were wishing me to win, not Tiger. And it was something that I couldn't realize."
Chances are, this week's galleries at Hazeltine won't consider Garcia the favorite son. Playing in his final major championship before turning 30 on Jan. 9, he has gone from one-half of golf's future rivalry to just another face in the crowd, futilely chasing Tiger and hoping to claim that initial major victory.
While he knows that's the ultimate goal, Garcia speaks like a man who isn't all that unhappy with the way his career has unfolded.
"I'm happy with the career I've had so far. No doubt. You think back and you think it could be better, but it could also be worse. If you look at it and take Tiger away, being 29, it's not a bad career," Garcia said during last week's WGC-Bridgestone Invitational, where he was coincidentally paired with Woods for the opening two rounds. "I just have to keep trying hard, keep playing good and see if we can improve on this career."
Remember: If not for late-Sunday heroics by Padraig Harrington at Carnoustie and Oakland Hills, Garcia might already have a few major titles under his belt. Ask Tiger and he'll admit he's surprised Sergio has yet to claim that elusive first victory.
"You would have thought. He's been so close," Woods said this past week. "He's been in the final group a few times and he's been right there with a chance. He had a major on his putter on the last hole at Carnoustie, and he hit a good putt, it just didn't go in. He's been there, it just hasn't -- he hasn't gotten over the hurdle yet, but he's been there. It's just a matter of time. Sergio certainly has the talent to do it."
Of course, talent doesn't always equal success. Though Garcia's career hasn't developed the way many thought it would during the 1999 PGA Championship, that doesn't mean the future isn't still bright. Who knows? A decade from now we could be looking back on this week's PGA Championship as the tournament that turned everything around for him.
Before teeing it up at Firestone for the first time since finishing in a share of second place in the U.S. Open seven weeks earlier, Mickelson was asked what he expected from his game.
"I expect to play like I always have," said the ever-ebullient lefty. "When I had my nurse gown on, I would mentally rehearse shots and stuff to just kind of keep myself sharp, even though I wasn't touching a club. So I think when I came back and was finally able to swing a club, I was able to play fairly decently."
Competing sporadically since the Players Championship in May due to wife Amy's diagnosis of breast cancer (and later his mother Mary, as well), Phil has had a compelling season nonetheless. He owns victories at the Northern Trust Open and WGC-CA Championship, with six total top-10 finishes in a dozen starts.
As for playing like he always has, well, Mickelson did just that this past week. He opened with an eagle and five birdies to get himself into contention through 36 holes, but never one to always avoid the big numbers, he succumbed to a third-round 75 that included two doubles and three bogeys. Lefty eventually finished tied for 58th when it was all said and done.
No, it wasn't the storybook return he would have liked. Then again, it could also be considered a case of déjà vu. Before the U.S. Open, Mickelson came back after a month off to finish T-59 at the St. Jude Classic. One week later, he came within 2 strokes of winning his fourth career major title at Bethpage.
Moral of the story? Even though Lefty's game looked far from major-ready in his most recent return, don't be so quick to dismiss his chances this week at Hazeltine.
3 Geoff Ogilvy.
No player has posted more than three top-10 finishes at the PGA Championship over the past five years. Three guys are tied atop that list, and it should come as no surprise that two of 'em are Tiger Woods and Phil Mickelson.
Only slightly more eyebrow-raising is the fact that the third man in is Ogilvy, who -- despite such "success" -- has never finished higher than T-6, though never lower than T-31 in six career appearances.
As Forrest Gump might say, Geoff Ogilvy is like a box of chocolates. You never know … well, you know the rest.
Despite claiming two PGA Tour victories by March 1 of this season, he's been fairly mediocre ever since, for a guy of his talent level, at least. Ogilvy posted a T-15 at the Masters, T-47 at the U.S. Open and MC at the British Open, totaling an unimpressive scoring average of 72.8 for those 10 rounds.
And yet, he's the type of player who can triumph without a moment's notice. Before winning his only career major title at the 2006 U.S. Open, the Aussie had finished T-18, T-31, MC in his previous three starts.
While getting off to a strong start is important, the key for Ogilvy will be keeping it going during the weekend. His Thursday/Friday scoring average at the PGA is 70.17, but that number increases to 71.83 during the final two rounds. If he can do that, don't be surprised to see a fourth top-10 finish in six years.
4 Padraig Harrington.
The plucky Irishman earned his last major tour victory at the 2008 PGA Championship ... and it took him 51 weeks to seriously contend for another one.
Harig: Drama Derailed
Unlike many of Tiger's contemporaries, Padraig Harrington didn't falter Sunday at Firestone. At least until a rules official sidetracked what was setting up to be a fantastic finish.
Bob Harig
In 17 starts on the PGA Tour since that time, Harrington missed the cut eight times and failed to record a top-10 prior to finishing in a share of second place at Firestone. Undergoing not only fairly massive swing changes, but a new approach to his vaunted practice regimen as well, the three-time major champion looked purely ordinary until locking horns with Tiger Woods in the final round on Sunday. Though a triple-bogey while on the clock at the 16th hole was Paddy's ultimate undoing, the result should signify a return to form entering a PGA title defense for the reigning champion.
"Overall, most things were pretty positive I would say coming out of this week," Harrington said. "I certainly did a lot of things that you need to do right when you want to play good tournaments, and I did a lot of that this week. My short game was sharp. Probably, definitely see a bit of a weakness in my wedge play. That needs a bit of improvement. And the long game was sufficient."
Ever the pessimist, Harrington is never one to relish his chances -- whether he's playing well or not. Prior to last year's British Open, a wrist injury nearly kept him from competing, but he successfully defended the Claret Jug; one month later, he discussed exhaustion prior to the PGA, then vanquished all comers at Oakland Hills.
So what should we make of his efforts to earn a second straight title at the year's final major? If we listen to Paddy -- and remember, he's a pure pessimist -- it won't be as easy as he made it look in going back-to-back at Royal Birkdale last year.
"I think winning majors makes it easier to win majors in the long-term because you've done it before," he said recently. "When you immediately go back to defend any tournament, there is a little bit more spotlight and highlight on you. That can be a distraction. It's harder to maybe do your own thing and stay out of the limelight."
Harrington was certainly out of the limelight until losing to Woods this past weekend. He'll remain right in the spotlight at Hazeltine.
5 Vijay Singh.
It's been a rough year for the Big Fijian, with only three top-10s and not a single top-five in 17 starts so far. His numbers are down from last season's three-win campaign in driving distance, greens in regulation, putting and, subsequently, scoring average.
For those who are quick to blame a slow recovery from knee surgery in January, which caused Singh to miss a month after competing in the season-opening Mercedes-Benz Championship, think again. "The knee is perfect," he said recently. "I've been working out pretty hard and trying to rehab it and get it really strong. There's no issues with my knee."
At 46, it's no secret that Singh is already well onto the back nine of his career, but don't believe he's ready to kick back in a rocking chair on the front porch any time soon. During a teleconference for the Deutsche Bank Championship this past week, I asked Vijay if he was motivated by Tom Watson's rally at Turnberry last month at the age of 59.
"Well, that's another little factor now," he said. "I'll be saying, 'Gosh, I'll be playing until I'm 55, you know.' But he's a great boost to all the guys, especially if you're in your 50s. Everybody has been talking about it. I think it's great for golf. It was a second wind to a lot of people that thought they were over the hill."
There's little doubt Singh will still be active nine years from now, but if this season's production level is a sign of things to come, you have to wonder whether he can maintain his current elite status.
Then again, he competed in 16 events before earning his first victory in 2008, so don't be surprised to see another late-season rally once again this year.
Before the completion of this weekend's tournaments, 99 of the top 100 players in the Official World Golf Ranking were scheduled to compete in the PGA Championship. If that number holds true, it would mark the first time since the OWGR was established in 1986 that so many top-100 players competed in the same tournament.
The only player not on that list? You got it: Mr. Karlsson.
It's not because he failed to qualify, though. The lanky Swede hasn't competed since the end of May due to a serious eye problem. Since MC'ing at the Masters, Karlsson has been forced to WD from each of the year's final three major championships.
"Robert is so eager to play again, but doctor's orders are doctor's orders," his manager Lillian Jansson told Reuters on Thursday. "He is recovering but not allowed to play yet, apart from practice and very light working out, nothing that can bring on stress."
As you might expect, this is not something a little saline solution could fix. Karlsson has a blister behind the retina in his left eye, which has caused blurred vision for the past three months.
7 Jim Furyk.
Doesn't he just sort of seem like the kind of guy who would claim a PGA title or two during his career? Always an elite player, though more consistent than awe-inspiring, Furyk used to fare pretty well at this one, with a T-6 in 1997, T-8 in 1999, T-7 in 2001 and solo ninth in 2002.
Not anymore.
In the past five years, Furyk hasn't finished better than T-29 at this event, which pales in comparison to his results at each of the other three majors.
Furyk has now made four dozen starts since his last regular-season victory at the 2007 Canadian Open, a fact with which he's all too familiar.
"I've had my opportunities this year," he said recently. "I'm very happy with the way I've been playing, frustrated that I haven't closed the door and I haven't taken advantage of some opportunities."
Furyk would love to at least have one more opportunity at Hazeltine this week. It's one that hasn't happened for him at the PGA in quite some time.
8 I wish there was one-tenth the amount of talk about the Presidents Cup as there is surrounding the Ryder Cup every other year.
If this were an even-numbered year, chances are you would have memorized not only the already automatically qualified members of the United States Ryder Cup team, but which players needed to make a big splash at the PGA to make the roster, while owning a keen awareness of the European side, too.
It's understandable. That biennial competition has been around since 1925 and brings out a certain patriotism on both sides of the pond. My question is: Why hasn't the Presidents Cup caught on in similar fashion?
Quick: Who won the last Presidents Cup? Where is this year's edition being held? Who are the captains? (Perhaps only the most die-hard golf nuts would correctly answer the United States, Harding Park Golf Course and Fred Couples and Greg Norman.)
Much like its strikingly familiar yet distant cousin, the Presidents Cup also has a cutoff date of Sunday night at the PGA Championship. Unlike it, however, discourse about which players are currently in and which ones need some help has hardly dominated the headlines. Let's take a look at the two teams:
United States: Tiger Woods, Phil Mickelson, Steve Stricker, Kenny Perry, Zach Johnson, Stewart Cink, Sean O'Hair, Jim Furyk, Anthony Kim and Justin Leonard are in with one tourney to go. That leaves two-time 2009 winner Brian Gay, U.S. Open champ Lucas Glover and Ryder Cup heroes Hunter Mahan, Boo Weekley and J.B. Holmes among those who need to help themselves.
International: Geoff Ogilvy, Vijay Singh, Camilo Villegas, Retief Goosen, Ernie Els, Mike Weir, Angel Cabrera, Tim Clark, Rory Sabbatini and Jeev Milkha Singh are in, with Robert Allenby, Adam Scott, Trevor Immelman and K.J. Choi among those with some work to do.
A few random thoughts as we enter the final week of the qualifying process …
• For the first time in the past decade or so, the U.S. has a better team on paper. Its lowest-ranked player (among the current top 10) on the OWGR is Leonard at No. 32; the internationals have three players ranked lower, with the lowest being 41st-ranked Jeev Milkha Singh. The average ranking of the U.S. players is 11.7; the average ranking for the international players is 24.8.
• If Glover doesn't squeeze onto the roster, he's got to be a slam-dunk captain's pick for Freddie, right? The Open winner is 20th on the OWGR, but only 12th on the points list. Unless a major winner is a complete fluke, it would be tough to leave him out of this competition.
• Can't say the same thing for Norman's decision about Scott. The Shark has long served as a mentor for his fellow Aussie, but considering his recent run of poor results, will he be left off the roster? You know this one has been weighing on the captain's mind for a while.
We'll find out 10 of the 12 players on each team by Sunday evening at Hazeltine. The other two captain's picks will be announced in a joint news conference Sept. 8.
9 I wish the PGA wasn't regarded as the major for "the other ones."
Not sure when, why or how this notion came about, but the year's final major has earned a reputation as the most accessible of the four for non-elite players. Maybe it's the moniker "Glory's Last Shot," maybe it's the inclusion of 20 club pros in the field, but whatever the case, it's simply not true.
Let's take a look at the number of first-time major champions from each of the four biggies dating back to 1999:
• Masters: 4
• U.S. Open: 6
• British Open: 6
• PGA Championship: 3
Granted, each of the other three majors has held one more edition of its event than the PGA over this time period, but even if a first-timer earns the Wanamaker Trophy at Hazeltine, the tourney would only tie the Masters for the fewest over that span.
Further negating this idea is the fact that after a back-to-back-to-back run of first-timers in David Toms, Rich Beem and Shaun Micheel from 2001-03, the champions list has been nothing but superstars, as Vijay Singh, Phil Mickelson, Tiger Woods (twice) and Padraig Harrington have won the previous five editions of the event.
10 I wish Tiger Woods would admit that the lower a winning score at a major, the better his chances are.
Ask the 14-time major champion if he'd rather see a major championship venue that yields a winning score of 20-under or even-par, and he hedges his bet, but comes closer to choosing the latter.
"I've always said I'd much rather play in a tournament … where the winning score is in the single digits under par versus going out there and shooting 20-some under par to win the tournament," he once intimated. "That's just not as fun for me."
Maybe not, but winning is fun for Woods, and the guy who hasn't finished lower than sixth on the PGA Tour in birdie average during any individual season since becoming a full-timer in 1997 tends to win 'em when red numbers are plentiful.
At no tournament is the discrepancy more apparent than the PGA. In his four victories, Tiger has tallied two 18-under-par totals, one 11-under and an 8-under. That's an average winning total of 13.8 strokes under par.
Meanwhile, in the other eight editions of the PGA since he first started teeing it up in '97, the average winning score has been exactly 8-under-par, with champions getting into double-digits only three times.
That's a differential of nearly six strokes under par between PGAs claimed by Woods and those won by others. While he might stick to his viewpoint that a major yielding single-digit scores to win is more fun, it might be time to admit that when these courses are set up for more birdies, it only suits him better.
They say when the going gets tough, the tough get going. Well, in Woods' case, when the going gets a little bit easier, that's when he really gets going.
Jason Sobel is a golf writer for ESPN.com. He can be reached at Jason.Sobel@espn3.com.
Once again, e-mail questions seem to have gone the way of the mashie and niblick. Instead, let's go to the Twitter account for this week's batch of quick-hitters …
wcp3@JasonSobel What is Tiger's record in majors on courses he has already played? That stat may come up a few times next week, you think?
This is one that I researched before the British Open and seemed more than a bit prophetic, considering his early exit at Turnberry. First, let's exclude the Masters, which is, of course, played at Augusta National every year. For the year's final three majors, there are 12 courses on which he has previously played professional events.
Of those, he's won six for a 50 percent return rate. Contrarily, there are now 24 courses -- including Turnberry -- on which he's played for the first time during that major. He's triumphed on only four of these occasions, for a winning percentage of 16.7.
And yes, this is a very relevant stat for this week. Of course, TW has played Hazeltine previously, mounting a furious charge to finish a stroke behind Rich Beem in 2002. Based on the above numbers, such experience should serve him well this week.
justinherzog@JasonSobel I'm a big Cink fan, but has there ever been a worse "previous major champions" grouping than Cabrera, Glover and Cink?
Wait a minute -- a Cink fan on Twitter? Shocking.
I hate to call this the "worst" champions' threesome, but it certainly has the lowest Q-rating. I suppose 2007 was fairly close, with Zach Johnson, Cabrera and Padraig Harrington … but the Irishman has a pretty strong following. Maybe 2003, too, with Mike Weir, Jim Furyk and Ben Curtis … although those first two are pretty popular guys. Or even 1998 … though I don't recall the third player grouped with Lee Janzen and Mark O'Meara, who won two of the year's first three majors.
To answer your question, though, I think "worst" is the wrong term for it, but there will definitely be a lack of buzz surrounding this threesome at Hazeltine in comparison to the usual major winners group.
goobjones@JasonSobel With this being 18 years since Daly winning the PGA, could we see another out of nowhere winner?
I really doubt it. Remember, JD only got into the field at Crooked Stick as the ninth and final alternate that year. This year's PGA will likely feature 99 of the world's top 100 players, none of which could be considered an "out of nowhere" winner. There are 20 club pros, each of whom would fit that description, but it's extremely unlikely -- like a million-to-one chance -- that one of them will find the winner's circle.
That leaves only 37 other players from which to choose. It really comes down to a numbers game; with fewer possibilities, there's less of a chance that an unknown could be victorious.
carletongolf@JasonSobel Will anyone reach the massive par-5 15th? Will Kerry H. move the tees forward and make the 14th drivable?
It might have taken their respective organizations a while to figure it out, but Kerry Haigh and USGA setup guru Mike Davis have each done a marvelous job laying out their major championship venues to play differently on a daily basis over the past few years. Expect the 15th -- which plays 642 yards on the scorecard -- to be moved up on a few occasions. That means some of the longer players might just take a shot at it in two. Expect the 342-yard, par-4 14th to be moved up, too. Not every day, mind you, but once or twice during the course of tourney week? Absolutely.
These are very viable options, and ones that make players think about their shots before simply stepping up and hitting 'em.
For more answers, check my PGA Championship live blog throughout the coming week. You can send e-mails to pgablog@gmail.com or tweet me at username JasonSobel.
So you wanna host a PGA Championship? Get in line … and wait awhile.
The PGA of America has booked up the year's final major through 2016. Let's take a look at not necessarily the best courses that are lined up for coming editions of the event -- hey, it's all subjective anyway, right? -- but the ones I'm most excited about:
5. Atlanta Athletic Club (2011): Note to Tin Cup: Sometimes it takes guts to lay up. Just ask David Toms, who did so on the final hole of his 2001 victory here.
4. Baltusrol Golf Club (2016): Note to Mother Nature: Please don't inflict your evil ways on this New Jersey-based course in the form of heavy rains, forcing a Monday finish -- again.
3. Oak Hill Country Club (2013): Note to Shaun Micheel: If your name was Tiger Woods, that 7-iron to within inches at the final hole of this venue in 2003 would have been considered one of the greatest shots of all time. Instead, people chalk it up as a fluke. Tough crowd.
2. Whistling Straits (2010, '15): Note to self: Don't stay in Milwaukee again. Those four hours of commuting time each day could be better spent admiring the beautiful vistas at this Northern Wisconsin links course.
1. Kiawah Island Golf Resort (2012): Note to PGA of America: What took you so long? Home to the famed "War at the Shore" Ryder Cup in 1991 and the 2007 Senior PGA, the Ocean Course will hold its first non-senior major three years from now.
Note to Valhalla Golf Club (2014): No offense or anything, but with last year's Ryder Cup having just been contested at your place, I'm underwhelmed by this sort of "been there-done that" type of feeling, leaving you as the lone upcoming venue to miss this list.
I could spend thousands of words in this column producing statistical evidence of the most easily proved fact in golf: Tiger Woods is good.
Recently, his swing coach Hank Haney e-mailed me the following numbers since his first full PGA Tour season (we'll exclude his two-win half-season of 1996 for the purpose of this exercise), which are impressive because they not only show Woods is good, they insinuate he's getting even better.
1997-2000: 82 PGA Tour events
Wins: 22 (27 percent)
Top-3s: 36 (44 percent)
Top-10s: 55 (67 percent)
Top-25s: 69 (84 percent)
2001-04: 74 PGA Tour events
Wins: 16 (22 percent)
Top-3s: 29 (39 percent)
Top-10s: 48 (65 percent)
Top-25s: 68 (92 percent)
2005-09: 70 PGA Tour events
Wins: 30 (43 percent)
Top-3s: 42 (60 percent)
Top-10s: 52 (74 percent)
Top- 25s: 62 (89 percent)
A few things jump out when analyzing these numbers:
• From the four-year period that began his career (again excluding '96) to the past four years, Woods has competed in 12 fewer tournaments while winning eight more. This should serve as noteworthy to anyone who prefers to criticize him for not playing more events.
• He's become more of a grinder, increasing his percentage of top-three and top-10 results as his career progresses. Again, it's noteworthy for a guy who clearly doesn't need a seventh-place paycheck, yet rarely ever drops to 39th, either.
• During each of these periods, he has finished in the top 25 of a tournament at least 84 percent of the time. With fields of about 150 players on average, it means TW has been in the top-16th percentile on more than eight out of every 10 occasions.
Yes, Tiger is good. And yes, there are plenty of numbers to back it up. But nothing tells us he's actually getting better in relation to the competition than this statistical proof.
Hazeltine's three par-5 holes of more than 600 yards give long hitters a huge advantage.
On the surface, this is a no-brainer. Longer holes suit longer hitters because -- duh! -- they hit the ball farther. Uh … right?
Not so fast, my friends.
Fact is, at some point, a hole can become so long it negates players' length, in effect leveling the playing field. If the 633-yard third hole, 606-yard 11th hole and 642-yard 15th hole play to their numbers on the scorecard -- and yes, there's a chance they might not, at least not for each round -- they'll likely be too long for even the brawniest bombers to reach 'em in two.
Don't believe me? Just ask Tiger Woods.
"I'm not Dustin Johnson, so I can't get there," he said of the long-hitting youngster. "But who knows, the PGA has been known to move tees around like what the USGA is doing now lately under Mike Davis. I don't know if they're going to play it all the way back or not, but if they do, I don't think a lot of the guys can get to all the par-5s, and they're going to be true three-shotters."
So much for the advantage to the long guys. Meanwhile, the ball-strikers -- players who might not knock it three bills off the tee, but keep their ball in play and have solid wedge games -- can simply go about their business as usual, plotting and plodding their way around these holes without ever having a thought regarding going for the green in two.
Call it the Zach Attack strategy, one made famous by eventual champion Zach Johnson during the 2007 Masters. During that tournament, he elected to lay up on each of Augusta National's four par-5 holes in every round, yet still played them in 11-under-par, posting 11 birdies and five pars.
Don't be surprised to see a few short-knockers making red numbers on these holes once again, while the long hitters remain confounded by the uncommonly unreachable par-5s. Consider the above statement FICTION, though the real answer, of course, will be unveiled this week.
Despite soaring to a place among the top 10 in the world, Steve Stricker had only claimed four titles in his 15-year PGA Tour career entering 2009.
Early on, it appeared to be another season of close calls. He was in position to win the Bob Hope Classic, Northern Trust Open and Transitions Championship, but failed to seal the deal on any of those occasions.
The story does have a happy ending, though, as Stricker finally broke through for his first win of the season at Colonial, then added another six weeks later at the John Deere Classic.
Before competing in this week's WGC-Bridgestone Invitational, he sat down on the Hot Seat to discuss prodigious courses, personal goals and purple attire.
Q: I know you're a Wisconsin guy, so I just wanted to clear something up: You're not going to pull a Brett Favre and decide not to play in Minnesota, are you?
A: [Laughs] No, I'll be playing. And I wish Brett Favre was coming back, to tell you the truth. It would have been fun to watch and see what he was going to do this year, but no, I'll be up there.
Q: Seriously, though, how do you think a cheesehead would be received in the winner's circle there?
A: I think it would be well received. Our states, we're basically from the same type of background, same Midwestern values. I think it would be well received up there and I think you'd find that if a Wisconsin guy got into contention there, he'd find a lot of support from the Minnesota people.
Q: You're ranked 117th on the PGA Tour in driving distance. When you see a course like Hazeltine, which will be set up at 7,674 yards on the scorecard, does it get into your head a bit before even getting there?
A: Well, yeah. Obviously, we probably won't be playing it all the way back there; we'll probably be playing it at 7,200 or 7,300, somewhere in there. But yeah, the guys who hit it a little bit shorter are going to have to be a little more accurate and keep it in play.
Short games are going to be an issue, because even with that long of a course, even the longest hitters have got to have a sharp short game. People are going to miss greens, they're going to miss fairways, and it becomes difficult when you start doing that. For a guy who doesn't hit it extremely long, I know that I'm going to have to be on with my game, with my driver and hitting greens. You know, just plodding along.
Q: Granted, technology has changed the game over the years, and like you said, this course won't necessarily play as long as it shows on the scorecard, but how long is too long for a major championship venue right now?
A: I don't know. It all depends how a course plays. There are so many variables all the time. I mean, if it's soft conditions and it's a 7,400-yard par-70, that's probably too long. But if it's firm conditions, 7,400 yards doesn't play 7,400 yards, so it all depends on the conditions and how they set it up, But when you start talking about 7,400, 7,500, 7,600 yards, that's borderline too long.
Q: Who is currently the best player in the world without a major victory?
A: Oh, I have no idea. Who are some?
Q: Well, it's funny, because you're one of five players in the top seven on the Official World Golf Ranking who has never won a major. Doesn't that seem strange?
A: Yeah, maybe a guy like Paul Casey or maybe Lee Westwood, he's given himself a couple of chances recently. Guys like that come to mind pretty quickly.
Q: Do you consider yourself up there on that list?
A: I've never really thought about it. You know, I would love to win a major, obviously, but I've never really considered myself like that. Those guys are a little bit younger than I am and they've got a lot of years left. I'm creeping up on the end of my career, I guess, but I've still got some good years left in me, too.
Q: Do you set personal goals before the season?
A: No, I really don't. I mean, obviously to win is always a goal of mine, but I just make commitments to practice and play hard and that's pretty much my goal at the start of the season.
Q: With two victories and five other top-10s so far, how much more can you accomplish this year?
A: Well, I think I've got an opportunity to do something pretty special. I'm in a great position to challenge for this FedEx Cup. Obviously, I'm probably going to have to win again. The guy who's leading -- we all know who that is; it's Tiger -- he's going to be up there every tournament. It's a monumental task, but you just never know. You've got to just keep grinding it out and keep working at it, trying to do your best. And hopefully I can get back in the winner's circle again before the end of the year.
Q: And you'd love to do that at the PGA.
A: No doubt about it. Yeah, that would be a great spot to do it.
Q: If you did, would you maybe wear some purple in Minnesota?
A: Yeah, I've got a purple shirt. I'm saving it for next week.
"I'm not an expert on this. I Googled it, but I still don't know what it means."
-- Paul Casey, on the intercostal injury that forced him to withdraw from the WGC-Bridgestone Invitational after six holes Thursday.
That's right: He's suffering from a strained intercostal … which sounds like something that would block a yacht from getting to its destination, but in reality is "somewhere in the ribs," Casey deduced via the search engine.
The world's No. 3-ranked player is still planning to compete in the PGA Championship, though it could be an 11th-hour decision.
"That's the intention, yeah," he said after playing those six holes in even-par at Firestone. "I've got to be careful, though, because there's a lot of important golf left."
Casey said he's been told that to let the injury properly heal would require 2-4 weeks off the course, but it doesn't appear likely he'll heed that advice. After all, this is an injury that first reared its ugly head before the British Open, but he gutted it out at Turnberry, where he finished in a share of 47th.
Whether he plays this week or not, it looks as if Casey will be dealing with some pain. Of course, we're only one year removed from Trevor Immelman, Tiger Woods and Padraig Harrington each competing with illness or injury that could have forced them to withdraw before winning a major, so remember: Beware the ailing golfer.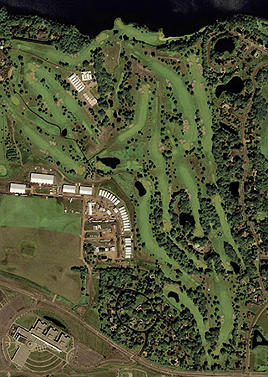 DigitalGlobe/Getty Images
Seven thousand, six hundred and seventy-four yards.
It might look like any other golf course from high above -- this shot was taken during the 2006 U.S. Amateur -- but Hazeltine National Golf Club will set a record this week as the longest major championship venue in the 149-year history of these things.
According to the official scorecard, the par-72 layout will include three par-5s of 600 yards or more, only one par-4 of less than 400 yards and two par-3s of at least 210 yards.
Depending on how PGA of America tournament organizers choose to set up the course on a daily basis, there's a chance it could play as an absolute beast at times, especially if any rain comes through the area to soften up the ground.
---