Friday, August 21, 2009
Updated: June 14, 1:42 PM ET
Submission Translation

---

Will Topete is a cool dude. His name is as well-known as the more popular moto photogs like Garth Milan, Chris Tedesco and Simon Cudby, but he's got the skills to hold it down with the best. ESPN FMX's Cliff Talley nabbed up one of Will's favorite photos and proceeded to pick his brain about it and other random nothings. Check it out.

[+] Enlarge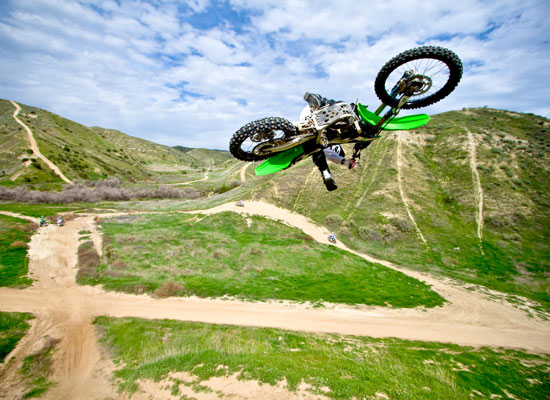 Rider: Nick Evennou | Photo: Will Topete | Location: Beaumont, California

Alright, who are you and what do you do?
I am Will Topete and I am an action sports photographer and graphic designer.

Sweet, who have you done design work for?
Various companies including Shift, Dirt Alliance, Sano Systems, Resen, Trail Bikes and some local bands.

Have you done any trade work with the bands? Like exchange photos for groupies?
Oh, all the time! It's a win-win-win situation.

Way to go man! Does the size of your lens matter to them?
Oh for sure. Gotta slap the zoom on for times like that.

That's what I like to hear! So let's get down to business and talk about this freeride banger shot you sent us.
Alright, let's do it.

Who is it and where were you?
It is Mr. Nick Evennou and we were having a little fun in the hills of Beaumont.

Can you hook us up with the GPS coordinates or what?
All I know is that it's off some Jack Rabbit road, down a couple gullies, across a stream and next to some redneck who was firing off his shotgun while downing some Bud Lights.

Gnarly! Did he offer to share some brews?
We didn't go near him!

I don't blame you. Can we get a little tech and talk about f-stops and lenses? What are the particulars of this photo?
Shot with my Canon 30D with a borrowed 10-22mm, and the rest I'm not sure about at the moment.

Cool. How long were you shooting that day before you locked down that angle?
Well, this was our first stop during our little journey. I started shooting the opposite direction when we first got there, but then I moved on the landing of the hip and found that it looked much better.

Right on Will, thanks for sharing this rad photo with us. Where can we go to see more of your work?
Anytime dude. I have a website with all of my photos, it's willtopete.com.



---