Wednesday, October 21, 2009
Updated: October 29, 9:40 AM ET
RISE Above: Adam Jones

---
By Jon Mahoney
ESPN RISE Magazine


Adam Jones has raised his GPA to 3.0 and has committed to Fairfield University.
The Four Seasons Hotel in Manhattan is the ultimate in luxury. The lobby resembles the Roman Colosseum with its marble pillars, and the cheapest rooms go for $600 a night. Winter Park (Winter Park, Fla.) senior forward Adam Jones stayed there in August while visiting Connecticut's Fairfield University -- where he had committed earlier in the summer -- and watching teammate Austin Rivers play in the Boost Mobile Elite 24 in the Bronx.
Life is good for Adam now. Two years ago, it was anything but luxurious.
From the outside, things seemed just fine for Adam during his sophomore season at Orlando Christian Prep (Orlando, Fla.). A starter on varsity, he averaged 8.7 points and 6.7 rebounds per game to help lead the Warriors to the Class 1A state title.
Off the court was a different story. Adam had been living with his uncle since the sixth grade because his mother wasn't able to look after him. By the time Adam got to high school, however, his uncle had developed kidney problems and couldn't properly care for his nephew either.
Without a job or driver's license and very little income, Adam faced a deteriorating home life. To make matters worse, his grades began to suffer as he dwelled on his problems at home.
"Life was rough," Adam says. "There would be times where I had to eat toast sandwiches all the time and have bottled water because my uncle was ill, so he wasn't able to get the things that he normally could get. Things were pretty bad."
By May 2008, Adam's uncle needed a kidney transplant and was no longer able to look after his nephew. With nowhere else to turn, Adam went to Austin's parents, Boston Celtics coach Doc Rivers and his wife, Kris. Adam had known the Rivers family since middle school and had spent summers and holidays with them. When he called Kris for help, she didn't hesitate.
After getting the blessing of Adam's mother and uncle, Doc and Kris became his legal guardians in August 2008. Adam then transferred to Winter Park and won a hardship appeal through the Florida High School Athletic Association to play for the Wildcats last season.
Adam flourished in his new environment. He averaged nine points, eight rebounds and four blocks per game and teamed with Austin to help lead Winter Park to the Class 6A state semifinals. In the classroom, he brought his GPA above 3.0.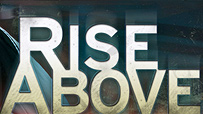 Three years after a nearly catastrophic kitesurfing mishap, Dartmouth College's Conner Kempe savors each day as it comes. Jon Mahoney
• RISE Above: Bill Marnich Jr.
• RISE Above: Domingo Santoyo
"It just brings joy to me, waking up every day, going downstairs and seeing them there, saying good morning and just feeling the vibe of having a family," says Adam, who still regularly talks to his mom. "It's just a great feeling."
In turn, the Rivers family -- which also includes Austin's older brother, Jeremiah, older sister, Callie, and younger brother, Spencer -- has learned a lot from Adam.
"He's been through so much and he acts like nothing has happened to him," says Austin, a junior.
"He's taught us a ton," adds Kris. "Not just me and my husband but definitely our kids. He's very appreciative. He doesn't take anything for granted."
When Adam committed to Fairfield, it was the realization of Doc and Kris' goal of getting him into a good college, something that seemed next to impossible two years ago.
"It gave us a tremendous sense of pride," says Doc. "We were very happy for him because he's obviously been through a lot."
"Things were pretty bad."
Jon Mahoney writes for ESPN RISE Magazine. This story appeared in the October issue.
---