Deep In The Heart
By Ivan Maisel, ESPN.com
Having seen No. 3 Texas and No. 4 TCU win in similar fashion 90 miles apart on Saturday, duty demands that I provide my assessment of the two teams.
I can say without hesitation that the Longhorns could stay on the field with the Horned Frogs.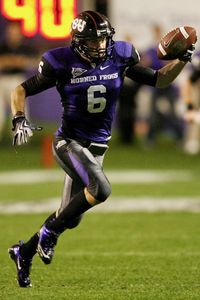 Jim Cowsert/Icon SMI
How would TCU match up with Texas this season?
Relax, Orangebloods, just having a little fun with you, although Mountain West Conference teams are 2-0 in BCS bowl games.
History, of course, dictates that the teams be viewed through the other end of the lens. The University of Texas first played TCU in 1897, Texas winning 18-10 in Waco, and the Horned Frogs have been chasing the Longhorns ever since.
They haven't caught them very often. TCU held sway in the 1930s, winning four straight, and took five of seven from 1955 to 1961. The last one, a 6-0 upset of the No. 1 Horns on the next-to-last weekend, was when Texas coach Darrell Royal uttered his immortal description of TCU.
"They're like a bunch of cockroaches," Royal said. "It's not what they eat and tote off, it's what they fall into and mess up that hurts."
When the Southwest Conference dissolved in 1995, Texas led the series 61-20-1. Texas added a 34-13 victory in 2007, in case anyone had any questions. Yet the Horned Frogs are back, cockroachy as ever.
No. 3 Texas races out to a 40-0 halftime lead at Baylor and cruises to a 47-14 victory. No. 4 TCU blows through No. 16 Utah, goes up 38-14 at the half and cruises to a 55-28 decision.
Texas is big and fast and playing with a vibe that went missing during the first half of the season.
"We're relaxed and playing and having fun," Longhorns coach Mack Brown said after Saturday's game. "'Let's see how good we really are.' They are playing that way."
TCU is fast, not quite as big as Texas and playing better than any team from a non-automatic qualifying conference ever has. The Horned Frogs made more mistakes Saturday than did the Longhorns, but they played a tougher opponent. The comparisons are fun to make, but in the end, the BCS formula will spit out two teams and the other BCS bowls will make business decisions.
"It doesn't do much good this time of year to complain," TCU coach Gary Patterson said. "Most people don't like complainers."
With Texas and TCU undefeated and Houston disappointed to be 8-2, it's been fun to say that the best conference in the nation this season is the Southwest Conference. Of course, the Longhorns play in the Big 12, the Horned Frogs in the Mountain West and the Cougars in Conference USA. The Southwest Conference expired for a reason.
Saturday illustrated why it died.
Baylor was taken into the Big 12 in part because the governor of Texas at the time, Ann Richards, graduated from there. The Bears have won 14 conference games in 14 conference seasons. About two of every five spectators at Floyd Casey Stadium in Waco on Saturday wore burnt orange. It's a longer-lasting color. By the fourth quarter, the yellow and green pretty much had disappeared from the stands.
TCU has flourished since the end of the SWC. The Horned Frogs hired a winning coach, Dennis Franchione, and when he left for Alabama in 2001, TCU had the smarts to promote Patterson, the defensive coordinator.
He has built a formidable program. The Horned Frogs have several players who could slip into Texas' lineup undetected. They also have several who couldn't. That would be the fun of a Texas-TCU bowl game. It would take some upsets along the way.
"It would be a great opportunity," TCU linebacker Tank Carder said.
For the Horned Frogs and maybe even for the Longhorns.
bUCkeye State?
By Pat Forde, ESPN.com
CINCINNATI -- Mardy Gilyard is fast on the football field, and his mouth moves with comparable speed off it. When asked to compare his Cincinnati Bearcats to the Ohio State Buckeyes 100 miles up I-71, the wide receiver was ready.
"They can chill up there and run the ball all day in the Big Ten," Gilyard said Friday night after UC beat West Virginia 24-21. "We'll be down here gunslingin', throwing the football and having fun and winning games."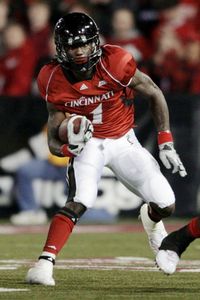 Andy Lyons/Getty Images
Mardy Gilyard has been backing up his talk with his play on the field.
Any doubt in your mind which is the No. 1 team in Ohio, Mardy?
"Never been no doubt," he said. "We aren't the little brother no more. We're the scrappy little cousin, I guess."
They are not kissing cousins these days. The previously moot debate about the pre-eminent football program is now sizzling across the Buckeye State. Or the bUCkeye state, if you ask Bearcats fans.
For just about the first time ever, football pauper Cincinnati has the upper hand on lordly Ohio State. Throughout the decades the Buckeyes have accumulated national championships and Heisman trophies and a vast army of fans, while the Bearcats have accumulated a lot of funky uniform combinations. But this year, Cincinnati is ranked higher in the BCS standings (No. 5 for UC to OSU's No. 11) and in every poll. It is undefeated and on the fringe of the national title hunt, while Ohio State has lost twice and long ago excused itself from that race.
In a city that almost amounts to a separate island state on the southern border of Ohio, the Bearcats faithful are eating this up like a bowl of Skyline Chili.
The big AM radio station in Cincinnati is WLW 700, and it has been peppering Ohio State fans with trash-talking promos all season. (They can be heard here.) Buckeye Nation, which tends to take itself rather seriously, has responded with a barrage of disdain aimed at reminding Cincinnati of its place in the historical pecking order.
The best thing about this nonrivalry rivalry is the stylistic differences between the two programs and the two universities.
Cincinnati is an urban commuter school in the remodeled Big East. Ohio State is a state university -- THE state university, its graduates haughtily point out -- in the old-money Big Ten.
Cincinnati is flashy and trendy, throwing the ball 34 times per game and ranking seventh nationally in passing offense. Ohio State is button-down and old-school, ranking 102nd in passing yards but fifth in total defense.
Cincinnati is led by the glib, daring Brian Kelly, who is wont to wear all black on the sideline. Ohio State is led by the staid, cautious Jim Tressel, who would sooner open a game with an onside kick than wear all black.
Cincinnati's most exciting player is Gilyard, who wears shells in his braided hair -- a look that probably wouldn't fly at Ohio State. The Buckeyes' most exciting player is quarterback Terrelle Pryor, who is kept on a leash of Tresselian shortness.
Cincinnati is tickled to be selling out "The Nip," its 34,000-seat stadium. Ohio State has long been accustomed to selling out "The Shoe," its 105,000-seat monolith.
Cincinnati fans tailgate in parking garages, because that's the only available space. Ohio State fans tailgate near the banks of the Olentangy River, which flows picturesquely outside Ohio Stadium.
The best way to settle their differences is on the field, and Gilyard would be fine with that.
"We want to play them guys," he said.
It won't happen this year. But that won't stop everyone here from talking about it.
Panthers On The Prowl
By Mark Schlabach, ESPN.com

PITTSBURGH -- With two regular-season games to play, the Pittsburgh Panthers are 9-1, their best start since quarterback Dan Marino's senior season in 1982.

But unless the No. 12 Panthers can win the next two games -- at rival West Virginia in the Backyard Brawl on Nov. 27 and against No. 5 Cincinnati at home on Dec. 5 -- the 2009 season won't be nearly as memorable as Marino's last. Pittsburgh put itself in position to finish with a flurry by outlasting Notre Dame 27-22 at Heinz Field on Saturday night. With its balanced offense and stifling defense, Pitt opened up an 18-point lead early in the fourth quarter, then withstood the Fighting Irish's furious rally in the final minutes to win their sixth game in a row. "I circled this game on the calendar," Pitt quarterback Bill Stull said. "This was a great statement game for the players, the coaches and just for Pitt's tradition. It was awesome to be a part of it." But Pitt knows its toughest work is still ahead. The Cincinnati game will decide which team wins the Big East championship and earns the corresponding bid in a BCS bowl game. "The next two games are going to be tough, and right now we're just taking things one game at a time," said Pitt freshman RB Dion Lewis, who ran for 152 yards on 21 carries against Notre Dame, including a 50-yard touchdown. "Right now, our focus becomes West Virginia, and we'll go from there." If the Panthers keep playing as well as they've played since a forgettable 38-31 loss at NC State on Sept. 26, they'll be tough for anyone to beat. Pitt is as balanced on offense as any team in the country. Lewis ranks sixth nationally in rushing with 129.1 yards per game. Stull, who was heavily criticized before this season, ranks fourth nationally in pass efficiency (159.37 rating) with 18 touchdowns and four interceptions. Sophomore receiver Jonathan Baldwin is drawing comparisons to former Pitt star Larry Fitzgerald, and senior Dorin Dickerson is one of the country's best tight ends. Pitt's defense is allowing only 17.6 points per game and leads the country in sacks. "I give all the credit to our seniors," Pitt coach Dave Wannstedt said. "Week in and week out, they have done a great job of keeping their feet on the ground."
Change Is Here
By David Bearman, ESPN Stats & Information

That hush leaving the L.A. Memorial Coliseum on Saturday was the realization that USC most likely won't be wearing Pac-10 championship rings or going to a BCS bowl for the first time since 2001. The Trojans are not mathematically eliminated from the Pac-10 race, but the team that left the field on the losing end of a 55-21 score to Stanford shows no resemblance to the school that won a share of the past seven conference crowns.
USC, Past Five Games
| | |
| --- | --- |
| PPG Allowed | 34.8 (would rank 110th on the season) |
| YPG Allowed | 455.6 (would rank 115th on the season) |
The Trojans' loss means:
• It's the first time USC has had three conference losses in a season since 2001.
• USC lost for the first time in November in the Pete Carroll era. (Since 2001, the Trojans had been 28-0 in November.)
• USC's 12-game home winning streak has ended. (The past two home losses have been to Stanford.)
Those numbers don't begin to tell the story. Stanford put up 467 yards and 55 points, the most points allowed in the 121-year history of the USC program. This output came two weeks after the Trojans' defense allowed 47 points in a loss to Oregon. USC has allowed 111 points in its past three games, the most in a three-game stretch in school history. Before that, the worst three-game stretch was 110 points, allowed in Weeks 7-9 of this season. And before that, you have to go back to 2000, when the Trojans gave up 106 points to Washington State, UCLA and Notre Dame.
The 174 points the Trojans have allowed in their past five games are just three points fewer than they allowed in their previous 19 games combined. That includes all of 2008, when USC allowed 93 points during the regular season and 24 in the Rose Bowl. Stanford scored 27 points in the fourth quarter alone on Saturday. The Trojans allowed that many in a game just once last season.
Three Weekend Observations
By Ivan Maisel, ESPN.com

1.
USC played six of its first nine games on the road, and Trojans fans used that as an explanation for the team's sputtering performances the past few weeks. Coach Pete Carroll's Songs of the Week: "Mama, I'm Coming Home" by Ozzy Osbourne and "Homeward Bound" by Simon & Garfunkel. USC responded by giving up the most points in its history and losing 55-21 to Stanford. Another definition of home: where they have to take you in when you have nowhere else to go.

2.
Fiesta Bowl honchos John Junker and Alan Young came away as impressed with TCU off the field Saturday night as on it. Bowls want fans who will travel. "We came here to get a feel for a level of excitement," Junker said after seeing 50,307 fill Amon Carter Stadium, breaking a 25-year-old attendance record by some 3,000. "It was a great atmosphere. That's something we can feel."

3.
Stanford may be the hottest team in the Pac-10, but the Cardinal, despite holding sole possession of second place in the league at 6-2, have the longest road to the Rose Bowl of the top four teams. Arizona, despite its loss to Cal on Saturday night, can get its first trip to Pasadena in 32 conference seasons by winning out. That would mean the Wildcats would have beaten the other possible two-loss teams (Oregon, Stanford, Oregon State).
GameDay Crew Recap
GameDay Crew Final Thoughts
RECE DAVIS

Although some people believe the ACC is mediocre, two teams are playing at a high level. Clemson has rebounded from early-season struggles, and Georgia Tech looks better and better each week. We all know the Yellow Jackets are capable of big plays on the ground. Now, they also are making huge plays through the air. They look extremely dangerous when that offense is clicking on all cylinders.
Helmet stickers go to:
• LB Tank Carder, TCU
9 tackles, TFL, Int, TD in 55-28 win versus Utah
• RB/KR
Brandon West
, Western Michigan
Set FBS record for career all-purpose yards (7,626) in 35-14 win at Eastern Michigan
---
LOU HOLTZ

Gerhart
Crazy things happen in college football, but not to the top teams, at least not this season. A lot of conference title game matchups are set as the good teams are separating from the mediocre ones. Good teams are finding ways to win week after week, and that explains the lack of major upsets we've had this season.
Helmet stickers go to:
• RB
Toby Gerhart
, Stanford
29 rushes, 178 yards, 3 TDs in 55-21 win at USC
• CB Kendric Burney, North Carolina
3 Ints, TD in 33-24 win versus Miami
---
MARK MAY

It was business as usual for the top five teams, which just continue to win games. However, I was really impressed with TCU. The Horned Frogs went out and dominated a good Utah team. That's what you have to do if you want to impress the voters. This was likely the Horned Frogs' biggest test remaining, and they passed it with flying colors.
Helmet stickers go to:
• RB/WR
Dexter McCluster
, Ole Miss
25 rushes, 282 yards, 4 TDs in 42-17 win versus Tennessee
• WR
Danario Alexander
, Missouri
10 rec, 200 yards, 3 TDs in 38-12 win at Kansas State
Highlights: Utah-TCU
Blog Network: What We Learned

Georgia Tech is the ACC Coastal Division winner, and Clemson is one win from winning the Atlantic Division.
ACC

Don't look now, but Oklahoma's blowout home victory over Texas A&M might have provided the Sooners confidence.
Big 12

If all you care about is the Big East title, you can nap until Dec. 5.
Big East

They might not be the people's choice, but until someone beats the Ohio State Buckeyes, they will set the standard in the Big Ten.
Big Ten

Although no one outside of the Pac-10 has managed to beat USC, the Pac-10 has delivered a knockout blow to college football's premier program.
Pac-10

These past couple of weeks in the league have seen more scary injuries than any of us wants to see.
SEC

Non-AQ:
Utah coach Kyle Whittingham summed up this year's TCU team in a nutshell when he said that in his five years of being a head coach, TCU was the best team he'd faced.
Around the nation
Highlights: Iowa-Ohio State
Blog Network: Helmet Stickers
Every week our bloggers will hand out helmet stickers to the week's top players, coaches, teams or anything else worth this honor.
Highlights: Stanford-USC
Highlights: Notre Dame-Pitt
---