Wednesday, November 18, 2009
UFC 106: From "Mega Event" to mediocre card?

---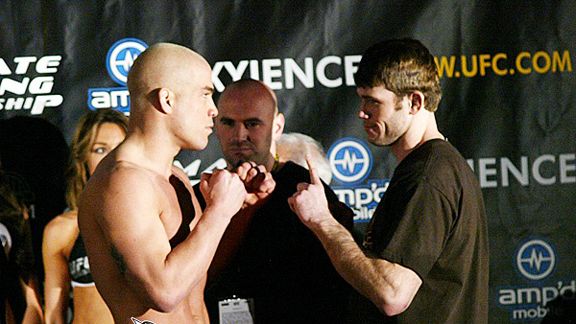 About a month ago, UFC 106 was going to be one of the best fights of the year. Brock Lesnar was to return to the cage in order to defend his heavyweight belt against Shane Carwin, probably the only person on earth that had a chance against him. Unfortunately for UFC fans, Brock Lesnar had to bow out of his fight due to ongoing health issues. Just within the last week, Dana White (UFC President) has informed the media that this is much more serious than originally thought and could be potentially career-ending. Now, I've said more than a few not-so-nice things about Brock Lesnar over the years, but I sincerely hope he recovers swiftly and returns to the Octagon very soon. He is a gifted athlete and is a very entertaining fighter to watch (whether you're rooting for or against him). With Lesnar vs Carwin no longer the main event, the UFC has bumped up the previously designated "co-main event" (Tito vs. Forrest) as the new headline bout for UFC 106. Tito Ortiz steps back into the Octagon for the first time in over a year against fan favorite, Forrest Griffin. Tito beat Forrest in a very controversial split decision over three years ago. This time the stakes are higher for both fighters involved and I doubt Saturday's fight will go to the judges. Tito is coming off of two losses, a draw, and over a year's worth of "ring rust". A win against Forrest revitalizes his career and puts him immediately back into the light heavyweight title picture. Forrest on the other hand is coming off of back-to-back losses for the first time in his UFC career and another loss could at a minimum move him to "undercard" fighter status. Being as popular as he is, I doubt Dana White would be ready to cut Forrest from the company, although he desperately needs a win to reclaim a level of relevance within the organization again. A couple of other fights on the card to watch are Anthony Johnson vs. Josh Koscheck and Phil Baroni vs. Amir Sadollah. Johnson won his last fight in devastating fashion, but will attempt to get back on Dana's good side by making weight this time. He came in 6 lbs over in his bout against Yoshida! Koscheck looks to get a winning streak going that's long enough to get him into the welterweight title picture. Baroni, a veteran of the UFC's early days makes his return to the Octagon after a four and a half year absence. He'll face the winner of TUF 7, Amir Sadollah, who lost his first official fight in the UFC by a very controversial stoppage against Johnny Hendricks at UFC 101. Overall, this event won't be the "Mega Event" that we were all hoping for, but it is a very solid card from top to bottom and is certainly worth the $50 you'll need to fork over to catch it on pay-per-view. And don't forget, two prelim bouts will be broadcasted on Spike TV for FREE! UFC 106: Ortiz vs. Griffin will be held at the Mandalay Bay Events Center in Las Vegas, Nevada on November 21st. My Fight Picks MAIN CARD
Forrest Griffin vs. Tito Ortiz: Tito wins by decision.
Anthony Johnson vs. Josh Koscheck: Koscheck wins by decision.
Phil Baroni vs. Amir Sadollah: Baroni wins by decision.
Luiz Cane vs. Antonio Rogerio Nogueira: Little Nog gets the first round TKO.
Dustin Hazelett vs. Karo Parisyan: Hazelett by second round submission.
PRELIMINARY CARD (Spike TV)
PRELIMINARY CARD (un-aired)
Paulo Thiago vs. Jacob Volkmann: Thiago by decision.
Brian Foster vs. Brock Larson: Larson wins by decision.
Fabricio Camoes vs. Caol Uno: Uno by decision.
Jason Dent vs. George Sotiropoulos: Sotiropoulos by first round submission.
---