Friday, November 20, 2009
Updated: December 23, 11:22 AM ET
Osterman is decade's best

---
ESPN RISE


Cat Osterman was an All-American in high school and at the University of Texas before winning a gold medal at the 2004 Olympics.
As a junior in high school, Catherine "Cat" Osterman held the 2000 USA Olympic gold medal-winning softball team to one run in eight innings. She recorded 11 strikeouts and allowed one hit in the game.
THE SCHEDULE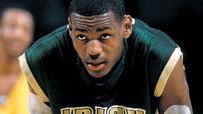 Over the past six weeks, ESPN RISE named its All-Decade All-America teams for the following high school sports:
•
Nov. 24:
Baseball
•
Nov. 25:
Softball
•
Dec. 1:
Boys' basketball
•
Dec. 2:
Girls' basketball
•
Dec. 8:
Boys' soccer
•
Dec. 9:
Girls' soccer
•
Dec. 15:
Boys' cross country
•
Dec. 16:
Girls' cross country
•
Dec. 22:
Boys' track & field
•
Dec. 23:
Girls' track & field
•
Dec. 28:
Football: Offense
|
Defense
That's when Osterman knew she was going to be the top dog … or cat … as a dominant softball pitcher.
"I knew my pitching had really developed when I could face the best in the world and hold my own against them," she told Brentt Eads of ESPN at the time.
Osterman went on to complete a stellar prep career at Cypress Springs (Cypress, Texas) and is the choice as the ESPN RISE Player of the Decade. She also tops the ESPN RISE All-Decade All-America Team for softball.
At Cypress Springs, Osterman didn't have a ton of help, but she was still chosen to the National Fastpitch Coaches Association All-American team three straight years. She also was the 2001 Gatorade National Player of the Year.
From there, Osterman's softball career took off. She joined the University of Texas Longhorns in the fall of 2001 and was the Big 12 Freshman of the Year and Big 12 Pitcher of the Year the next spring.
Although Texas didn't win an NCAA title during Osterman's four seasons in Austin, she still rewrote the record books. She became the first player in NCAA history to surpass 2,000 strikeouts for her career and still ranks second in career shutouts with 85.
Osterman's college career was interrupted during the 2003-04 school year so she could concentrate on her commitments to the USA National Team. At the 2004 Olympics, she was a member of the gold-medal winning squad and did not allow a run in three pitching appearances.
The 6-foot-2 lefty continued her legacy after college with the USA national program. By 2008, she was the rock for the U.S. squad and led the Americans to a silver medal at the Beijing Olympics.
So the "Cat's" out of the bag. Osterman is the best player of this decade, and she's not done yet.
---