Friday, November 20, 2009
Updated: December 3, 5:00 PM ET
'Pitch for the Cure' hits close to home

---
By Garland Cooper
ESPN RISE


A residual benefit of the Pitch for the Cure: a heightened awareness among the tourney's participants.
'Don't Give Up'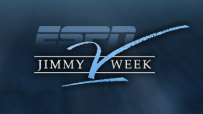 Jim Valvano had a deep love for sports and a passion for life. During Jimmy V Week, ESPN RISE highlights those who epitomize the late coach's fighting spirit. For more on Jimmy V Week, click here.
• Dec. 2: Perseverance served
• Dec. 3: No quit in this coach
• Dec. 4: Like mother, like son
• Dec. 5: 'Something to prove'
• Dec. 6: Tucker's Team
• Dec. 7: Pitch for the Cure
• Dec. 8: The fight must go on
Throughout Jimmy V Week, ESPN hopes to raise funds and awareness about this very important cause championed by our dear friend, Jim Valvano. 100 percent of all cash donations goes directly to cancer research. Click here to donate or call 1-800-4JimmyV to make a donation.
From the outside looking in, it seems like any other softball tournament. At first glance, it's hard to see the hope and inspiration that the annual Pitch for the Cure provides.
The Springdale, Ark.-based tournament is dedicated to creating awareness and raising money for breast cancer. Teaming with the Ozark Komen Foundation, the tournament has raised $62,000 since its inception in 2005.
"We wanted to do something more than a softball tournament," said event co-chair Gina Bartholomew. "I had a cousin who was diagnosed with breast cancer at the age of 40 and she was the inspiration behind the tournament in the beginning, and it snowballed from there."
What started out as a small fundraiser with hopes of attracting 50 teams turned into a movement with 144 teams in 2009 and donations of $25,000.
While the donations are the most tangible aspect of the event, Bartholomew and other event organizers are doubly excited that participants are learning to be community oriented.
For 12-year-old and tournament veteran Kourtni Vargas, her participation is dedicated to her "Grammie," who has battled breast cancer for nearly a decade.
"This tournament is helping to find a cure for my grandma," Kourtni said.
High school freshman Jessica Hartig has a similar story, and her team showed its support not only by participating but by winning. Jessica's mother, Traci, was diagnosed with Stage IV breast cancer in 2005 and given a 40 percent chance to live. In 2008, while in remission, Traci was diagnosed again, this time with bone cancer.
"It put strain on our family and it was hard to get through," said Jessica. "The second time really scared me. I was older and mature enough to realize what it really meant."
In such a turbulent time, softball could always bring the family together and make life "normal" if only for a short time.
"Going and hanging out at the softball field is such a 'normal' thing," Traci said. "When you get sick and everything starts happening, you kind of just want everything to go back to normal. I played softball and my girls have grown up playing, so it is normal for me to go to the ball field and be able to take my mind off of everything."
This past June, Jessica's team, Team Arkansas, won the Pitch for the Cure in its age division. The team dedicated the victory to Jessica's mom and handed over the winning trophy to her family.
Pitch for the Cure organizers initially hoped to attract 50 teams. This year, 144 teams took part in the event.
For Traci, the trophy presentation had a lasting impact.
"It is unbelievable to think that 14-year-old girls would want to play, win and give the team trophy to me and my daughter. It meant a lot to me and Jessica. It is important for her to have girls her age knowing what she is going through and supporting her."
Through the tournament, those affected by cancer experience the care of loved ones as they battle the disease. The movement has profoundly touched people's lives in a positive fashion.
The inspirational words of 14-year-old Jessica ring a familiar bell and best sum up the tournament.
"I think the message of the tournament it to never give up. Keep fighting until the end and you'll make it somehow because there is always going to be people behind you pushing you."
---