Tuesday, November 24, 2009
Updated: December 1, 11:29 AM ET
ESPN RISE's All-Decade All-Americans

---
By Mark Tennis
ESPN RISE


LeBron James started to leave his mark as a 14-year-old standout freshman at St. Vincent-St. Mary High.
THE SCHEDULE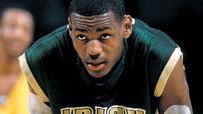 Over the past six weeks, ESPN RISE named its All-Decade All-America teams for the following high school sports:
•
Nov. 24:
Baseball
•
Nov. 25:
Softball
•
Dec. 1:
Boys' basketball
•
Dec. 2:
Girls' basketball
•
Dec. 8:
Boys' soccer
•
Dec. 9:
Girls' soccer
•
Dec. 15:
Boys' cross country
•
Dec. 16:
Girls' cross country
•
Dec. 22:
Boys' track & field
•
Dec. 23:
Girls' track & field
•
Dec. 28:
Football: Offense
|
Defense
At the end of 1999, All-Century teams were the rage. Now it's coming up on the end of the first decade of the 2000s, and while 10 years might be a blip for an All-Century team, in high school sports the time span is immense.
Consider the career of the decade's most recognizable high school school athlete. Today, LeBron James is one of the most marketable professional athletes in the world. During the 1999-2000 school year, he was a freshman at St. Vincent-St. Mary (Akron, Ohio), and even though he was the top 14-year-old player in the nation, there weren't many beyond hard-core hoops recruitniks who knew who he was.
Because it was such a great decade in high school sports, and because ESPN RISE's editors have covered the major sports for the entire decade, it made sense for us to select all-decade all-American teams. These teams would not include anyone who participates in sports that conclude in 2010, but athletes who competed in fall sports in 2009 would be eligible. While few current high schoolers or recent grads would gain selection, we concede that in a few years a few more of the later graduates might knock off some of the ones we did choose.
We begin this series with our ESPN RISE All-Decade All-American baseball team, one day after our All-Decade Player of the Year, Joe Mauer from Cretin-Durham Hall (St. Paul, Minn.), was named American League MVP.
---