Tuesday, November 24, 2009
Updated: December 6, 10:34 AM ET
'Tucker's Team' has he-first mentality

---
By Kirstin Olsen
ESPN RISE


Central York has rallied around Tucker Haas, a 9-year-old who was diagnosed at age 2 with sarcoma.
When Tucker Haas was 2, doctors diagnosed him with a rare form of cancer called sarcoma (soft tissue tumor). Early on, his prognosis was optimistic; however, after his first of three relapses, it became touch and go. One hospital gave him no hope for survival.
'Don't Give Up'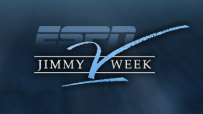 Jim Valvano had a deep love for sports and a passion for life. During Jimmy V Week, ESPN RISE highlights those who epitomize the late coach's fighting spirit. For more on Jimmy V Week, click here.
• Dec. 2: Perseverance served
• Dec. 3: No quit in this coach
• Dec. 4: Like mother, like son
• Dec. 5: 'Something to prove'
• Dec. 6: Tucker's Team
• Dec. 7: Pitch for the Cure
• Dec. 8: The fight must go on
Throughout Jimmy V Week, ESPN hopes to raise funds and awareness about this very important cause championed by our dear friend, Jim Valvano. 100 percent of all cash donations goes directly to cancer research. Click here to donate or call 1-800-4JimmyV to make a donation.
Haas, now 9, underwent several surgeries (one removing a rib), a stem cell transplant and numerous rounds of chemotherapy and radiation. He has been cancer free for nearly three years.
After Tucker's first relapse, his uncle, Matt Baker, the offensive coordinator for Central York (York, Penn.), decided to get the football team involved. The Panthers and the community raised $16,000 for the Haas family.
And that was only the beginning.
"When this started in the fall of 2005, we introduced Tucker to the team, and the team and Tucker just took to each other," Central York coach Brad Livingston said. "The whole thing was incredible to watch. If my memory is correct, Tuck's father brought him on the sideline with us in the second game of the year. We won, and the captains asked if they could give the game ball to Tucker."
From that moment, the Panthers were called Tucker's Team. Orange and black T-Shirts with Tucker's Team lettered on them were sold at football games and throughout the schools in the district. Tucker has his own number -- 23, after Michael Jordan -- and dresses in full uniform at the games. He even has his own locker.

He has helped us all overcome our fear of failure by putting these games in perspective.
-- Central York coach Brad Livingston
Tucker gives the pregame speech, a tradition that started during the 2005 playoffs, in the locker room and breaks the team out of the huddles. Always on the sideline with the team, he does not miss a game. He scored a "touchdown" before one game (complete with a rousing call over the P.A.) and performed the coin toss in two others.
In Al Davis form, "Just win, baby!" became his M.O. Tucker said it developed from there into, "Are you ready to kick some (name of the other team) butt? Just win, baby!"
Tucker loves being a part of the team and hopes to play football at Central York someday. The team accepted him and includes him in everything it does. Several players who graduated continue to come back and hang out with Haas. Last season, quarterback Brandon Workinger and many of his teammates built Tucker's Rock, which players touch as they leave the locker room for the field.
"He has helped us all overcome our fear of failure by putting these games in perspective," Livingston said. "Tucker has taught us that life is precious."
The love and support from the team overwhelms Tucker's mom, Lisa.
"It is one of those things that you never think will happen to you, and it was very hard to accept all of the support at first," she said. "We have grown so close as a family and have learned never to take anything for granted and to live each day to its absolute fullest."
---