Tuesday, November 24, 2009
Updated: December 4, 9:58 AM ET
Son draws strength from mother's resolve

---
By Brett Hughes
ESPN RISE


Already close, Pete and Claire Rossetti formed an unbreakable bond during Claire's fight with cancer.
'Don't Give Up'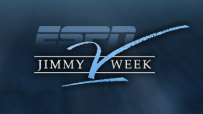 Jim Valvano had a deep love for sports and a passion for life. During Jimmy V Week, ESPN RISE highlights those who epitomize the late coach's fighting spirit. For more on Jimmy V Week, click here.
• Dec. 2: Perseverance served
• Dec. 3: No quit in this coach
• Dec. 4: Like mother, like son
• Dec. 5: 'Something to prove'
• Dec. 6: Tucker's Team
• Dec. 7: Pitch for the Cure
• Dec. 8: The fight must go on
Throughout Jimmy V Week, ESPN hopes to raise funds and awareness about this very important cause championed by our dear friend, Jim Valvano. 100 percent of all cash donations goes directly to cancer research. Click here to donate or call 1-800-4JimmyV to make a donation.
Every so often, you meet a student-athlete who makes you think a bit more is going on upstairs.
At 6-foot-4 and 220 pounds, Richmond (Richmond, Va.) junior Pete Rossetti is an imposing presence on a lacrosse field. And he works hard to make sure opponents don't have fun by hounding them on defense all game. But he also flashes a smile constantly and has a vibe surrounding him that says he is enjoying every part of his life.
Why does Rossetti have this mix of pure enjoyment of his sport and a passion and dedication to never give up, to never complain when things get rough? Simply stated, it's because of his mother, Claire Rossetti, who was diagnosed with breast cancer when her son was in eighth grade.
We let Pete explain:
How did you react to your mom's diagnosis?
The end of eighth grade was very tough for me. I was so excited for my eighth grade graduation and then the bomb was dropped. "Peter, your mom has cancer. She has good odds but it's going to be tough. She is going to need surgery, chemo and radiation." My stomach dropped, and the feeling was only more overwhelming because that was also the first time I had ever seen my dad cry.
What was it like from the start? It must have been something you could never have planned for.
That summer my mom began her chemo treatments. It was tough seeing my mom feel so sick, tired and stressed all the time. She went straight from a seven-hour double mastectomy with a monthlong recovery to eight rounds of chemo to daily radiation sessions.
That's a lot of stress on one's body. How did you deal with seeing her go through that?
The whole time my mom never complained. She never took one pain pill while recovering from surgery. This summer was when I discovered the weight room. It was a great way to just blow off stress over my mom. I also found that I was able to work so much harder because when I felt pain or felt tired, I thought of how sick my mom felt. How can I complain about sprints in the summer heat when my mom had to go out in that summer heat every day and have poison pumped into her veins?
Pete Rossetti says he's the player, and the person, he is today because of the lessons he learned from Claire. "She really taught me that excuses don't cut it."
Without ever knowing it, my mom had shown me how to train at a whole new level. I used her as motivation. I also found that if I channeled the aggression I had over my mom and her cancer, it made me play with a fire and passion that I had not had before. I went from playing afraid of making mistakes to playing like it was the last time I would ever step on the field. My mom went from a healthy women to cancer stricken in such a short time I learned that every single day is a blessing, so I was going to take advantage of every opportunity I had. I truly believe I became the athlete I am today because of her.
What's life like for her now?
As of now, my mom lives a great life. She works three mornings a week (she is a dentist). She is a great mom and never misses any of my games. (She never missed a game while she had cancer, either.) It never ceases to amaze me how she can live her life now after what she went through. Even though her hair may be curly now, she is still the same person but better.
You have plans to play at Georgetown, just two hours north of Richmond. Does your mom still get the same enjoyment from watching you play?
My mom loves seeing me play sports. She never misses a game and she watches every sport I play. I love hearing her advice on how I should play lacrosse or football, and she always has interesting input even if I pretend like I don't like hearing it. Before every single game I play, I find her in the stands and point to her just before the game starts, and she always smiles and waves back at me. She really taught me that excuses don't cut it and that nothing hurts as bad as you think it does if you're willing to push your limits and work past your comfort zone.
---