Wednesday, November 25, 2009
Updated: January 5, 4:53 PM ET
Q&A with MLB 2K10 cover athlete Evan Longoria

---
America, take heart: We may be increasingly addled by and in thrall to button-pressing, butt-sitting digital distractions -- one nation under "Modern Warfare 2" -- but our professional athletes still have their priorities straight.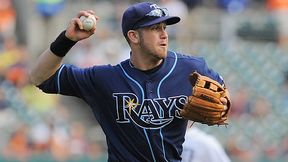 Well, at least Evan Longoria does.
After the Tampa Bay slugger was named the cover boy for the upcoming 2K Sports release "MLB 2K10" -- by the way, vote for your favorite cover image here -- we had to ask: What was the bigger honor, gracing a game box or being named the 2008 AL Rookie of the Year?
"Probably rookie of the year," Longoria said. "I mean, you only get one chance to win rookie of the year, whereas you can become a better player over your career and get on the cover."
Probably? Eh, good enough. What else did Longoria have to say? Read on ...
---