Wednesday, November 25, 2009
Updated: December 3, 4:58 PM ET
Giving up never an option for this coach

---
By Mike Loveday
ESPN RISE


Paul Rose was diagnosed with leukemia in 1995. The soccer coach recently scored his 600th career win.
'Don't Give Up'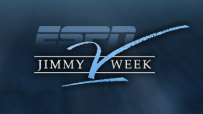 Jim Valvano had a deep love for sports and a passion for life. During Jimmy V Week, ESPN RISE highlights those who epitomize the late coach's fighting spirit. For more on Jimmy V Week, click here.
• Dec. 2: Perseverance served
• Dec. 3: No quit in this coach
• Dec. 4: Like mother, like son
• Dec. 5: 'Something to prove'
• Dec. 6: Tucker's Team
• Dec. 7: Pitch for the Cure
• Dec. 8: The fight must go on
Throughout Jimmy V Week, ESPN hopes to raise funds and awareness about this very important cause championed by our dear friend, Jim Valvano. 100 percent of all cash donations goes directly to cancer research. Click here to donate or call 1-800-4JimmyV to make a donation.
It was 1995 and Paul Rose was wrapping up his 17th season as head soccer coach at Jesuit (Carmichael, Calif.) and he was dying. He just did not know it.
Rose had hairy cell leukemia and had been living with it for two years, but he attributed his constant state of exhaustion to job stress and even considered retirement.
"I just didn't have the energy. I'd go home every day and be exhausted," Rose said. "My wife, Carol, said, 'Why don't you just get through the season and think about it? Maybe it's just a tough season.'"
One month later Rose was in a doctor's office, and a week after that he was in a hospital receiving chemotherapy treatments. Five years later, Rose would be facing more treatments after the cancer returned. But he continued to coach. He just completed his 31st season with another California section title and collected his 600th career victory.
Rose put off going to the doctor in 1995. Despite the exhaustion, the then 38-year-old thought he had an iron deficiency and did not want to shift his focus from the soccer season.
Then Carol noticed bruises.
After a practice, the spots on his body where the ball hit him had turned into large bruises, including one on the back of his leg. Once the season ended, Rose sat in the doctor's office waiting for the results of his blood test.
"He (the doctor) said you don't have any blood in you," Rose recalled calmly. "My reaction was, no kidding. I knew something was wrong, but you never think leukemia. You hear that word and you're just like, oh."
Rose's red blood count was down to 4.8 (normal is 12 to 16). With hairy cell leukemia, red blood cells are converted into hairy cells and, according to Rose, 90 percent of his red blood cells had been ravaged.
"They (doctors) said they didn't even see how I was walking. I should have been bedridden," Rose said. "If I had waited another week I probably would have died. I got as close as I could get without getting there."
With 601 career victories, Paul Rose finds himself 21 short of the California record for soccer coaches.
After Thanksgiving in 1995, Rose was in a hospital receiving an IV drip 24 hours a day for seven days. After three weeks, Rose was released, but he had to give himself a shot once a day for 35 days to increase his white blood cell count.
Through it all, the father of three refused to consider his condition terminal.
"All I thought about was that I'm not leaving my wife and kids. I thought, I'm just going to do whatever I have to do and I'm going to get through this," Rose said. "I never really considered death even though I knew it was a possibility. I just told myself I'm going to fight through this because I don't want to leave my family."
Rose, who tells the story with a calm play-by-play as if he were talking about a past soccer match, maintained a positive outlook. His red blood cell count continued to increase every six months between 1996 and 2000.
Then, nearing the five-year milestone that marks a significantly diminished possibility of the cancer recurring, Rose received devastating news. His blood count was slightly worse than his previous visits, and following a bone marrow test, doctors told Rose his cancer returned.
This time, 30 percent of Rose's red blood cells were hairy cells and he was put on a treatment program that required summer visits for three-hour sessions of IV drips. The first summer he went for eight weeks, followed by four weeks of treatments the next two years.

If I give up (coaching soccer), then it's like I'm giving up. I'm not going to let this disease slow me down or beat me.
-- Paul Rose
He continued to coach with never a consideration to taking a few years off to focus on his health.
"If I give up (coaching soccer), then it's like I'm giving up," Rose said. "I'm not going to let this disease slow me down or beat me. Better to burn out than fade away. To quit even when I was tired is to say in some little sense that I had been defeated. I just wasn't willing to go there."
In 2000 his team finished 21-3-2. Over the next four years, Rose's teams compiled a record of 97-5-7, earning No. 1 in the 2003 final FAB 50 ranking. Rose's oldest son, Jeffery, was a member of the 2003 national championship team.
Now five more years have passed and Rose's cancer is in remission.
Next season he gets to coach his youngest son, Nathan, on the varsity team. In addition, Rose is expected to pass Riverside Poly's Tom Tilson (621 wins) as California's all-time winningest soccer coach.
"The biggest thing is that you don't take things for granted -- you appreciate life more," Rose, 52, says of living with cancer. "You just say, 'Wow, I could not be here right now.'"
---