Monday, November 30, 2009
Updated: December 14, 1:46 PM ET
Ten years of greatness and more to come

---
ESPN RISE Magazine


Shawn Johnson, Brandon Jennings and Ryan Sheckler represent the diverse heights teens have reached in the last decade.
Before turning the page to a new decade, ESPN RISE Magazine looks back on the most exciting and influential 10 years in the history of high school sports. A lot has happened over the past 10 years. A sophomore named LeBron James announced his arrival as the next big thing. Hoops stars headed to Europe after -- and even before -- receiving their diplomas. Some athletes spent their summer vacations winning gold medals. And one kid even sailed around the world.
THE SCHEDULE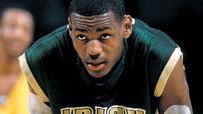 Over the past six weeks, ESPN RISE named its All-Decade All-America teams for the following high school sports:
•
Nov. 24:
Baseball
•
Nov. 25:
Softball
•
Dec. 1:
Boys' basketball
•
Dec. 2:
Girls' basketball
•
Dec. 8:
Boys' soccer
•
Dec. 9:
Girls' soccer
•
Dec. 15:
Boys' cross country
•
Dec. 16:
Girls' cross country
•
Dec. 22:
Boys' track & field
•
Dec. 23:
Girls' track & field
•
Dec. 28:
Football: Offense
|
Defense
So with the decade coming to a close, we thought it would be fitting to look back on the 10 years that saw high school sports hit the big time by giving you our lists of Top 10 athletes, stories and more from the past decade. On Dec. 7, we brought you the top athletes of the 2000s. Now, it's the Top 10 stories of a great 10 years of high school sports.
Click here for more of the decade's top stories.
Top 10 Stories
1. Preps-to-Pros a No-Go
Starting in '06, high school hoop stars had to make like Asher Roth and say "I Love College" after the NBA banned them from going straight to The League.
2. European Vocation
Kevin Garnett was the 1990s trendsetter, igniting the modern preps-to-pros movement. This decade, that honor goes to Brandon Jennings (the first to bypass college for Europe) and Jeremy Tyler (who skipped his senior year of high school to play overseas).
3. More Than a Game
NBA teams tanked to get him. A bank gave his mom a loan with his potential as collateral. LeBron's senior season was a circus, and everyone wanted inside the tent.
4. Around the World
This past July, 17-year-old Zac Sunderland became the youngest person to sail solo around the world, completing the journey in 13 months. And he blogged about it the whole way.
5. Prime Time
LeBron paved the way in 2003, and the floodgates opened. Now there are dozens of nationally televised prep football and basketball games each year, plus press conferences where recruits announce their college intentions.
6. Much Adu About Something
Prior to David Beckham signing with the L.A. Galaxy, Freddy Adu made the biggest waves in Major League Soccer when he inked with D.C. United as a 14-year-old in 2004.
Many scouts believe Bryce Harper will be the overall No. 1 pick in the 2010 Major League Baseball draft.
7. One Shining Moment
Jason McElwain, the autistic student manager for the 2005-06 Greece Athena (Rochester, N.Y.) hoop team, suited up and scored 20 points in the regular-season finale. The video became a YouTube sensation and J-Mac became a deserving star.
8. The Fast Life
Bryce Harper opened more eyes than his titanic homers do when he left high school for junior college after his sophomore year with the hope of becoming the No. 1 pick in the 2010 MLB draft.
9. Testing ... 1, 2, 3, 4
After a wave of pro athletes admitted juicing, four states adopted expensive steroid-testing programs at the prep level. But when few culprits were found and the economy faltered, so did most of the programs, propelling steroid education (thankfully) to the forefront.
10. Pay to Play
Facing the prospect of having to cut athletic programs because of costs, more and more public schools began charging their students to participate in sports and extracurricular activities as the decade wore on.
---