Wednesday, December 2, 2009
Updated: December 3, 4:59 PM ET
'I wanted to be more than just a story'

---
By Jon Mahoney
ESPN RISE


Logan Flannery's brush with cancer taught him to live for today. "Nothing is ever promised," he says.
'Don't Give Up'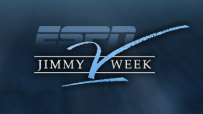 Jim Valvano had a deep love for sports and a passion for life. During Jimmy V Week, ESPN RISE highlights those who epitomize the late coach's fighting spirit. For more on Jimmy V Week, click here.
• Dec. 2: Perseverance served
• Dec. 3: No quit in this coach
• Dec. 4: Like mother, like son
• Dec. 5: 'Something to prove'
• Dec. 6: Tucker's Team
• Dec. 7: Pitch for the Cure
• Dec. 8: The fight must go on
Throughout Jimmy V Week, ESPN hopes to raise funds and awareness about this very important cause championed by our dear friend, Jim Valvano. 100 percent of all cash donations goes directly to cancer research. Click here to donate or call 1-800-4JimmyV to make a donation.
Not too many defenses have figured out how to stop Bethel University junior running back Logan Flannery.
The 6-foot, 195-pounder was recently selected to the All-Minnesota Intercollegiate Athletic Conference first team for the third straight year after rushing for 1,046 yards and five touchdowns, catching five touchdown passes and throwing for a score.
Flannery was just as dominant back in high school at Lakeville South (Lakeville, Minn.). But it was during that time he battled a far greater obstacle than any middle linebacker he's faced.
After basketball season of his junior year (he played three sports at Lakeville South), Flannery had surgery to remove a lump under his left arm that doctors originally believed was a cyst. Doctors tested the lump and discovered cancerous cells. Flannery was diagnosed with Burkitt's lymphoma, a rare cancer of the lymph nodes.
"I was shocked at first," recalls Flannery. "I felt like it couldn't happen because I didn't have any symptoms and I hadn't really heard of someone my age getting it too much. I was nervous and scared, I guess."
Flannery missed a month of school for chemotherapy and underwent three and a half months of treatments with the last one coming less than two weeks before the start of his senior year. Amazingly, by the first practice of the season, he was cancer free and ready to take the gridiron by storm.
"I wanted to be more than just a story," he says. "I felt like I had something to prove."
He ended up turning in an inspiring final high school campaign as he spearheaded Lakeville South's run to a Class 5A state runner-up finish, rushing for 80 yards and a touchdown in the final. His highlight performance came against state powerhouse Cretin-Derham Hall (St. Paul, Minn.) in the sectional finals as he ran for 215 yards and a touchdown on 25 carries to lead the Royals to the upset.
Three years later, Flannery is turning in similar performances at Bethel. More importantly, he's still cancer free and thankful he's able to play the sport he loves.
"Nothing is ever promised," he says. "Just enjoy things before you because you never know when they'll be taken away."
---