Friday, December 4, 2009
Tarpley's impact on and off the field

---
By Sheldon Shealer
ESPN RISE


As a prep star in Michigan, Lindsay Tarpley made an impact on and off the field.
When it came down to choosing the ESPN RISE national high school player of the decade in girls soccer, the short list included Lindsay Tarpley and Heather O'Reilly -- both worthy candidates.
THE SCHEDULE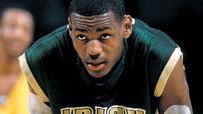 Over the past six weeks, ESPN RISE named its All-Decade All-America teams for the following high school sports:
•
Nov. 24:
Baseball
•
Nov. 25:
Softball
•
Dec. 1:
Boys' basketball
•
Dec. 2:
Girls' basketball
•
Dec. 8:
Boys' soccer
•
Dec. 9:
Girls' soccer
•
Dec. 15:
Boys' cross country
•
Dec. 16:
Girls' cross country
•
Dec. 22:
Boys' track & field
•
Dec. 23:
Girls' track & field
•
Dec. 28:
Football: Offense
|
Defense
But there was one factor that swung the decision in favor of Tarpley.
While both honored high school and national team commitments during their high school careers, Tarpley made a greater impact in high school.
At East Brunswick (East Brunswick, N.J.) in 2002, O'Reilly received the National Soccer Coaches Athletic Association Player of the Year honors over Tarpley despite only playing eight games. Meanwhile, Tarpley, from Portage Central (Portage, Mich.), was fighting for future generations of Michigan soccer players.
Simply put, Tarpley deserves national player of the decade honors not only for what she accomplished on the field, but also off of it. During her junior and senior seasons, she served three-game suspensions for violating a state association out-of-school participation rule while playing for the U.S. youth national team. She petitioned the state, which ultimately changed its stance on the issue for her and future players in her state.
Tarpley, currently a member of Chicago Red Stars in the WPS and a U.S. national team member, scored 18 goals her senior year in high school to push her career totals to 147 goals and 63 assists.
Soccer, however, was not Tarpley's only high school sport. She was a four-year member of Portage Central's girls' basketball team and was the team's MVP all four years and made all-conference three years. The point guard graduated with the single game, season and career school records for steals and assists.
Although injuries interrupted her college career at North Carolina, Tarpley managed to score 59 goals and have 59 assists, winning one national title. Oddly enough, she ended up as a college teammate with O'Reilly.
In 2006, Tarpley's No. 25 jersey was retired by the university following a career where she was the NCAA Rookie of the Year (2002), NCAA Player of the Year (2003) and a three-time All-ACC selection.
Internationally, Tarpley played on both the 2004 and 2008 U.S. Olympic goal medal-winning women's soccer teams. She has 30 goals in 119 career international matches.
---