Tuesday, December 22, 2009
Updated: December 23, 12:07 PM ET
An international star is born

---
By Steve Underwood
ESPN RISE


Allyson Felix had a senior season for the ages at L.A. Baptist, and she continues to improve with time.
Consider the campaign of the following young female sprinter:
• She runs a 200-meter personal best of 22.11 at altitude. She also breaks 23.00 several other times, including a sea-level 22.51.
THE SCHEDULE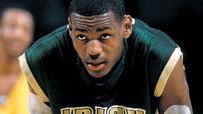 Over the past six weeks, ESPN RISE named its All-Decade All-America teams for the following high school sports:
•
Nov. 24:
Baseball
•
Nov. 25:
Softball
•
Dec. 1:
Boys' basketball
•
Dec. 2:
Girls' basketball
•
Dec. 8:
Boys' soccer
•
Dec. 9:
Girls' soccer
•
Dec. 15:
Boys' cross country
•
Dec. 16:
Girls' cross country
•
Dec. 22:
Boys' track & field
•
Dec. 23:
Girls' track & field
•
Dec. 28:
Football: Offense
|
Defense
• In indoor events, she wins at the USA Track & Field finals and makes the semifinals at the world championships.
• Outdoors, this same sprinter is third in the USATF 200 to earn a berth to the world championships.
• She ends the season ranked third in the U.S. and eighth in the world by Track and Field News, and also runs 11.29 for 100 and 52.26 for 400.
Sounds like a great season on the circuit for, say, a young female sprinter in her first or second year out of college, right?
Nope ... that was the 2003 season for Allyson Felix. Her senior year of high school.
With that kind of prep finale, which included high school records indoors and out, it's no wonder that, for her years at Los Angeles Baptist (North Hills, Calif.), Felix is the DyeStat/ESPN RISE Girls Track Athlete of the Decade. It was also understandable that Felix skipped collegiate track once her prep career was over and jumped right to the professional circuit.
Few athletes in any sport have leapt to the pros so successfully. Felix went on to win 200-meter silver medals in the 2004 and 2008 Olympics and became the first to win three 200 World Championships outdoors with her crowns in 2005, 2007 and 2009. To that tally, she's added four Olympic and World gold medals in the relays.
Amazingly, Felix did not start running track until her ninth-grade year in high school (2000). She had a strong first season, running 24.35 for seventh place in the CIF state finals, but it was hardly earth-shattering for a frosh.
In 2001, however, Felix improved all year, getting down to 11.51 and 23.31 for the 100 and 200, taking first and second at state, respectively. She also earned two Arcadia Invitational titles, won the 100 at Golden West and was second in the 200 at Adidas Outdoors.
Even better after that high school season, Felix was named to the team for the World Youth Championships in Hungary, and with an 11.57 earned a gold medal. She added another gold in the medley relay. An international star was born.
Felix continued to improve in 2002, ascending the all-time lists and securing her legend. She blasted to doubles in the Simplot Games indoors, at Arcadia and the state meet outdoors. In the CIF 200, she became No. 3 all-time with a 22.83 into a headwind. Then, in an epic 200 battle with fellow superstar Sanya Richards at the USATF Juniors, she pulled a hamstring and was beaten by her rival at the line. She recovered enough to take fifth at the World Juniors, but there was definitely potential unfulfilled that would have to wait another year.
It didn't take long for Felix to make 2003 her year. Boldly competing against the professional elites, she ran second in the 200 at the USATF Indoors, eventually breaking the U.S. high school record with 23.14. Outdoors, she got busy right away, too, winning her third straight Arcadia double.
A week later, back against the elites, Felix set the track world on its ear by trouncing a field of pros and crushing Marion Jones' high school 200 mark with a wind-legal 22.51. She was quickly leaving the high school world behind.
A few weeks later, Felix competed at the Banamex Grand Prix in Mexico City and, taking full advantage of the altitude, set a still-standing high school 200 record of 22.11. Only the meet's failure to have the requisite drug testing kept her run from being a World Junior record.
After sweeping the CIF 100 and 200, Felix continued her preparations for her pro career, taking third at the USATF Senior Championships in the 200, turning pro in August -- believed to be the first prep trackster to do so -- and then competing at the world championships, finishing sixth in the quarterfinal of the 200.
The next year she was an Olympian and on her way to an amazing career that may only be starting. After all, Allyson Felix is still just 24.
---