Friday, January 8, 2010
Burning Questions: High School Hoops

---
By Ronnie Flores
ESPN RISE



We will address five pressing questions about the boys and girls basketball scene every week throughout the 2009-10 season.
Is No. 5 Yates showing bad sportsmanship in its lopsided wins?
SCOREBOARD WATCHIN'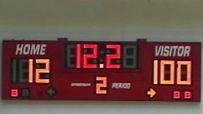 In case you missed it, Yates rolled up 170 points in a win over Lee (Houston, Texas). Coach: What gives? Watch
No. Before you think we're insensitive to running up scores or don't care about sportsmanship, allow us to explain. Unbalanced scores happen every week in high school basketball, especially on the girls' side. Yates (Houston, Texas), No. 5 in the ESPN RISE FAB 50, just happens to be a deep, press-oriented team whose third line of players (10-15) is talented. Many of the nation's top teams just came off competitive holiday tournaments, and it's usually blowout city for the top teams when league/conference play starts. Coach Greg Wise would never tell his players to go half speed, and you can bet the bench players are trying to do everything in their power to earn minutes for tight games down the line. The Yates-Lee game produced national headlines because the Lions' point total set a single-game state record (170) and because of the bad blood that brewed in the second half. In fact, we think the referees' decision to not allow substitutions after the rhubarb was worse than Wise's decision to keep the foot on the gas.
What was the most surprising team performance of the holiday season?
We think it's easily the performance of new FAB 50 No. 31 Bishop Gorman (Las Vegas, Nev.). The defending Nevada Class 4A state champions won some West Region-based tournaments in the past, but they ventured out to the Beach Ball Classic in Myrtle Beach, S.C., for the first time and came home with the tourney title courtesy of a 54-52 victory over No. 34 Columbia (Decatur, Ga.). Coach Grant Rice's club beat four out-of-state teams, with clutch 5-foot-9 senior Johnathan Loyd taking home MVP honors. The Gaels have bolstered depth with a half-dozen players off the school's state title football team. They also beat two East Coast schools at their own Holiday Classic in Sin City. The most impressive aspect of Bishop Gorman's tourney run in South Carolina: The Gaels did it without 6-foot-4 sophomore Shabazz Muhammad, the No. 5-ranked player in the ESPNU Terrific 25.
Which girls' team put together the most impressive performance?
FAB 50 No. 35 Mt. Lebanon (Pittsburgh, Pa.) had the most impressive two-week stretch. This is one hunch we got right in one of our Burning Questions earlier this season, but we thought coach Dori Oldaker's bunch would leave the Nike TOC with a 2-2 record, not a 3-1 mark. For a first-time entrant that doesn't carry a national top 20-type player on its roster, it was a fantastic showing. Mt. Lebanon's loss was a 58-47 setback to No. 8 Brea Olinda (Brea, Calif.), which would qualify as the nation's other team that has surpassed expectations in light of a season-ending injury to Justine Hartman. Mt. Lebanon, led by junior guard Madison Cable, sophomore wing Jess Babe and senior forward Lauren Arbogast, won the consolation championship at the T-Mobile Invitational in resounding fashion after falling to No. 2 St. Mary's (Stockton, Calif.) by nine points.
Which preseason FAB 50 boys' team has not played up to expectations?
It's preseason No. 22 Taft (Woodland Hills, Calif.). The Toreadors entered the week 9-3, and their best win was a three-point victory over Ballou (Washington, D.C.), a team on the East Region bubble. Taft's perimeter players played tentatively in an early loss to No. 9 Westchester (Los Angeles, Calif.), and after Christmas coach Derrick Taylor's club ran into a hot Newark Memorial (Newark, Calif.) team. In Taft's defense, it lost to state-ranked Centennial (Corona, Calif.) without USC-bound Bryce Jones (wisdom tooth), and the preseason rating was partly based on junior Kevin Johnson being eligible. He's not, and Taft has struggled to find the right combination around Texas-bound DeAndre Daniels, who must stay out of foul trouble without Johnson around to clog up the paint.
What will high school hoopsters learn from the O.J. Mayo/USC fallout?
O.J. Mayo's time at USC came and went in one whirlwind season, but it won't soon be forgotten.
Unfortunately, we think the message the punishment is supposed to send will be lost on high school players and those who followed Mayo's career from Kentucky to Ohio, back home to Huntington (W.Va.) and out to Los Angeles. Recently, USC issued self-imposed sanctions that vacated wins and NCAA Tournament earnings from Mayo's one season in the program (2007-08). As part of the punishment, this year's team will not participate in the postseason. Mayo, through his current agent, denied any wrongdoing. We think the lessons learned came when the ESPN's "Outside the Lines" story broke in May 2008 about alleged recruiting improprieties involving then-advisor Rodney Guillory and associate Louis Johnson. Two years ago, we heard players mention they would be more aware of whom they let in their circle. Mayo and former USC coach Tim Floyd draw NBA paychecks and current USC players are the ones who suffer the consequences. That's what today's high school players will learn.
---