Friday, February 19, 2010
Olympic Talk

---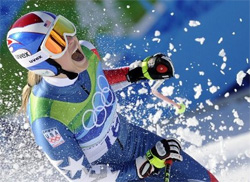 Arguably, the games' best moment
On air a couple of weeks ago I mentioned that the Winter Olympics were no longer the power house of winter athletics that it used to be. I also procalimed the the Winter X Games had surpassed it on some levels regarding compelling content and event intrigue. Here we sit a week into the Olympic games, and yet the song remains the same.
I know the TV numbers have been solid, and Lindsey Vonn's shin has looked great in HD, but in this country, has not the biggest story been the same one that dominated Winter X just three weeks ago? And that of course is the empire that is Shaun White. He won the pipe event with so much ease that I was bored. All the major publications wrote stories this week about this "unbelieveable trick" (Double Mctwist) that you would have thought by reading these articles was the visual equivalent of hearing the Beatles for the first time. He did the same freaking trick THREE WEEKS AGO. Against better competition.
But the Olympics give you something that the X Games will never give you, Oprah. Getting on the set of that show is the holy grail, and frankly, anyone hawking anything should be willing to give up one their thumbs to get on her show. You'll sell a million books, sell a billion movie tickets, and in Shawn's case, sell yourslef to the an audience that has no idea who you are. Utter genius.
Besides the White Knight winning the gold, I also have to applaud Lindsey Vonn for throwing down one of the more couragous runs in recent memory. We all knew she was the front-runner, but apparently her injury was not be messed with. So to go out and grab gold in the downhill when I'm sure more than a couple doctors grimaced at the thought of her competing is pretty dope.
So there you have it. Shaun White and a person's shin. Ladies and gentlemen, I give you the Winter Olympics!
Oh and hey, if you think I'm way off on this one, email the show (actionsports@710espn.com) and I swear to you, I will post your email on next week's blog. And then counter it. And then make you look dumb.
---