Monday, May 10, 2010
Updated: June 17, 10:37 AM ET
One game changes everything

---
By Andrew Feldman
ESPN.com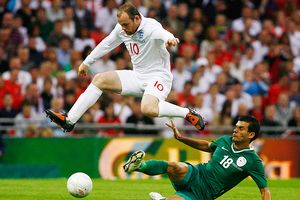 Getty Images

Wayne Rooney and Team England are going to be a formidable challenge for Team USA in Group G.
The games are underway and right from the start of the 2010 World Cup, soccer (or football) fever is sweeping the world. The international event has sparked daily discussions about each game and every fan is waiting for their team to take the pitch. All eyes are on South Africa where one game can change everything. While you enjoy the competition, the storylines and the amazing display of ability, ESPN.com is happy to give you another reason to watch: fantasy glory.
From the day the draw was announced, ESPN.com offered you the chance to predict the outcome of the tournament at the ESPN Soccernet Bracket Predictor. In that game, you could take a look at each of the groups and select who would advance and eventually make their way through the field. Now, we're taking your World Cup experience to a new level with 2010 Soccer Pick 'Em. In this game, you'll predict the outcome of every matchup in both the group and knockout stages. During the 48 matches in the group stage, you'll tackle the simple question: Will "Team A" win, lose or draw? For the knockout stage, there's no draw option as someone will go home. Selecting the winner will be your task for those 16 matches.
Pretty simple, right? Each selection must be made prior to the start of each individual match and you'll receive one point for each correct selection. Making a pick for each game can not only lead you to the grand prize of a $1,500 Best Buy gift card (that you could possibly use to purchase a new TV to watch future soccer games), but also the daily grand prize, too. For each of the 25 days when a match will be played, if you predict one game correctly, you will be entered into a drawing for am official FIFA 2010 World Cup team jersey. On the six days where no matches take place, anyone who registered for ESPN's 2010 Soccer Pick 'Em will have a chance at the jersey! Yes, someone will win an official jersey just for clicking the button above.
The players are on take the field and the world is watching on ESPN, ESPN2, ESPN3.com and ABC. Join the game by hitting the registering above and make your predictions for every match. Choose wisely and you could begin your reign as the 2010 Soccer Pick 'Em champion in just a few months. Good luck!
Watch the World Cup on ESPN3
Not near a TV? No problem! Don't miss a minute of the action of the 2010 World Cup with ESPN3.com. Every single game is live right on your computer and getting started has never been easier. Just click, choose the match you want to see and enjoy the game. ESPN3.com
ESPN Soccer Pick 'Em - message boards
Need to know who the best bets are to win each match? Join the Soccer Pick 'Em message boards and get some help from the competition. Trash-talk with fans from around the world, brag about your favorite teams or anything else World Cup-related all day, every day. Message boards
---