Tuesday, May 18, 2010
Updated: June 20, 12:29 PM ET
One game changes everything

---
By Dale Johnson
ESPN Soccernet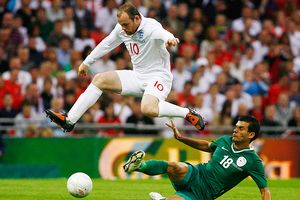 Getty Images

Can Wayne Rooney and England achieve new heights with a deep run in the 2010 World Cup?
Are we about to see a shock in the World Cup tournament as we did in Korea/Japan 2002, or will the bigger nations enjoy more success? It's one of the first things you may wish to consider when making your first predictions in the pick 'em game.
Football doesn't always go with the form team, and it's going to be those who can pick out the shocks who do well in this game. Will the United States get something against England? Just who will North Korea get points against? And will Spain win every game in their group?
You have to predict the outcome of all 64 games in the World Cup finals, starting with the 48 group stage games and moving on to the knockout stages until the final on July 11. You can make all your group stage picks today, and then go back and change them whenever you wish. Maybe you already think you know what's going to happen, or perhaps you would prefer to take a look at the teams after they have each played a game.
You can change your selection at any point up until kickoff in the game, so there's plenty of time to change your mind then switch back again!
In the group stage, you have to select one team to win or for the match to finish as a draw. However, once we move into knockout stage, you simply pick which team will win the tie and go through to the next stage - or just win the match when we come to the final and third-place games.
There's a point awarded for every match in the tournament. So you can end up with a maximum of 64 points. Should any teams be tied on points, there is a tiebreaker on predicting the actual score in the final.
Take on your friends or colleagues by setting up a league and see who can pick the most results -- whether it be win, lose or draw.
ESPN Soccer Pick 'Em - message boards
Need to know who the best bets are to win each match? Join the Soccer Pick 'Em message boards and get some help from the competition. Trash-talk with fans from around the world, brag about your favorite teams or discuss anything else World Cup-related all day, every day. Message boards
---