Tuesday, May 25, 2010
Updated: June 4, 10:49 AM ET
Everyone needs a second chance

---
By Andrew Feldman
ESPN.com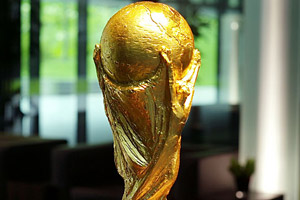 Italy raised the trophy in 2006, but where will they finish in your bracket in 2010?
The 2010 World Cup begins on June 11 and all eyes will turn to South Africa to watch history unfold. For two weeks each team will compete in the group stage with hopes of advancing to the knockout round and be one step closer to holding the FIFA World Cup Trophy. You've already made your World Cup bracket selections with Bracket Predictor and have analyzed every game in 2010 Soccer Pick 'Em, but once we've reached the group stage, you might need a fresh start to your soccer predictions and need yet another reason to watch the action unfold.
We've all witnessed our brackets get busted early in the college basketball postseason and ESPN's Tournament Challenge. There's nothing worse than losing one of your final four teams on the first day of play. Or how about the frustration watching the underdogs pull through and seeing your favorite teams (and picks) sent home. We feel your pain and to avoid the same feelings during the 2010 World Cup, we're giving soccer fans a second chance come the knockout round.
Introducing Soccernet Knockout Bracket, the third ESPN.com fantasy soccer game you'll love to play when the teams are on the pitch this summer. The challenge is simple: predict the winners starting in the knockout round all the way until the final championship game. There will be 15 matches for you to select from and just like Tournament Challenge, you'll need to evaluate each game, pick the upsets and wait to see the results. Points are awarded for each correct pick, with point values increasing as the tournament progresses. Pick the most games right and you could be on our leaderboard and earn some great prizes.
In this game you'll be given the opportunity to create up to three brackets. Stick with the same teams or change things up, we're giving you the flexibility to pick in any way you'd like as you become the ultimate soccer predictor. All brackets will lock on June 26, 2010 when the first game of the knockout round begins, so get your entries in as soon as you can and be part of the drama. The participants who enter the best and second-best bracket will take home Winner's Circle points that can be used to redeem prizes, like ESPN and non-ESPN apparel and other sports-related prizes.
The games are about to begin and you don't want to miss being part of the Soccernet Knockout Bracket. Click the "Create Entry" button above and play today.
Soccernet Knockout Bracket - message boards
Need to know who the best bets are to win it all? Join the Knockout Bracket message boards and get some help from the competition. Trash-talk with your bracket, brag about your favorite teams or anything else World Cup-related all day, every day. Message boards
---