Wednesday, June 30, 2010
Updated: July 1, 9:57 AM ET
Best Ball Challenge: The British Open

---
By Shawn Peters
Special to ESPN.com



Haggis!

There. I did it. Since just about any American who writes about anything happening in Scotland feels compelled to mention the less-than-appetizing regional dish, made of sheep organs, ground with onions, oats and spices, stuffed into the animal's stomach and then boiled, I figured I'd "cleanse the palette" early and move on to something far more tasty: the Open Championship, which will be played on the Old Course at St. Andrews, the font from which the game of golf sprung more than 600 years ago.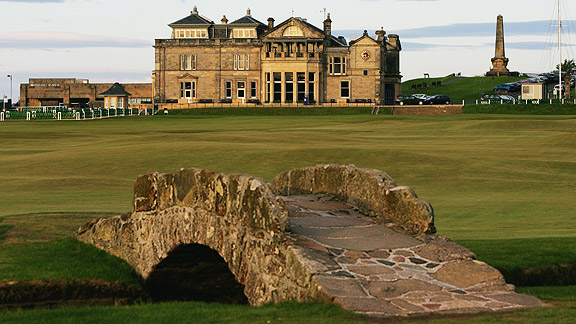 David Alexander/Getty Images
St. Andrews has plenty of holes where the best players will put up low numbers, so select your foursomes accordingly.
While ESPN's Best Ball Challenge doesn't quite have that kind of history, it has been in place for several years now, so I'll quickly hit the basics of the game and then get back to St. Andrews. You get to select four golfers before each round, and each player's scorecard is combined with the lowest score of any of your four players on each hole counting as your score. So if three of your players thin their drives on the newly-lengthened Road Hole and bounce the ball off the roof of the Old Course Hotel, but your other player crafts a tidy birdie, your team goes 1-under-par for the hole. You have 50 million fantasy bucks to spend on your ideal foursome, and while I can't tell you how many Euros that would be, I can say it's a reasonable budget for acquiring four strong golfers. Just don't go over your limit, or you'll be in worse financial straits than Greece.
You can change out players every day before the round begins, but if you're in the United States, you may want to do your roster adjustments before you go to bed the night before since much of the field will already be on the course by the time the Eastern Seaboard wakes up. Assuming you manage the time-zone vagaries, all that's left to do is assemble a squad full of players who are ready to turn the most hallowed ground in golf into their personal birdie sanctuary. So how do you do that?
The first step is to ignore most of St. Andrews' history. Really, you can look at the past 10 years, during which time the course has hosted two British Opens, and throw away the other six centuries of data. They don't really help you too much. The headline is certainly that Tiger Woods has won the past two Open Championships played at the Old Course, and it's a fact that shouldn't be ignored, even if much has changed since he got his hands on those Claret Jugs. But beyond Mr. Woods' recent dominance, it's hard to find too many trends that apply when The British Open is held at St. Andrews. For every Scott Verplank, who putted his way to 19 birdies and an eagle at the Open Championship in 2005, there's a Robert Allenby who matched his birdie total via a driving average of better than 314 yards.
You want a few bombers who might overwhelm the Old Course's old school defenses? Go for it. You want silky-smooth putters who can roll the rock on either side of the pond? I endorse the strategy. Ballstrikers, fairway-finders, short-game magicians ... all are in play. Just make sure they are guys who make a lot of birdies, because unlike the courses that host the other three majors, St. Andrews has plenty of holes where the best players will put up low numbers. This is not the event to stack yourself with safe plays. Metaphorically, go for the green at all times with your picks.
One last thing. This is the one major played outside the U.S. every year, and no matter how patriotic you are, you're not playing smart if you buy exclusively American. Woods is the only American player with more than two top-10 finishes at the British Open in the past decade. Meanwhile, South Africa claims two such players (Ernie Els and Retief Goosen), while Ireland's Padraig Harrington and Spain's Sergio Garcia are the only two other members of this exclusive club. It's notable that no English or Scottish player joins those ranks, and there has been a fair amount of talk about how much pressure there is on English players to win their empire's major. Really, if it's going to happen, this would seem to be the year, as players like Lee Westwood, Ian Poulter, Paul Casey, Luke Donald, Ross Fisher and Justin Rose are all in the top 35 in the World Ranking and ready to represent England.
So let's see which players are going to make the Old Course feel brand new for their fantasy owners.
Grip and Rip

Tiger Woods: I told you to avoid Tiger in each of the first two majors of the year, so I think I've got immunity from the "no duh" reaction some people will have. However, what has been made clear, despite his inability to win since his return, is that the current version of Tiger is still able to rack up birdies and eagles, despite not being in full championship form. Seventeen birdies and four eagles at Augusta, plus 13 birds at Pebble Beach are all the evidence you need. Now he's returning to a place where he truly needs only one part of his game to be clicking for him to contend and win. If his driver is wayward, he can sting 3-woods all over St. Andrews. A hot putter could cover up for anything else. At $15.5 million, he simply is no longer much more expensive than the rest of the elite field. More importantly, there are not many top-shelf options I like to be worth their salaries besides him.

Ernie Els: The Big Easy is having a renaissance this year, and now he's bringing his sweet-swinging ways to the one major where he seems to always be in the mix. Since we moved into the 21st century, there have been only two Open Championships where Els failed to finish in the top 10. Ernie has already won twice on the PGA Tour in 2010, with four more top-10s in his first 13 events, and he has averaged better than four birdies per round, ranking eighth coming out of the Travelers Championship. If you're not spending the money on Tiger, $15.2 million for Els is a sound investment.

Justin Rose: There are very few golfers who have burned me as a fantasy golf analyst more often than Rose. If I had a dime for every time I've recommended him, I'd be able to make several long-distance phone calls. But that was then, and after rebuilding his game in the past year or so, Rose has truly had a breakthrough. His first win on U.S. soil came at The Memorial, and he kept his momentum going with three brilliant rounds at The Travelers before falling victim to some strange front-runner's curse. Rose's birdie average is well over four per round, and because it was a dozen years ago that he exploded onto the scene with a tie for fourth at the British Open as an amateur, I expect him to make another mark this year for $13.4 million.

Charl Schwartzel: Every golf writer has a "binky" ... one player that they cling to as a security blanket when all else fails. For me, it's Schwartzel because despite being one of the top players in Europe, he is forever undervalued. For $12.9 million, you're getting the guy with the lowest stroke average on the European Tour among players who play full-time across the pond. He finished in the top 10 at both WGC events this year, so there's no reason to think a world class field is going to spook him. Throw in the recent tradition of South Africans playing beautifully at the British Open and you've got a tremendous opportunity to get a top player at a barely above-average price.
Chunked Flops

Graeme McDowell: The reigning U.S. Open champion certainly has the cool, unflappable demeanor necessary to win at St. Andrews, and he's on a hot streak, having won his last event in Europe before the win at Pebble. But he's also the seventh-most expensive player in the field at $14.9 million and I just don't like the history of less-than-elite players who win a major and enter the next one with a whole new set of expectations. Stewart Cink finished 67th at the PGA in 2009 after winning the British earlier in the year. Lucas Glover didn't even make the cut at the British in 2010 a month after winning the U.S. Open. Maybe I'm wrong in thinking that McDowell's new rock-star status in the British Isles will affect his game. But for that kind of price tag, I want someone who has shown me the ability to play as a favorite and deliver.

Luke Donald: Donald may be considered one of the top three Brits in the field by many fans and observers, but for fantasy purposes, I don't see him as a viable option at $14.4 million. Simply put, when he has played top courses against elite, world-class fields, he hasn't shown up this year. Failing to crack the top 40 at the Masters or U.S. Open doesn't call for a complete condemnation, but his inability to pile up the birdies does. Going into July, Donald didn't rank in the top 100 in terms of birdie average. For $14.4 million, you deserve a birdie machine, not a bogey-avoiding machine.
Sand Saves

Alvaro Quiros: You know the expression "Boom or Bust?" Yeah, that's Quiros, who booms the ball and busts out the birdies, but also could bust your budget if he doesn't get it done. Still, because you can swap him out if he gets off to a poor start, he seems like the top risk-reward option in the field. For $12.5 million, you get a player who has already won once in Europe this year and whose driving average of 308 yards would be leading the PGA Tour if he were playing most of his golf on this side of the pond. He is far from a sure thing, but if the Old Course is giving up birdies and better, Quiros is a good bet to collect more than his share.

Edoardo Molinari: Did anyone notice when Molinari ranked second at the U.S. Open in total birdies? He had 15, the same as eventual winner McDowell. How about the fact there are only 16 players on the European Tour with a lower stroke average, and half of those spend a lot of time playing in the U.S.? Between his penchant for birdies and the fact he's a Euro who isn't under the "home country" pressure, I like him for a mere $10.9 million.

Tom Lehman: Maybe I should create a new category "Power Fades" for past-their-prime greats who show up for one more taste of glory at majors. You know, the whole Greg Norman-Fred Couples-Tom Watson phenomenon. For this event, Lehman is my pick in that category, as he tied for fourth at St. Andrews in 2000, and five years later he still managed a top-25 finish at age 46. Local knowledge counts for something, but a game based on keeping the ball low counts for even more in links golf, where wind can get nasty and more of the game is played on the ground. If you want to spend nearly $44 million on your first three players, Lehman, at $6.2 million, could fill in and make some magic for old time's sake, on the Old Course.
Is this the definitive list of players to own and avoid? Of course not. The key to ESPN's Best Ball Challenge is being fluid and ready to react so you give yourself the best foursome every day. But this is a good place to start ... or at least a better place to start than "Haggis!"
---