Tuesday, July 6, 2010
Updated: July 9, 1:15 PM ET
710 ESPN On-air auction items

---
By 710 ESPN



To bid or donate, please call 1-800-4-JIMMYV (that's 1-800-454-6698)

Since ESPN Radio had its first annual Don't Give Up ESPYS V Foundation Auction in 2005, we have raised $3.6 million to fund cancer research. With your help, the V Foundation and Team ESPN are confident we can work together to have another record-breaking year. The online auction is now under way. Our on-air auction will take place on July 9.

To bid or donate, please call 1-800-4-JIMMYV (that's 1-800-454-6698)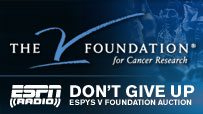 The V Foundation for Cancer Research was started in 1993 to honor Jim Valvano. From the very humble beginnings of Jim's friends and family, the foundation grew. Today, that circle of friends has expanded, and the support structure of the foundation includes people of all walks of life, those who knew Jim personally, those who knew of Jim and many who have joined the cause simply because they believe in the possibility of Jim's final wish -- to fund research to find cures for cancer.
The V Foundation takes great pride in its fiscal responsibility and is proud to announce that it gives 100 percent of all new, direct cash donations to cancer research and related programs.
ESPN Radio joined Jim's quest to find a cure for cancer by creating this annual auction in 2005. By tapping into our resources and friends in and around the world of sports, we hope to offer once-in-a-lifetime sports experiences and items up for bid in an effort to raise as much money as possible for cancer research.
Learn more about the V Foundation for Cancer Research
*All times Pacific.
---