Wednesday, August 4, 2010
Updated: December 3, 12:51 PM ET
Wanted: College Football Forecasters

---
By Will Harris
ESPN Fantasy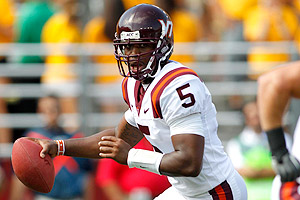 Greg M. Cooper-US PRESSWIRE

Can Tyrod Taylor lead Virginia Tech to an ACC title?
Analysts, pundits, handicappers, pollsters, coaches and many a player in our own College Pick 'Em game will all tell you what you already know: college football games can be tough to predict.
To the rescue is ESPN Fantasy's newest game. Even when you're on a cold streak picking winners, College Showdown lets you cash in on what you do know.
College Showdown offers a series of questions and propositions each week about a group of key games. If you weren't sure whether Alabama would beat Texas, but you knew the Tide ground game couldn't be stopped, College Showdown is for you.
If you weren't sure what who would win the closely-matched Capital One Bowl pitting Penn State and LSU, but you knew neither team's offense would do much on a field that was an all-timer of a quagmire, College Showdown is for you... MORE
&nbsp
College Showdown - Message Boards
Need to know who the best bets are for this week? Join the College Showdown message boards and get some help from the competition. Trash-talk with your selections, brag about your favorite college teams or anything else college football-related all day, every day. Message boards
---