Wednesday, August 4, 2010
A proposition you can't refuse

---
By Will Harris
Special to ESPN.com



Analysts, pundits, handicappers, pollsters, coaches and many a player in our own College Pick 'Em game will all tell you what you already know: College football games can be tough to predict.

To the rescue comes ESPN Fantasy's newest game. Even when you're on a cold streak picking winners, College Showdown lets you cash in on what you do know.

College Showdown offers a series of questions and propositions each week about a group of key games.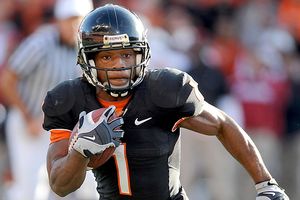 Can Jacquizz Rodgers put up 2 or more TDs against TCU? You decide.
If you weren't sure whether Alabama would beat Texas, but you knew the Tide's ground game couldn't be stopped, College Showdown is for you.
If you weren't sure who would win the closely matched Capital One Bowl pitting Penn State and LSU, but you knew neither team's offense would do much on a field that was an all-timer of a quagmire, College Showdown is for you.
If you weren't sure whether Ohio State could stop Oregon in the Rose Bowl, but you just knew Terrelle Pryor was going to deliver a breakout game, College Showdown is for you.
The beauty is in the details. College Showdown lets you test your knowledge of the games within the game.
It's easy to play. Just click to choose one of two possible answers to a series of questions and propositions about team and player performance. A team's total points or yards, game firsts, player performances; it's all fair game in College Showdown.
College Showdown takes you beyond the issue of who will win the game. Will it be a shootout or a slugfest? Which starting quarterback will play better? Who will be the game-breakers? Will the underdog ever have the lead? Will it even score?
The questions you'll answer each week will make you think about the game in a variety of ways. Since the propositions will be so diverse and force you to call on knowledge of different aspects of the matchup, there's no one-size-fits-all strategy. We do have a few tips to get you pointed in the right direction, though:
1. Know your impact players. Many of the tools you'll use to stay on the Showdown leaderboard are the same ones used in College Challenge. When thinking about player performance, always consider the following ...
Matchups: Know whether the strengths of an opposing defense hurt your player's chances. Will that star wideout be covered by an All-American corner this week?
Recent form: Know what he's done for you lately. Is he surging or slumping? Finally recovered from a lingering injury?
Usage: See the players through the coaches' eyes. Is that backup running back beginning to cut into the starter's carries? Is your player no longer getting the ball in the red zone?
Supporting cast: Even when the performance of the player in question seems stable, be sure to know about the guys around him. Is there a cluster of injuries on the offensive line this week? That tailback might not be a good bet to prosper. A suspension to the star wide receiver? Might want to think twice about that quarterback.
2. Study team tendencies. Be aware of not only what teams accomplish, but how they do it. Being able to answer questions like the following will give you the edge in College Showdown.
Is the team a fast starter, or a fourth-quarter team?
Does it grind it out on offense, or rely on the big play?
Does the team get a lot of mileage out of turnovers and big special-teams plays, or is it usually on the wrong end of those game-changers?
3. Check the forecast. We'll have the questions up on Mondays, so the player who checks the weather before finalizing his selections can gain an edge. Bad weather can hamper offensive performances and margins of victory, but it often leads to turnovers and big plays as well.
NFL fans have the craziness that is the Super Bowl, and now ESPN's College Showdown is the answer for college proposition lovers. Stay wired into the game inside the game and College Showdown will be your turf. Answer the most propositions correctly each week for weekly rewards, and of course stay atop the leaderboard long-term for the grand prize.
Good luck, and bring on the props!
---