Wednesday, September 1, 2010
Updated: September 3, 6:26 PM ET
Welcome to the Manny and Ozzie Show

---
By Jim Caple
Page 2



Manny Ramirez joined the White Sox this week, pairing with manager Ozzie Guillen to provide baseball with its most entertaining, combustible duo since Reggie Jackson and Billy Martin. What does the Manny and Ozzie Show promise in the season's remaining weeks? Off-Base looks into its crystal ball:

Sept. 1: Manny hurts his left hand in his White Sox debut against Cleveland by forgetting to wear his glove in left field and dropping a routine fly ball that leads to three unearned runs in a 4-2 loss. Ozzie comes to his player's defense, though, by telling reporters, "It's no big deal. He wouldn't have @#&%# caught the @#*% ball even if he wore a @#*% glove."

Sept. 2: Manny misses the White Sox team flight to Boston when he gets on Cleveland's team flight to Seattle by mistake.

Sept. 3: Manny returns to Fenway Park and immediately demands a trade, saying the team doesn't deserve a player of his caliber. He recants his demand after Ozzie reminds him that he now plays for the White Sox, not the Red Sox.

Sept. 4: Manny sits out the game due to a sore left hand or an aching right calf or a strained left hamstring or a sore throat or hot flashes or all of the above, then meets David Ortiz at the team hotel for drinks and dancing. When informed of this, Ozzie responds angrily to the news by ripping the media.

Sept. 5: Manny hits an apparent pinch-hit, ninth-inning grand slam only to be called out for running out of the base line so he can go urinate inside the Green Monster during his home run trot. Ozzie defends his player afterward, telling reporters that "At least he had the @#&$ decency to go into the @#&$ Green Monster instead of doing it right in front of everyone like half the @#*& Cubs fans do at @#*&$ Wrigley Field."

Sept. 8: After the White Sox lose their third game in a row to Detroit, Ozzie responds with a blistering, profanity-filled rant that rips young players, old players and middle-aged players, plus newspaper writers, TV reporters and Internet bloggers, as well as former White Sox Jim Thome, general manager Kenny Williams and Venezuela president Hugo Chavez, and don't forget official scorers, Arizona's new proof of citizenship law and progressive tax rates, and, of course, @#%$& Cubs fans.

Afterward, Manny complains that major league baseball doesn't do enough to help Latin players understand what the hell Ozzie says.

Sept. 12: Manny goes 6-for-13 with three home runs and six RBIs in Chicago's three-game sweep over the Royals. Ozzie announces Manny doesn't have to cut off his dreadlocks. "Those @&$% things don't make him look as pretty as me but at least he looks better than those @#%$ Cubs fans."

Sept. 16: Manny goes 7-for-12 with four home runs and eight RBIs in Chicago's three-game sweep of the Twins, lifting the White Sox into a tie for first place. White Sox fans begin referring to the South Side of Chicago as the Mannyside.

Sept. 19: Chicago's pennant run suffers a blow when Manny again tests positive for fertility drugs and receives a one-year ban. He files an appeal against the ban, saying that he should be allowed to go on maternity leave instead.

Sept. 23:

Manny's one-year ban is suspended pending the outcome of his appeal. The White Sox lose 5-4 when Manny forgets to run to first on his bases-loaded drive off the left-field wall with two out in the ninth and is forced out. Ozzie refers to the mistake as Manny's Boner, causing junior high students nationwide to stifle laughter.

Sept. 25: Manny is ejected in the first inning for complaining from the on-deck circle about a strike he assumes will be called against him. The White Sox go on to lose 4-2. Ozzie defends his player, complaining that "That @#*&$ incompetent Phil Cuzzi has been @#*&$ us for years. You look at games and he's always in the @#*&$ middle of something." Cuzzi responds by saying that he has nothing against Guillen or the White Sox, and furthermore, that he can hardly be blamed for Manny's ejection since he was umping 1,700 miles away in San Diego.

Sept. 28: The White Sox lose again after Manny is ejected during batting practice.

Sept. 30: Manny is ejected while driving to the fertility clinic before the game and the White Sox lose their fourth in a row, mathematically eliminating them from the AL Central race. Ozzie defends Manny, though, complaining that the real problem is the White Sox had to play so many games against American League teams instead of National League teams. "We'd have a six-game lead if we got to play the Pirates 18 games a season like those weak @#*&$ Cubs!"
In 2010, Mickey Hatcher would be accused of using a Performance Enhancing Glove.
BASEBALL CARD OF THE WEEK
Mickey Hatcher never won a gold glove but he holds the unofficial record for biggest glove ever on a baseball card (1986 Fleer, No. 396). Hatcher says some company had the glove at a spring training game. "I picked it up and the card guy just happened to shoot it when I was out there playing for fun," said Hatcher, now the hitting coach for the Angels. "I said, 'Get a picture of me with this glove because I need all the help I can get.'"
BOX SCORE LINE OF THE WEEK
Manny ended his Dodgers career by getting ejected one pitch into a pinch-hit at-bat (0 AB, 0 R, 0 H, 0 RBI), which is hardly the way Ted Williams went out with the Red Sox. Meanwhile, the Nationals' Jordan Zimmermann pitched a gem in his second start of the season Tuesday (6 IP, 1 H, 0 R, 0 ER, 0 BB, 9 K), a performance that would have prompted headlines across the country if his last name was Strasburg. But we can probably just shift the Strasburg hype to Cincinnati prospect Aroldis Chapman, who sent radar guns into the red zone this week.
First, Chapman reportedly hit 105 mph on a scout's gun while striking out the side for the Triple-A Louisville Bats, then hit 102 while retiring the side in his major league debut Tuesday. His award-winning line:
1 IP, 0 H, 0 R, 0 ER, 0 BB, 1 K, four pitches clocked at 100-plus mph
If you saw any of his highlights you know the man has a serious fastball, though I'm not sure if I completely trust that 105 mph claim. I guess it's possible, but I suspect those were the same speed guns that the Arizona speed camera used when they pulled me over for supposedly doing 60 in a 50 zone.
CSI: BOX SCORE
Here's how this game works. Each week you get a fragment from an old box score and must solve the mystery of what game it was from and why it was significant. Consider this one a softball, with a difficulty rating of 2. Answer at the bottom of the column.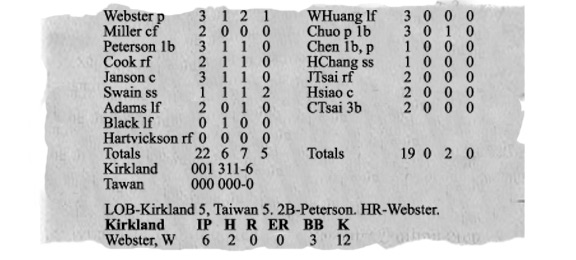 OFF-BASE RECOMMENDS
I ripped through "The Bullpen Gospels" by pitcher Dirk Hayhurst, finishing the book almost in less time than it takes Tony La Russa to finish all his pitching changes in a game. Hayhurst makes it clear up front that he isn't out to cause any scandals or create controversy with his book -- he's more Crash Davis than Jim Bouton -- but what he does provide is a very personal and often very funny portrait of minor league life (the various Kangaroo Court scenes alone are easily worth twice the cover price). Interestingly, Hayhurst changes the names of many of his teammates even though the stories he tells about them are simply funny, not embarrassing or controversial. At the same time however, he provides very personal and often damaging details about his father, brother and grandmother. Do teammates require more protection than family? I don't know, but I highly recommend "The Bullpen Gospels." If Hayhurst had pitched as well as he writes, he would have been in the majors much longer.
CSI: BOX SCORE ANSWER:
I've given you some hard ones over the season but this should have been a no-brainer. This was the box score from the 1982 Little League World Series championship game, when Cody Webster and the Kirkland All-Stars beat Taiwan 6-0. Webster's performance -- he shut out mighty Taiwan, which hadn't lost in the LLWS in 12 years, and hit a 280-foot home run that was the longest in LLWS history -- made him nationally famous. And like many Little League stars, it was pretty much the peak of his athletic achievements. He's 40 now -- where the hell does the time go? -- still living in the area and coaching others. "I felt lots of pressure growing up as a kid and playing," Webster said in a Seattle Times chat, "but as I've gotten older I've grown to accept it for what it is and, at this point, to just start enjoying it."
Jim Caple is a senior writer for ESPN.com. You can follow him on Twitter at jimcaple.