Sunday, October 24, 2010
Will Giants vs. Rangers draw viewers?

---
By Jerry Greene
Special to Page 2



We're not here to bury baseball but to praise it. The league championship series have earned nice TV viewing numbers. Really nice.

As long as there isn't an NFL game on at the same time, of course.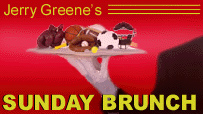 Last Monday Game 3 between the Yankees (the Yankees!) and the Rangers got a nice 6.5 overnight rating. Really nice. But the Monday Night Football travesty otherwise known as the Tennessee Titans' 30-3 rout of the Jaguars in Jacksonville actually did better with a 7.2.
Poor baseball. It's one thing to get beaten by the Cowboys playing the Vikings or some other high-profile NFL game. But Titans-Jags in a game that was delayed by a storm so that 90 percent of the stadium crowd was gone by halftime of a nearly unwatchable slaughter?
Afterward ESPN showed Titans RB Chris Johnson catching a nine-yard pass and analyst Steve Young said: "That's how bad this game was -- that was a highlight."
Yet millions of us watched. Do we need an intervention?
Meanwhile, baseball has a World Series between the Texan Rangers and the San Francisco Giants. Whee.
The World Series will play Game 4 on Halloween night, Oct. 31. And they could be in real trouble because the NFL is countering with, among others, Buffalo at Kansas City. After all, which would you rather watch? (Actually it is much worse as the primetime baseball game will be aired opposite Pittsburgh at New Orleans. You think the NFL did that on purpose?)
And now for a few more bits of tid before we get to the award-winning writers who bring us the main courses of the Brunch:
• The Orlando Magic had a perfect 7-0 preseason and have not lost a preseason game in two years. City officials huddled and decided that accomplishment plus a NBA championship would be worth a parade.
• Arizona WR Larry Fitzgerald, talking about how schools take financial advantage of players, said about Tim Tebow at Florida: "He probably built the school library and paid for the salaries of 100 professors." -- Maybe so, Larry, but he got a statue out of it.
• The Broadway play "Lombardi" opened to mixed reviews. Because of that, there has been an indefinite hold put on the next play to feature a coach: "Kiffin."
• Jimmy Kimmel on Brett Favre: "Hopefully he won't get suspended. It would be a terrible way to break his record of most consecutive retirements."
• Heat guard Mike Miller was on the cover of Sporting News and immediately got hurt. Now Sporting News has a cover jinx?
• Red Bull Racing announced Kasey Kahne will drive its No. 83 Toyota for the final five races of the NASCAR season. The shocking part of that news, of course, is that the NASCAR season has five more races.
Now let's move to the main courses, links to some of the finest columnists a Google search can find:
• How silly can fans be? Jeff Schultz of the Atlanta Journal-Constitution gets us started with his report about the website "firecoachmeyer.com." Yes, that Urban Meyer who has led Florida to two SEC titles and two BCS championships in the last five years. Incredible.
• How gullible can fans be? T.J. Simers of the Los Angeles Times says it doesn't matter how the public says it feels now about owner Frank McCourt and the Dodgers because three million of them will be back next season.
• How flawed are the New York Yankees? Brian Costello of the New York Post counts the ways and finds them fatal. That's not good.
• How little respect do the Orlando Magic get? Mike Bianchi of the Orlando Sentinel thinks they are "the Boise State of the NBA." He also thinks of many other items in his "running off at the typewriter" notes column. Question: If you are under the age of 30, have you ever seen a typewriter?
• How big are the Miami Heat? Greg Cote of the Miami Herald says they are America's Most Hated Team and also America's Biggest Sports Story. Read what he says and see if you agree.
• Finally, how much do you still love the NFL, despite what Cote says? And Jerry Greene provides his own picks for Week 7 plus a free "make your own picks" game to add to your Sunday Brunch enjoyment. Think of it as dessert.