Wednesday, October 27, 2010
Who needs the Yankees anyway?

---
By Jim Caple
Page 2



You know what I'm sick and tired of hearing people talk about? That this year's World Series will have low ratings because the Yankees aren't playing in it.

Why should the ratings matter to our enjoyment of the series, even if they turn out to be low? As if high ratings equate with superior quality. As if high ratings make "Two and a Half Men" worth watching. Why should we care? Sure, the network executives want higher ratings, but they also want us to watch "So You Think You Can Dance." So I don't care what the network executives want. I care only about a good series with fresh teams and stories.
| | |
| --- | --- |
| | |
Besides, it's not as if the Yankees have been saving World Series ratings anyway. Last year's World Series had a lower average rating (11.7) than the all-California 2002 World Series (11.9). The highest-rated World Series in the past 20 years was the 1991 Minnesota Twins-Atlanta Braves series, and ratings have been declining ever since, with the Yankees doing little to slow that trend. It's the way TV is these days. There are hundreds of channels available, all of which will show a commercial when you tune to them. With all the other options, game ratings naturally are falling, just like ratings for almost all TV shows.
Furthermore, it's not as if Dallas and the Bay Area are small markets. A lot of people live in Texas, and a lot of people live on the West Coast. And although it may be difficult for Ken Burns and the East Coast literati to believe, a whole lot of fans out here would much rather see these two teams than the Yankees. If the series doesn't interest New Yorkers, that's not a reflection on baseball; it's an indictment on how limited and narrow their true interest for baseball must be.
If this series isn't compelling to you, then you aren't much of a baseball fan. What more could you want?
This series doesn't have the Curse of the Bambino or the Billy Goat Curse. It's better than that. Counting the Rangers' seasons in D.C. as the Senators, these two franchises have gone a combined 103 years without winning a World Series in their city. That's longer than the Cubs have gone without a World Series title. That's longer than the Red Sox and White Sox went. And even if you break it down by each team, they've still gone longer without a championship than many, if not most, fans have been alive.
The Giants haven't won a World Series since they moved to San Francisco. They lost the 1962 World Series to the Yankees in seven games and were shut out 1-0 in Game 7 when they left the tying and winning runs stranded at third base and second base in the bottom of the ninth. Twenty-seven years passed before the Giants returned to the World Series, and the worst earthquake in 80 years hit minutes before Game 3 in 1989. They won 103 games in 1993 but didn't even make the playoffs. They lost the 2002 World Series in seven games despite holding a five-run lead with eight outs to go. The Rangers, meanwhile, not only had never been to the World Series before but had never even won a postseason series before this year.
They say everyone loves a winner, but when it comes to the World Series, losers grab our attention, too. And these two teams have suffered far more than those Yankees fans who have now gone almost 365 days without reaching the World Series.
Do you long for the glory days of Bob Gibson and Sandy Koufax pitching in the World Series? Then this is the series for you, because it gives you Cliff Lee, who has been better than either in the postseason. He's 7-0 with a 1.26 ERA the past two postseasons. He's starting Game 1 against Tim Lincecum, who is an amazing story himself. He was 4-foot-10 and weighed 85 pounds in high school, 5-9 and 130 pounds in college. But he won the Cy Young twice in his first two full seasons with a smoking fastball thrown with an unorthodox delivery. He is one of the game's most exciting and popular pitchers, even if he doesn't pitch for the Yankees now and won't next year, either.
Do you miss Mr. October and his ego so large it could be seen from outer space? Again, this is the series for you, because it offers figures as colorful as the Vegas strip. Josh Hamilton nearly ruined his career with drug problems but is now perhaps the best player in his league. Vladimir Guerrero is a likely Hall of Famer who has finally reached the World Series. Lincecum's long hair is so distinctive that fans wear Timmy wigs in his honor, while Giants closer Brian Wilson has the most magnificent beard outside of a ZZ Top video and San Francisco third baseman Pablo Sandoval inspires fans to wear panda costumes to games. The Rangers' shortstop is a refreshing spirit named Elvis who can field, run and hit. The Rangers, who have the fifth-lowest payroll in the majors, were bankrupt a couple of months ago and now are co-owned by Hall of Famer Nolan Ryan, who still can throw in the 80s.
There are no bland quotes vetted by Crash Davis here. These are players who haven't been worn down and dulled by the incessant New York media. Let us get to know them instead of having to hear another story about how Derek Jeter is a clutch player.
Baseball doesn't need to the Yankees in this World Series. It doesn't need the Red Sox or any other big-market East Coast team. What baseball needs are the fresh teams, players and storylines this World Series provides. What it needs is the series to go seven games to build drama and an audience. What it needs is games that end before midnight, which means no Yankees slowing down the pace so much you would think they get paid by the hour.
Mostly, what baseball needs is to have people quit whining about the ratings and just sit back and enjoy the World Series. Who knows? If fans did that -- including those New York fans who are usually too cool to show interest in another team -- maybe this year's ratings will be as high as they deserve to be.
If you had time to watch the World Series in the day, you probably didn't have much going on.
BASEBALL CARD OF THE WEEK
If the photo of Roberto Clemente on this card (1972 Topps, No. 226) looks a little dark, there is good reason. The photo was taken during Game 4 of the 1971 World Series, the first World Series game played at night. Some columnists consider that a dark moment in baseball history, but not I. This was the first weekday World Series game I was able to watch without having to pretend I was sick so I could stay home from school (which I vividly remember doing for the 1969 World Series).
I simply do not understand this nostalgia for day World Series games or for columnists who demand their return. Did anyone actually like day World Series games? If you were in school or at work, you couldn't watch them. Heck, you couldn't even listen to them. Columnists always write nostalgically about listening to the games on a transistor radio, but I don't know what school they went to. If the nuns caught us listening to the game during class, they would have slapped us upside the head so hard that our radios would have gone flying through the classroom windows. Sure, you might have been able to listen to an inning during recess, but that was only if you had a radio, and most kids at my school did not. So how would playing games during the day when kids are in school help them be able to watch the games?
But being able to watch World Series games at night? Without nuns smacking your hands with yardsticks (and I mean the big, thick kind, the ones with a metal band running along the edge)? That was heaven. And I wasn't alone. As recorded by Roger Angell in his New Yorker account of the 1971 series, 61 million fans watched the game on TV. And no one had to stay up too late because the time of game was 2:48. If that sounds short, consider that Game 1 lasted just 2:06.
I also disagree with people who think World Series games start too late. I think they end too late because the pace is too slow and commercial breaks too long (especially the overlong seventh-inning stretch). After all, each game this year will start before the weekly "Monday Night Football" kickoff. Not that anyone is demanding the MNF be played during the day so that kids can watch it.
CSI: BOX SCORE
You know the drill. Each week I give you a fragment from an old box score and challenge you to put together the clues and figure out what game this is from and why it was important. This is another postseason box, which I give a difficulty of 5.5. Hint: I have doctored the original box just enough to give you a big help.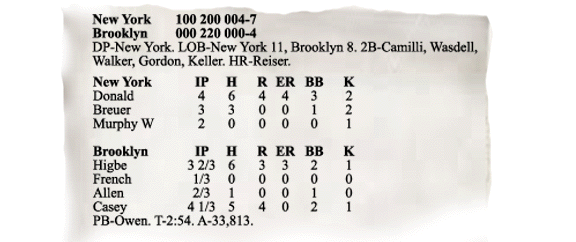 BOX SCORE LINE OF THE WEEK
Roy Oswalt and Lincecum each had rare relief appearances, but this week's award goes to A.J. Burnett and Joe Blanton, who each started on 16 days' rest in the League Championship Series. Burnett started off well, holding the Rangers to just two singles in the first four innings before things deteriorated, and he wound up allowing five runs in six innings. Blanton, meanwhile, gave up three runs in 4 2/3 innings. Their combined lines:
10 1/3 IP, 11 H, 8 R, 8 ER, 4 BB, 7 K, 3 wild pitches, 2 HBP
Not that anyone should have been surprised by either performance. The risks and advantages of starting a pitcher on short rest are well debated each autumn, but long rest is a problem as well. According to Stats LLC, pitchers on rest of 16 days or more in the postseason are 0-11 with a 7.43 ERA since 1952.
CSI: BOX SCORE ANSWER
This is from the box score to Game 4 of the 1941 World Series, when the Brooklyn Dodgers had a 4-3 lead with two outs and the bases empty in the ninth inning. Brooklyn reliever Hugh Casey apparently struck out Tommy Henrich to end the game ... but there was just one problem. Catcher Mickey Owen didn't hold on to the pitch and Henrich went to first on the passed ball. Kept alive, the Yankees went on to score four runs with two out and win 7-4 to take a 3-1 stranglehold in the series. Note: Owen's miscue is shown here as a passed ball, as it is most often described. The original box score, however, listed it as an error. I was tempted to leave it that way but thought you would have a better chance figuring this out if it was listed as a passed ball.
Jim Caple is a senior writer for ESPN.com. You can follow him on Twitter at jimcaple.