Thursday, November 4, 2010
Updated: November 5, 3:10 PM ET
Hey, wanna join the Big East?

---
By DJ Gallo
Page 2



The Big East officially announced that it is looking to expand from eight to 10 teams. Here is a copy of the letter the conference sent out to programs it is interested in adding.
---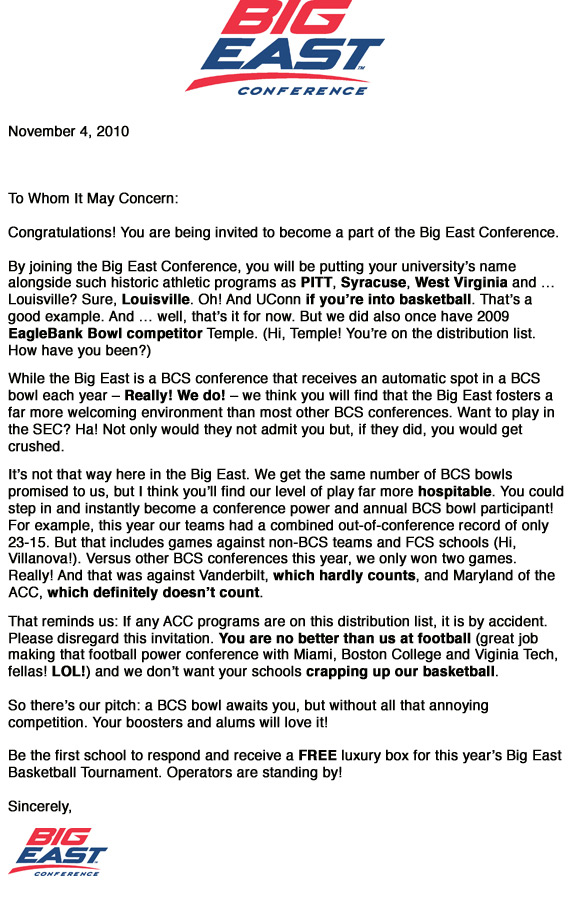 ---


Game of the Week
No. 3 TCU at No. 5 Utah (3:30 p.m. ET on CBS College Sports)
You don't want to miss this game, so if you don't have CBS College Sports, call your cable or satellite provider today. Again: The game will be on CBS College Sports, a specific channel that provides wholesome college sports, not regular CBS, which provides Charlie Sheen.


Another Game of the Week
No. 6 Alabama at No. 10 LSU (3:30 p.m. ET on CBS)
The winner of this game will stay in the hunt for the SEC title and have a great opportunity to eventually leap over Boise State/TCU/Utah in the BCS rankings and play Oregon for the national title. Good thing, too. A team like Alabama definitely would be better than a team like Utah in January. There is zero evidence disputing this.

Cupcake of the Week
Chattanooga: The Mocs of the FCS Southern Conference go on the road this week to take on No. 2 Auburn (1 p.m. ET on ESPN3.com). Chattanooga is coming off a 14-point loss to something called Elon, so Cam Newton and the Tigers shouldn't have too much of a problem. Who knows? Maybe to make it a bit more of a challenge, Newton will wear his tooth fairy costume during the game.


Rivalry Game of the Week
Washington at No. 1 Oregon (3:30 p.m. ET on ABC/ESPN2)
Oregon has won the past six matchups in this rivalry by a combined score of 252-104. Considering Washington has a terrible defense, is coming off a 41-0 loss to Stanford and will start a freshman at quarterback in place of Jake Locker, the Huskies might be fortunate to keep it that close.

Heisman Candidate in the Crosshairs
Andrew Luck, QB, Stanford: Luck trails Cam Newton, LaMichael James and Kellen Moore in most Heisman polls. But none of those three other players plays in a high-profile game this week, while Luck and No. 13 Stanford will take on No. 15 Arizona (8 p.m. ET on ABC) and the highly touted Wildcats defense. A big game could help his Heisman chances.
However, don't expect Stanford to make a big push for its quarterback. "We're not in the campaigning business," Cardinal coach Jim Harbaugh said. So even though Stanford sends video highlights of Luck to 1,000 media members every week, it is NOT -- I repeat: NOT -- in the campaigning business! You have to believe the Cardinal. Don't make them put a blimp up over every major American city that says: "We are not campaigning for ANDREW LUCK FOR HEISMAN!"

Mascot Fact of the Week
UTEP's mascot, Paydirt Pete, has a Twitter page. I didn't know prospectors were into social media, but -- hey. Whatever. You can follow him @PaydirtPete. Again: That's @PaydirtPete. Not @RobertGouletWithAPickAx.
Follow him today because you don't want to miss it if he ever finds gold: "GOOOOOOOOLLLDDDD! There is gold in them there hills!!! GOOOOOOOLLLLLDDDDD! DCPD."
(If you're not into Twitter, "DCPD" is, of course, shorthand for "does crazy prospector dance.")
Tailgate Tip of the Week
Always be prepared: It's the motto of the Boy Scouts. And when Boy Scouts go off to college, they stay prepared with the 6-Pack Tailgating Beer Belt. Retails for only $21.99!
Here's the official product description: "Having our Beer Belt ensures you will never be out of reach from your next beer. Why leave the party to grab another cold one when you have six more in reach? [OK, maybe only five more? Four more? Three? You have none left? OK, slow down.]
Our Beer Belt will hold six 12-ounce cans or bottles of beer around your waist [/gut]. Each belt is constructed with waterproof ballistic nylon [the same materials Navy SEALs use in their beer belts!].
An oversized buckle and waist strap [again: huge-gut-friendly!] make the belt extremely durable, and it will withstand the hardest of partiers [/clumsiest of drunks]. A zippered pocket on the back is perfect for carrying items such as money, IDs and credit/debit cards [and public-drunkenness citations]. Also, a small Velcro pocket on the front will hold a cell phone, pack of cigarettes, playing cards or whatever you wanna stuff in there. [Look in there tomorrow morning. You will be amazed at some of the crazy stuff you decided to stuff in there. A kitten? Really?].
Our Beer Belt is perfect to bring to parties, NASCAR events, College Tailgating, NFL Tailgating, fishing trips, Cornhole Games, or anywhere you plan on drinking. [Church. Driving to church. Everywhere.]"
Tailgate Recipe of the Week
Todd Grantham's Choked Gator Stew: Despite the dish's title, this is just a thin, rather distasteful broth. It could really use that gator meat, but Grantham was unsuccessful in getting it.
These cars are cool!* (*Claim valid only in the 614 area code.)
Tailgate Photo of the Week
Submitted by Ohio State fans Russ and Joan. Fun Fact: these are actually the two newest cars in the entire state of Ohio. Because if you buy a new car, that supports the auto industry, which in turn supports Michigan. Yuck.
(Have a tailgate photo to share? Send it to VarsityTailgate@gmail.com or @DJGalloESPN on Twitter.)

Quote of the Week
"NC State, they really utilized their quarterback and his running ability. But I feel like they spread us out and let him do his thing. And I can honestly say we [were] outcoached on that one."
-- Florida State linebacker Kendall Smith on FSU's loss to NC State
Smith had a career-high 15 tackles in that game. So between his football ability and his willingness to rip his coaches, you have to think this kid has a really bright future in the NFL. He would look good in a Patriots uniform. And then briefly a Vikings uniform. Followed next by a Titans uniform.

Stat of the Week
400 Joe Paterno goes for win No. 400 on Saturday versus Northwestern (3:30 p.m. ET on ABC/ESPN2). He got his 100th win in 1976 versus NC State. Two hundred came in 1987 versus Bowling Green. And in 1998 he won No. 300, also versus Bowling Green. Speaking of the Falcons, they have 492 wins in their entire football history, which began in 1919. So JoePa should pass them by about 2025.

Coach on the Hot Seat

Rich Rodriguez, Michigan: Rodriguez might be in the midst of his now-annual second-half-of-the-season collapse, and his high-powered offense was just outscored by a team led by a man who will turn 84 next month, but things aren't all bad for the Michigan head coach. The NCAA dropped a charge directed at Rodriguez Wednesday, one that claimed he did not "promote a culture of compliance." Whatever that means. Even for the NCAA, the "culture of compliance" line is impressively vague. I suppose a good way to keep the NCAA at bay is to put up a "Promote a Compliant Culture Today" banner above the football office door and make all staff members slap on the way out.

Name of the Week
Stump Godfrey, QB, New Mexico: New Mexico is 0-8 this season. One of its quarterbacks cut his finger this past week while carving a pumpkin, will require surgery for the wound and is out for the season. And it wasn't the New Mexico quarterback named Stump Godfrey who cut himself. Leave it to the Lobos to mess even that up.

Stone Cold Lock of the Week
All the political pundits will continue to fail to realize that Tuesday's vote was actually a mandate on President Obama not getting rid of the BCS yet.
DJ Gallo is the founder of SportsPickle.com. His first book, "The View from the Upper Deck," is available from only the finest bargain book retailers. His next book project will be released soon. You can follow him on Twitter at @DJGalloESPN.