Friday, December 17, 2010
Updated: January 25, 10:51 AM ET
A modest proposal: The Onion missed the best part

---
We were excited to see that the Onion noticed our debut last week. We loved the satirical take on what espnW was working on, but we were sorry that a few upcoming features were overlooked.
• They neglected to point out espnW's "Hot Stove" feature, where we suggest simple but tasty dishes to serve your hungry husband and sons while they watch their favorite basketball teams.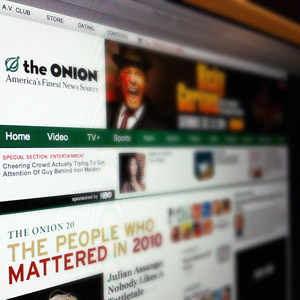 ESPN.com The Onion noticed the launch of espnW, but they missed a few features.
• "There Is Crying In Baseball" where we test waterproof mascaras and recommend the best ones for our female baseball fans upset at their team's performance.
• How about our "Behind the scenes at the Sports Illustrated swimsuit shoot," which we were forced to cover as a licensing requirement to legally host a sports website.
• We're engaging our audience, and hosting a Jan. 14 meet-up at a local sports bar to burn Ben Roethlisberger jerseys. And our bras.
• The right lingerie for your fantasy draft.
• Plus, any female fan has to know the proper way to bedazzle a professional-quality lycra blend sports jersey. Ray Allen's mom is really good at this.
We're also proud of the way we've tailored some of ESPN's most popular features to fit a female audience ...
• espnW's Power Rankings list NFL players based on five qualities of desirability: looks, loyalty, abs, willingness to watch chick flicks and, most importantly, salary.
• espnW's "Outside The Lines" gives viewers secret passwords to access internet sales on everything from pink jerseys to team-specific potholders and aprons. Never wait inside the lines again!
• Editor's note: If any of these stories ever actually appear on espnW, we'll all eat our little pink hats.
---