Wednesday, January 5, 2011
Updated: January 12, 4:16 PM ET
Gridiron Playoff Challenge: Seeking breakout potential

---
By Jim McCormick
Special to ESPN.com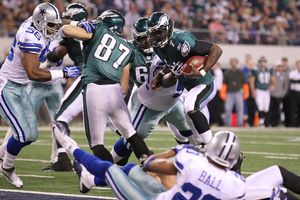 Win or lose, Michael Vick should put up solid numbers against the Packers.
Don't overthink this. Not yet, anyway. The stress of prognosticating the actual playoff field doesn't begin until next week, in the divisional round. In this wild-card weekend, as the home page of your entry states, "There is no benefit to putting players on your roster from teams that have a bye in the first week." If the home page says it, it must be true. We are to invest based on prospects solely for the four games being played this weekend rather than trying to stash Patriots or Falcons at perceived discounts.
This initial phase of the contest, then, is all about building up a hoard of points with respect only to performance and not a team's playoff prospects. Sure, it will be somewhat rewarding to invest in players who move on, but, at the same time, roster mobility will still be very viable into the divisional weekend. Employ a bold investing mentality with a premium placed on breakout potential. Don't let yourself look too far ahead, either; if you envision that the Packers will defeat the Eagles but with Michael Vick doing his best one-man band act, like the game he had versus them in Week 1, then go for it.
Even in this busy inaugural playoff frame, we are subjected to a limited pool of talent. If the regular season was a supermarket for talent, consider this format a convenience store (or inconvenience store?) of options. This said, I stick with a basic strategy that leans toward appealing matchups first and budget considerations second. Maxing out your budget for the sake of spending all your coin isn't always the wisest move, just as an eye on margins isn't as significant in this playoff version of the game. With the reset prices for the playoffs, as you can see in my roster below, you can go "elite" at most positions without much finagling.
The question is simple, then: Which investments will provide the most production for our playoff portfolios? Consider some of the commodities below when crafting your roster. Good luck building this early arsenal. Next week only gets more interesting.
Market Watch
A positional breakdown and investment guide
Quarterback: We're asked to invest in a quarter of the quarterback market this week. With two quarterback slots to fill and just eight starting options to select from, getting this position right is a crucial element to enjoying a successful first phase. Given the lowered prices for arms, I see no reason not to go for the proven and premier options. The two most expensive active talents, Michael Vick and Aaron Rodgers, cost $12.8 combined, when -- just a few weeks ago in the regular season -- it would set you back nearly $16 for their combined services. To be honest, I wouldn't venture past Peyton Manning on the market; sticking with just the four most expensive signal-callers this week. Don't get me wrong, you still have to navigate your budget with the rest of your roster, but having two confirmed stars at the most rewarding position is simply irresistible as an investor.
Aaron Rodgers, Green Bay Packers (6.3 price tag): Even having already mentioned him, I still wanted to endorse him to convince you that he's the premier arm to invest in this weekend. Consider that the Eagles have surrendered multiple TDs to quarterbacks 11 times this season and have historically had issues with mobile quarterbacks who excel on rollouts, as Rodgers does. You get the idea; the guy is awesome, and the matchup -- particularly versus corners not named Asante Samuel -- is inviting. Do what the cool kids are doing and get this guy in your lineup.
Running back: The tailback market is a tad more interesting. The best active talent on the market, or at least the most explosive, is Jamaal Charles. The issue that I have with him is the matchup with the Baltimore defense, a unit that wasn't as tough on the run this year as in previous campaigns but that still ranks as the fourth-stingiest to opposing fantasy backs. Peyton Hillis and Arian Foster both posted strong games against the Ravens, but on the whole, they have stymied opposing ground games. Essentially, I'm out of the Charles investment group, whether it be the Jamaal or Schwab camp. Charles was amazingly, nearly historically, explosive this season, but I'd still prefer to invest in more inviting matchups.
Ray Rice, RB, Baltimore Ravens (5.3 price tag): My overall take on Rice's campaign was that the offensive philosophy lost sight at times of his role and the number of touches required to get him untracked in a given game. When the kid gets above the 20-touch threshold, he's generally rewarding you with more than 100 total yards, with the lack of consistent scoring admittedly remaining an issue. Rice's role in the screen game will be crucial as his opponent, the Chiefs, surrendered 80 receptions to opposing backs this season. Expect a versatile, total-yards effort to emerge as the Ravens lean on the dynamo from Rutgers.
Reggie Bush, RB, New Orleans Saints (4.6 price tag): Although this isn't a PPR format, we must consider that, with the rash of injuries to the Saints' backfield, Bush still poses a real threat to the Seattle Seahawks. In their regular-season meeting, Bush was absent with injury, but now he might just be the lone capable and able back on the roster. That said, the Saints successfully pounded the ball in their Week 11 showdown versus the Seahawks, and although Bush isn't likely to endure 20-plus totes, he should be good for 15-plus touches against a suspect Seattle front seven that allowed opposing backs to net 75 receptions for nearly 800 yards this season. Of any of the "discounts" at the position, Bush boasts the best baseline and the best upside of the bunch.
Wide receiver: This is largely an "as is" position this week. As in, risks abound on the market with few truly stable commodities to select from. Some examples? Reggie Wayne has been solid, if somewhat unspectacular, this season but, per Rex Ryan, will be facing Darrelle Revis throughout, with the coach saying, "We all know that matchup is going to happen." I find it difficult to hope for a breakdown in this scenario and expect Peyton Manning to do much of his work via ancillary targets. Dwayne Bowe was spectacular for much of the season, but with Matt Cassel struggling to stay upright this past week and an improving Baltimore pass defense, I once again find it difficult to invest in an otherwise proven commodity. The list goes on; Marques Colston's injury concerns, Anquan Boldin's inconsistencies and absentee outings. Check out these worthy investments instead:
Greg Jennings, WR, Green Bay Packers (6.1 price tag): Unlike the Wayne-Revis element, Jennings likely will face coverage that doesn't include Asante Samuel at times, as Samuel tends to stick to his side of the field, as he did in their Week 1 meeting that saw Jennings post nice numbers (5 receptions, 82 yards and a touchdown). More than anything, I'm heavily investing in this game because I expect a shootout of sorts to ensue.
Santonio Holmes, WR, New York Jets (5.5 price tag): This is more of a gut call than a decided statistical decision. The Colts have been solid against opposing fantasy wideouts this season, ending as the seventh toughest versus the position. That said, I believe Holmes' vertical abilities challenge the patchwork safeties for the Colts quite well, and it's almost assured that Mark Sanchez will look his way deep a few times. The boom-or-bust angle is certainly in play here, but in a game that likely will ask the Jets to keep pace with Peyton, Holmes stands to be a major element in the play-action and vertical passing games.
Tight end: Having spent considerable coin at other positions, I've decided to invest in the Saints' Jimmy Graham. For one, his name reminds me of a TV evangelist's, and second, the Antonio Gates-esque former hoopster has been a key red zone factor the past several weeks. Even if there were room in the budget to go for Jacob Tamme or Todd Heap, I'd prefer to invest in the upside of Graham. For those seeking to go truly thrifty at the position, consider Green Bay's Donald Lee if you can stomach investing in a touchdown-or-nothing type, as the Philly defense is the second-worst in the league to opposing tight ends, having allowed 10 touchdowns this season.
Defense: In this playoff format, we are still awarded five points per team win, so this week is the rare case when seeking out a team win is a vital element. For my portfolio, I saw no other option than New Orleans. The Saints not only are heavy road favorites but also boast an opportunistic defense and a ball-hawking secondary.
Jim's wild-card lineup
You'll notice that I'm heavily invested in the Packers' offense and the Saints' entire team, essentially. It's risky to consolidate so dramatically, but these were simply the most appealing options within my budget.
QB: Aaron Rodgers, Green Bay Packers: 6.3 (locked price)
QB: Drew Brees, New Orleans Saints: 6.2
RB: Ray Rice, Baltimore Ravens: 5.3
RB: LeSean McCoy, Philadelphia Eagles: 5.9
WR: Greg Jennings, Green Bay Packers: 6.1
WR: Santonio Holmes, New York Jets: 5.5
TE: Jimmy Graham, New Orleans Saints: 4.3
K: Garrett Hartley, New Orleans Saints: 3.5
DEF: New Orleans Saints: 4.6
Jim McCormick is a fantasy football analyst for ESPN.com as well as the producer of The Washington Post's "Behind the Helmet" series. You can reach him with your questions and comments on Twitter @JMcCormickESPN.
---