Wednesday, January 12, 2011
Gridiron Playoff Challenge: Act on Super Bowl predictions

---
By Jim McCormick
Special to ESPN.com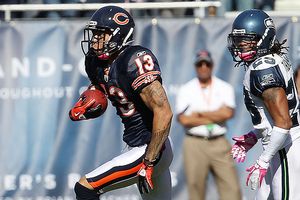 Johnny Knox's only 100-yard effort of the season came against these same Seahawks.
Jaded Eagles fan? Sad Saints loyalist? Whatever your real football trouble may be, take solace in the fact that you are still in the hunt in the Gridiron Challenge playoffs. This week, we must use a deliberate mixture of chasing production while minding the actual playoff prospects of specific teams. Think you have a good take on which teams make up the last four on the road to Dallas? The divisional round is the most decisive of all in this Playoff Challenge, given that all the remaining playoff teams are active and you could enjoy three weeks of production if you get it right. This would be a good time to act on your predictions and invest accordingly. Acquire some key Super Bowl-bound talents this week and you'll find rare success in this challenge.
Market watch
A positional breakdown and investment guide
Quarterback: Fewer options demand greater scrutiny, as we seek not just productive arms but also successful overall teams in our hunt for signal-callers. Tom Brady will no doubt be a popular choice, as more than 50 percent of all investors have already tabbed him for their portfolios. Aaron Rodgers is also a fashionable acquisition, owned in nearly 45 percent of entries. There is certainly room for this trendy recipe to go wrong, however, just as the public is often wrong in picking winners. If you are compelled to deviate from the majority, you could do well in creating margins over your competition, beginning with the names below.
Ben Roethlisberger, Pittsburgh Steelers (5.9 price tag): It would be interesting to see how many of the entries that make up his 5 percent ownership hail from Allegheny County. The lack of public trust aside, Roethlisberger and the passing attack capably moved the ball in their latest meeting with the Ravens, with Big Ben completing nearly 60 percent of his attempts for more than 250 yards. Roethlisberger has been particularly adept at deciphering and dissecting the Baltimore blitz, posting a 121.0 passer rating during the past three seasons, the third-best against the Ravens' defense during that stretch. With a dangerous deep threat to lean on in Mike Wallace and the Ravens' inconsistent pass defense this season, Ben could make for an enduring and rewarding investment.
Matt Ryan, Atlanta Falcons (5.6 price tag): In his Week 12 meeting with the Packers, Ryan was near perfect on passes of 10 yards or fewer, going 20-of-21 with a touchdown. Combine his peerless home record (20-2) with his success under pressure this season (just four interceptions when teams rushed five or more players against him this season), and you have a very interesting investment on your hands.
Running back: A bevy of tough rush defenses make up this divisional round. In perusing the season ranks of the active playoff teams against the run, we find four of the top five and none worse than the 11th-toughest versus the rush, that is, until you get to Seahawks. This Seattle defense has struggled throughout the season to curb opposing ground games, ranking 21st against the rush all while in a division that generally struggled on the ground. This said, my top tailback for the week should not surprise.
Matt Forte, Chicago Bears (5.6 price tag): The Bears were 0-for-12 on third downs against the Seahawks in their Week 6 home loss. The absence of success on crucial downs was due in large part to the Bears' lack of commitment to the Forte-led ground game, as he totaled a respectable 51 total yards and a touchdown on just 11 touches. Expect the Bears to seek out manageable third downs, something that begins and ends with Forte getting untracked with the requisite touches.
BenJarvus Green-Ellis, New England Patriots (5.4 price tag): "The Firm" tallied nearly 80 total yards and visited the end zone twice in his most recent meeting with the Jets, albeit in a blowout victory. Although we can't expect similar results, we can expect the Patriots' to keep the Jets front seven honest with an early dose of Green-Ellis. If you are looking to get an enduring stretch of production that might last into February, there are few better commodities at the position to target.
Wide receiver: At a fickle position, one where Greg Jennings netted as many fantasy football points as Brandon Jennings this past weekend, it's arguably worth going for it. By this, I mean that given the turbulent nature of the position and the generally superior talents in the playoff secondaries, one might do well investing for uncertain upside over stable baseline production. I'm more apt to lean on a boom-or-bust burner like Johnny Knox, for example, whom I discuss below in detail, than spin the receiver roulette wheel on a New England or New York commodity.
Mike Wallace, Steelers (5.6 price tag): Wallace has been his team's lone deep threat this season, catching 14 of the Steelers' 24 completions that went for 21-plus yards downfield (for an astounding 40.8 yards per reception). As I proposed earlier, I'm leaning toward the risky but rewarding options, and Wallace boasts enough of a stable baseline to make him the rare trusted deep threat.
Johnny Knox, Bears (5.1 price tag): Knox posted his only 100-yard effort versus the Seahawks in Week 6, netting 120 yards on six hauls. His quarterback, Jay Cutler, proved proficient this season at getting the ball to his wideouts when facing a 4-3 base defense, a formation the Seahawks traditionally rely on. There is risk here, for sure, but the rewards remain appealing.
Tight end: Some compelling options exist at this somewhat shallow position. The New England rookies are interesting commodities, and of the two I'd prefer to have Rob Gronkowski given the growing rapport he's forged with Brady in the past several outings. Baltimore's Todd Heap could be the beneficiary of an improving Joe Flacco when it comes to working the middle of the field, as this season Flacco has two touchdowns and no picks over the middle versus the Steelers. Finally, I'm leaning on Dustin Keller for my own entry; he burned the Patriots for a big game early in the season, and his skill set challenges the New England front seven and secondary in a way that few tight ends could.
Defense: Both the Bears and Patriots make for interesting investments given both the home-field element and that both face inconsistent offenses.
Jim's divisional lineup
QB: Aaron Rodgers, Packers: 6.3 (locked price)
QB: Tom Brady, Patriots: 6.4
RB: Ray Rice, Ravens: 5.3/5.5 (market price)
RB: Matt Forte, Bears: 5.6
WR: Greg Jennings, Packers: 5.8
WR: Johnny Knox, Bears: 5.1
TE: Dustin Keller, Jets: 4.8
K: Mason Crosby, Packers: 3.4
DEF: Chicago Bears: 4.8
Jim McCormick is a fantasy football analyst for ESPN.com as well as the producer of The Washington Post's "Behind the Helmet" series. You can reach him with your questions and comments on Twitter @JMcCormickESPN.
---