Sunday, February 20, 2011
Blake Griffin to tick off your parents

---
By Jerry Greene
Special to Page 2



A car?

Blake Griffin won the NBA All-Star dunk contest by jumping over a new car. Every dad out there with both a new car and a teenage son wants to thank Blake -- for nothing!

"Hey, where's my new car?" asks Dad all across America.

"Oh, Johnnie parked it beneath his basket out back," says Mom.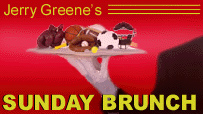 And then there's that crashing noise.
Even worse, where will this stop? Griffin admitted he didn't know, adding that if he did defend his dunk championship next year he might resort to this: "I have to come up with something else. Maybe a boat next year."
JaVale McGee tried to compete. He dunked on two baskets simultaneously and even pulled off a three-ball dunk (eventually) but knew he was beaten as soon as they pushed that new Kia onto the court.
Next year, JaVale?
"He definitely came prepared with the car, and nothing's going to beat the car unless I bring a plane out or something."
A boat, a plane.
Where will this end?
While we ponder this disturbing trend, here are a few more brief notes from the week that was while we await the main courses in the Brunch provided by the best in the biz.
• Back in 2006, adidas gave Reggie Bush an apparel contract worth $1 million a year. Now Under Armour has signed Cam Newton to a more lucrative contract. See, kids, it pays to avoid controversy while in school.
• Meanwhile, LeBron James lent his voice to "The Cleveland Show," so he and the city are even now, right?
• Justin Bieber. … No, I have nothing to say about him, but we are required to mention him in every Page 2 story. It's the old Brett Favre rule.
• From Jay Leno: "Last week, Charlie Sheen gave an anti-drug lecture to the UCLA baseball team. The coach of the team asked Charlie Sheen to come in and talk to the players about drugs. That was last week. I understand this week, he's bringing in Lindsay Lohan to talk about stealing bases."
• And from David Letterman: "Baseball is just around the corner, spring training. Are you excited? You know who's at Yankees spring training? Madonna was down there earlier today looking for a fifth man for her rotation."
• "We need our best athletes going to tennis at a young age. If we can make tennis more attractive and fun, we'll get those athletes," said USTA president Jon Vegosen, because only five U.S. men are in the top 100 in the world rankings. The answer is simple, Mr. Vegosen -- play tennis on skateboards.
• And our Tweet of the Week is from golfer Christina Kim: "Teetimes for the Honda Thailand LPGA are out! I'm out with Morgan Pressel at 8:28 Which means elephant riding after Thursday's round! Yay!" -- So that's what golfers do with their spare time.
And now the main courses of the Brunch, provided by some of our brightest minds. Is this a great country or what?
• We start with a truly amusing piece by Chris Erskine of The Los Angeles Times. He volunteers the Times' office location as the site for a new NFL facility that may be called the Lindsay Lohan/Zales the Diamond Store Stadium. There are many ideas that are perfect for both the league and the city, such as a "red carpet perk walk." Genius.
• We're starting a three-part presentation on the state of NASCAR with Viv Bernstein's summation of the Dale Earnhardt Sr. story 10 years after his death at Daytona International Speedway, site of Sunday's Daytona 500. How does NASCAR deal with the fact that its most popular driver has been dead for decade?
• In Part 2, Scott Fowler of the Charlotte Observer talks to Danica Patrick before she finished 14th Saturday in something called the DRIVE4COPD 300 at Daytona. Fowler wonders if this is the last season for Patrick in NASCAR before returning to the IndyCar Series full-time and calling it home.
• And in Part 3, Mike Bianchi of the Orlando Sentinel challenges us instead of challenging the NASCAR drivers to be more entertaining. Bianchi asks what do we want from NASCAR? Do we want "scandals, contract disputes and labor unrest?" After all, that's what we're getting from our more popular sports.
• And now for something completely different, Rick Telander of the Chicago Sun-Times gives us the long-awaited "rest of the story" about Sammy Sosa's corked bat. Not that important anymore but still fascinating. If nothing else, consider the nerve -- and, as Telander tells us, the craftsmanship.
• We close with the sad story of the murder at Toomer's Corner -- the murder of some 130-year-old Oak trees on the Auburn campus, apparently by Harvey Updyke, an elderly Alabama fan who's now being called "the Corner's Coroner." Christian Boone of the Atlanta Journal-Constitution looks at the reactions of Auburn and Alabama fans, including the worrisome threat of retaliation.
A somber ending for the Brunch but just the start for your sports Sunday. Enjoy.