Sunday, March 6, 2011
Cubs announcer, PGA wives highlight 'Brunch'

---
Want this to be your office? We have the right job for you!
Even though our economy remains shakier on its feet than Chicago Bears quarterback Jay Cutler at halftime of a playoff game, there is good news in that job opportunities were popping up all over the world of sports this week.
Speaking of Chicago, the best job availability is with the Cubs, who are having a contest to find a new PA announcer for Wrigley Field. Hopeful Harry Carays must send audio or video examples of their work to here -- and Sunday Brunch can neither confirm nor deny that you must include you're delivery of "Wait 'til next year!"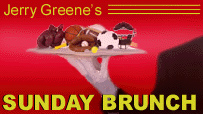 A much more specialized job opportunity is being pursued b a group of PGA Tour wives and girlfriends. They are taking about a reality show about their lives. Again we can not confirm nor deny that there will be a weekly scene in which one wife/girlfriend calls another and says: "I can't meet you at the club Saturday 'cause Joe missed the cut again and is coming home."
And then there is the next cast of "Dancing With The Stars," that includes Steelers WR Hines Ward, former boxing champ Sugar Ray Leonard and former wrestling champ Chris Jericho. No word on if Jericho is demanding that there must be one week when everyone dances in a steel cage.
And now a few more "power points" from this week while our cast of media chefs prepare the main courses for the Brunch:
---