Thursday, March 17, 2011
Updated: March 18, 8:26 AM ET
Welcome to the other NCAA Tournament

---
By DJ Gallo
Page 2



The NCAA tournament opens this week. It's a weird idea, having the best teams play each other to determine the ultimate champion.

What if, say ... the most popular college sport, football, did this? Again: weird idea. I know. But it might be fun to imagine a 64-team tournament for Division I college football.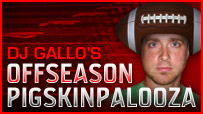 (BCS fan: "A 64-team college football tournament! That's insane!" Person with functioning brain: "As insane as a two-team college football tournament! Agreed!)
Here's how the 2010-2011 tournament might have played out.
Round of 64
The opening round goes by with no major upsets. No. 2 seed Ohio State beats 15-seeded Florida International 74-13 and plays its starters the whole game. Coach Jim Tressel said he did not consider sitting any of the five players who will be suspended in 2011 because he "did not want to lessen the integrity of the college football playoffs that fans have waited so long for."
In one small upset, No. 9 seed Pitt knocks off No. 8 seed Miami (Ohio) in the first round, strengthening Dave Wannstedt's hold on the Pittsburgh job. Rumors that Miami coach Mike Haywood would be interviewed for jobs elsewhere subside.
Thankfully, none of the players on 16 seeds sustain catastrophic injuries playing their far superior opponents, although Troy spends much of the second half against top-seeded Auburn in tears. The Big Ten also silences some critics by not losing all of its first-round games.
Round of 32
The games begin getting more competitive. Unfortunately, bolstering the argument long made by BCS backers, players start missing classes because of the college football tournament. (Wait. No. The playoff games are still played on Saturdays, right? There are no classes on Saturdays. And most of the tournament is held during winter break, just like how the basketball tournament coincides with spring break. So that argument still makes no sense. Never mind then.)
One of the most lopsided games of the second round features second-seeded Stanford versus No. 7 seed and Big East champion UConn. Stanford wins 50-20, but UConn celebrates on the field after the game anyway because getting bounced from the tournament saved its athletic department millions. Had UConn somehow made it to the title game, it had been estimated the university would have had to close its doors because of the debt accrued in unsold tickets.
Ohio State easily defeats BYU by the score of 38-17, but the Buckeyes are embroiled in controversy again when it is reported that Terrelle Pryor sold his entire uniform from the first-round FIU win for $29 ... to Tressel.
Sweet 16
In the South bracket, No. 1 seed Auburn beats No. 4 seed Nevada, and No. 2 seed Stanford gets by No. 3 seed Oklahoma. In the West bracket, top-seeded Wisconsin beats No. 4 seed Oklahoma State, and No. 2 seed Arkansas beats No. 3 seed Virginia Tech.
In the Legends bracket, No. 1 seed Oregon crushes No. 4 seed Missouri, and No. 3 seed Boise State upsets No. 2 seed Ohio State on a last-second, 73-yard field goal by Kyle Brotzman. Following the elimination, Tressel announces his five suspended players will be held out of the final three games of the NCAA tournament, cutting their 2011 suspension to just the first two games.
In the Leaders bracket, No. 3 seed LSU beats second-seeded Michigan State, and No. 1 seed TCU demolishes Nick Saban's fourth-seeded Alabama by a score of 95-3. Is that likely? Probably not. But I conceived this tournament, and Saban losing in the postseason to a non-BCS team always brings great joy to the country. I'm not stopping it from happening again.
Elite Eight
TCU wins the Leaders bracket over LSU via forfeit. LSU coach Les Miles misread the bracket and thought he had won the whole tournament last week. The Tigers did not show for the regional final.
In the West bracket, Arkansas handles Wisconsin fairly easily in the final, 34-20. With one spot in the Final Four secured by SEC teams and Auburn still to play, satellite images of the Southeast show a large smug cloud forming over the region.
Oregon beats Boise State 55-5, to punch the third ticket to Final Four. Despite the exciting matchup between fast-paced, offensive teams, the game earns the lowest TV ratings of the tournament, thanks to the nausea brought on by green, yellow, blue and orange whirling by on the screen in no discernible patterns.
In the South bracket final, Cam Newton out-duels Andrew Luck and leads Auburn past Stanford 45-43, thanks to a 90-yard, last-minute touchdown drive. Cecil Newton is overheard openly mocking Stanford for turning down his pregame offer of $400,000 for Cam's services.
Final Four
Auburn versus Arkansas and Oregon versus TCU.
Auburn beat Arkansas 65-43 in the regular season and similarly has no trouble in this one, winning by 20-plus again. With the outcome long decided, Cam Newton and Ryan Mallett spend most of the fourth quarter taking passing tree requests from NFL scouts in the stands. Mallet throws three fourth quarter interceptions, but everyone agrees he has a very strong arm.
In one of the most exciting college football games in history, TCU upsets Oregon 42-40 to advance to play for the national title. Unfortunately, the game receives very little national media coverage because it was played kind of late at night, and a lot of East Coast reporters were in bed for the second half.
NCAA Football Tournament Championship
(Personal note: It was fun just to write those four words.)
Auburn versus TCU. Auburn, the No. 1 overall seed in the tournament, enters the game a heavy favorite. But something strange happens. TCU takes control of the game early and never gives up the lead.
It seems that by playing a series of good teams over the past month the Horned Frogs have not only proven they can beat elite teams but -- get this -- have gotten better at football! Could it be that this is a better approach than taking 36 days off between games? Maybe!
TCU wins the national title. The championship game gets better ratings than anything ever on television. A huge rainbow stretches across the country. Unemployment drops to zero percent. Everything is wonderful.
Unfortunately, you lose your NCAA pool because you picked Duke. Seriously, what were you thinking? Wrong sport, guy. They weren't even in the tournament.
DJ Gallo is the founder of SportsPickle.com. His first book, "The View from the Upper Deck," is available from only the finest bargain-book retailers. His next book project will be released soon. You can follow him on Twitter at @DJGalloESPN.