Thursday, March 31, 2011
Part-time lockout jobs

---
By DJ Gallo
Page 2



We're at the point in the NFL collective bargaining stalemate when the players are starting to feel the impact of not having an income. But they can't give in now if they want to get a good deal from the owners.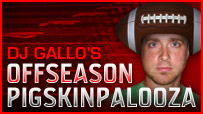 In order to make ends meet, the players need to take part-time jobs. Already Chad Ochocinco is trying to play professional soccer and Hines Ward is becoming a dancer. There are job opportunities out there for every player.
Derek Anderson, QB, Cardinals
Job: Politician
Description: We have many serious problems at home and abroad. But too many of our elected officials try to play politics with every issue. If our country is going to meet its many challenges, we need people in Washington who take this s--- serious!
Brian Cushing, LB, Texans
Job: Personal trainer
Description: It's hard to find a good personal trainer. They're either too easy on you and you don't see any results, or they're too demanding and you hurt yourself or give up. Cushing would know how to push his clients right to the edge without overtraining them. He is the rare person who has learned where that fine line is.
Offensive linemen
Job: Movers
Description: They're strong, they're slow, they're mean and they're destructive. Movers, I mean.
Tom Brady, QB, Patriots
Job: Private dancer, dancer for money
Description: I don't know what kind of income a private dancer, a dancer for money, makes these days. But I'm sure it's more than what they made in 1984 -- and Tina Turner seemed to be doing pretty well back then. The trick would be for Brady not to blow all of his private dancing money on wigs.
Chris Long, DE, Rams
Job: Actor
Description: Long's father, Howie, starred in the movies "Broken Arrow" and "Firestorm" when his playing days ended. But Chris has only half of his father's genes. So he has a real shot at forging a lasting acting career.
Danny Woodhead, RB, Patriots
Job: Actor
Description: The animated movie "Gnomeo & Juliet" has made more than $150 million worldwide. Chances are they may consider making a live-action version. And who better to play the scrappy, miniature hero Gnomeo than Woodhead?
Alex Smith, QB, 49ers
Job: Children's hand model
Description: Finally a job Smith's tiny hands are made for. Best of all, photographers wouldn't have to stick to the limited shooting schedule child hand models are held to. By this time next year you won't see a single advertisement for Juicy Juice juice boxes or "Dora The Explorer" trading cards that doesn't feature the hands of the former No. 1 overall pick.
Matt Leinart, QB, Texans
Job: Being famous
Description: Being an NFL quarterback hasn't really panned out for Leinart. It's time for him to slide into the job that's always been right for him: famous for being famous. I don't know how people like the Kardashians and Paris Hilton make a living, but they seem to be doing pretty well. Far better than your average NFL backup.
James Harrison, LB, Steelers
Job: Bouncer
Description: Just try getting into a club with a fake ID on James Harrison. Here's what he did to someone who didn't meet the dress code.
Eli Manning, QB, Giants
Job: Middle school science teacher, comic book store owner, insurance salesman, anything at all
Description: Eli Manning always seemed like someone who got into the family business out of obligation. The lockout is his chance to find his own career path. Then, when the work stoppage finally ends, he just needs to muster the courage to tell his father and brother that he's quitting football. He won't be able to, but at least he'll have had a few months of happiness.
Clay Matthews and A.J. Hawk, LBs, Packers
Job: Nelson cover band
Description: Matthews and Hawk look exactly like the awful '90s pop/rock singers. Granted, a Nelson cover band probably wouldn't make a ton of money … in most places. But in Green Bay there's a good chance that Nelson is still popular.
Aaron Rodgers, QB, Packers
Job: Professional wrestler
Description: His belt infatuation makes it clear that a career in professional wrestling is of interest to Rodgers. So he could wrestle at a few events, make some huge appearance fees and then, after getting destroyed, renew his commitment to being the best quarterback in the NFL.
Ben Roethlisberger, QB, Steelers
Job: TSA airport screener
Description: He has a reputation for being allegedly handsy and for coming through in the clutch. Good luck trying to smuggle contraband on a flight departing out of Pittsburgh.
BenJarvus Green-Ellis, RB, Patriots
Job: Attorney
Description: His nickname is "The Law Firm," so why not go with it? OK, here are a few reasons: he's not a licensed attorney and practicing law would open him up to lawsuits and possibly even criminal charges. But since when do the Patriots worry about stupid stuff like ethics?
Tim Tebow, QB, Broncos
Job: Superhero
Description: As far as superhero creation myths go, getting bored during a collective bargaining negotiation and deciding to become a superhero is, admittedly, not that great. But once you get past that, Tebow trumps every superhero ever. Oh, you don't think so? Fine. I'll tell God you think He's a bad sidekick.
Dez Bryant, WR, Cowboys
Job: Secret agent hired by Roger Goodell and the NFL owners
Description: In exchange for huge cash payments from the league, Bryant would willingly become the subject of repeated embarrassing stories: lawsuits, getting thrown out of the mall, etc. Eventually he would dominate the offseason news and the public would start to think all NFL players are like him -- giving the owners a huge upper hand in negotiations.
Bryant should definitely do this. But he needs to remember to get paid by the NFL to act this way. If not, he's just an idiot.
DJ Gallo is the founder of SportsPickle.com. His first book, "The View from the Upper Deck," is available from only the finest bargain-book retailers. His next book project will be released soon. You can follow him on Twitter at @DJGalloESPN.