Friday, May 13, 2011
Historic games that could inspire books

---
By Jim Caple
Page 2



One of my favorite sports books is Daniel Okrent's "Nine Innings," which is about a 1982 game between the Milwaukee Brewers and Baltimore Orioles. Although those two teams would memorably play for the AL East title on the final day of the 1982 season, this book is not about that game. It's about an otherwise forgettable June game but Okrent cleverly uses it as a framework to fill a book with compelling stories about the participants and the sport itself.

This framework has been used other times since, with better known games, such as Buster Olney's "The Last Night of the Yankees Dynasty" and Game 7 of the 2001 World Series. The latest in this genre is Dan Barry's excellent "The Bottom of the 33rd" about the longest game in professional baseball history.

This is a game that is both famous and little known. Famous because most fans know of the 33-inning game between the Pawtucket Red Sox and the Rochester Red Wings. But their knowledge is generally limited to the fact it was the longest game in history and that both Cal Ripken Jr. and Wade Boggs played in it. The beauty of Barry's book is telling so many compelling stories about all the compelling participants we have never heard of: the owner, the clubhouse manager, the bat boys, and of course, the career minor leaguers whose lives are much more interesting than the players who were successful in the majors.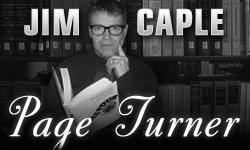 Barry's writing is a tad grandiose early on, but I soon found myself caught up in his often tender, sometimes funny stories. One favorite is about pitcher Luis Aponte, who went home around the 20th inning, only to be turned away by his wife who assumed he was lying about why he was getting home so late. Another is how the league curfew rule somehow got left out of the rulebook that year, forcing the teams to play as late as they did. Yet another is about how Pawtucket manager Joe Morgan was ejected in the 22nd inning but watched the remaining game though a hole from a hiding place behind the backstop. Barry's fine writing and splendid reporting essentially puts us in that hiding spot with Morgan and shows just how much a narrow view of the field can reveal of the entire world.
As I read, I also found myself thinking about other games that would lend themselves to such a book. The possibilities are endless -- every game ever played provides a world of characters and lives -- but here is my list (with the help of several of ESPN.com's best writers).
1.Super Bowl IX between the Steelers and the Vikings would provide an amazing backdrop for a book about the growth of the sport, the rise of the Super Bowl, the health risks of the sport, the 1970s and more.
This was the first title for the Steelers, a frightening number of whom would die at a young age. Terry Bradshaw would go on to win three more Super Bowls and broadcast from many more but also admit to memory loss from concussions. Minnesota All-Pro defensive end Carl Eller would develop drug addictions that cost him much of his paychecks while teammate Alan Page would earn a law degree and become a state Supreme Court justice. And Fran Tarkenton would begin a career in TV and business by becoming the first athlete to host "Saturday Night Live," in which he would act in this breakfast cereal parody:
"Hi, I'm Fran Tarkenton. You know, it takes strength and stamina to play pro football. You need to replace lots of lost muscle tissue fast, and sometimes your metabolic system just can't pull it off alone. That's why I start each day ... with a big bowl of Sugar-Frosted Anabolic Steroids. This cereal is a delicious synthetic derivative of male hormones, and in one eight-ounce bowl I get more than my body would produce in three years. There's testosterone, for quick weight gain. Stanazol, to boost your strength. And these androgens to help promote aggressiveness and turn your grapes into raisins."
But this would not be the football matchup I would choose for a book. That Super Bowl was just too dull (the final score was 16-6). Instead, the focus would be the battle these same two teams fought weeks later in the greatest competition of all time. As Minnesota running back Dave Osborn's wife Bev said of that classic tug-of-war between the Steelers and Vikings in ABC's "Superteams" competition: "You just wanted them to win the Super Bowl, but this was wondering if everyone was going to still be alive when it was over."
2. College football writer extraordinaire Pat Forde suggested several games, including the 1959 Halloween classic between LSU and Ole Miss and the day Sam Cunningham and USC ran over Bear Bryant's Alabama team in 1970, but the game I choose is the one Pat says is the favorite game he ever covered: the 2007 Fiesta Bowl between Boise State and Oklahoma. The game would provide a great forum for a book on the staggering money spent by schools to become football powers, the debates over the bowl system versus a playoff and how TV has affected the sport.
More importantly, how often can you write about a quarterback taking a knee at the end of a game so he can propose to a cheerleader?
3.SweetSpot editor Dave Schoenfield's first love is baseball but he nominates Game 6 of the 2002 NBA Western Conference finals between the Lakers and the Kings. And for good reason. That season marked the last title for the Kobe-Shaq circus while the loss began Sacramento's long demise as a franchise and sparked firm belief that the fix was in to guarantee that the Lakers advanced to the championship series. It's hard to beat a game that involves Shaq, Kobe, Phil Jackson and Ralph Nader.
4. ESPN.com's superb hockey writer Pierre LeBrun suggests Game 3 of the 1987 Canada Cup final between Canada and the USSR, which he considers the greatest hockey series ever played. "It's been written to death in Canada, of course, but remains somewhat of an uncovered territory in U.S.," he says. "You're talking Gretzky, Mario Lemieux, Mark Messier, Paul Coffey vs. Igor Larionov, Sergei Marakov, Vladimir Krutov (the famous KLM line). All three games in the championship final had 6-5 scores, with Russia winning Game 1 at the Montreal Forum (Alexander Semak in overtime) and Canada -- with the nation hanging by a thread -- winning next the two games at Copps Coliseum in Hamilton, Ontario, (a rink built for the NHL, but no NHL team ever came). Gretzky scores in OT in Game 2 and Lemieux scores with 1:26 remaining in the third period in Game 3. It's the most influential hockey ever played in my life and the biggest reason I'm a hockey writer today."
He's right. Game 3 would make for an amazing book. The only thing it lacks is the Hanson brothers.
5. My hero Jayson Stark suggests the final game before the 1981 baseball strike with Pete Rose one hit shy of breaking Stan Musial's National League record for hits and Nolan Ryan on the mound. Rod Mar, one of the nation's great sport photographers, suggests Game 5 of the 1995 AL division series between the Yankees and Mariners that saved baseball in Seattle, cost Buck Showalter his job and featured Ken Griffey Jr., Randy Johnson, Don Mattingly (in his last game), Mariano Rivera, Wade Boggs, David Cone, Edgar Martinez, Alex Rodriguez and Lou Piniella (whew!).
Those are both solid choices, but I'm going with the 1941 All-Star Game.
The game was played in Detroit, but Tigers first baseman and reigning MVP Hank Greenberg missed the Midsummer Classic for the first time in five years because he was drafted into the army two months earlier as America prepared for war. Meanwhile, Bob Feller started for the American League, Joe DiMaggio singled amid his 56-game hit streak (which means he really had a 57-game streak) and Ted Williams, who would bat .406 that season, won the game with a walk-off homer in the ninth. Soon, America would be at war and all those players (and many others) would be with Greenberg in the military. That includes AL starting shortstop Cecil Travis, who batted .359 in 1941 but suffered frostbite in the Battle of the Bulge and consequently never approached his old form.
6. And here's a last one from left field --the 1985 USFL game between the New Jersey Generals and the Portland Breakers. Let's see. We have Heisman winners Herschel Walker and Doug Flutie in the same backfield. We can examine another stop in the fall of injured running back legend Marcus Dupree. We have the Breakers playing in their third city in three years, drawing just 19,000 fans in Portland and folding after the season. We have all the financial struggles of a league in its final season fighting to survive and suing the NFL. And of course, we have Generals owner Donald Trump.
On second thought, this may take two books.
Got any other suggestions? I would love to hear them.
Author of the month club
Joyce Carol Oates is one of the nation's finest and most accomplished writers. She's written more than 50 novels, won the National Book Award, The National Humanities Medal and been nominated multiple times for the Pulitzer Prize. She also is a great fan of boxing, which she wrote about in her 1988 collection of essays, "On Boxing." Page Turner caught up with Oates in this email interview:
PAGE TURNER: What is the appeal of boxing for you?
JOYCE CAROL OATES: Boxing is a cultural phenomenon, particularly significant in the 20th century. As a historian of American culture, naturally I am interested in this once enormously popular and "symbolic" sport. Each boxing match is like a miniature epic -- irresistibly dramatic, compressed and yet finite in execution. Boxing has also been an arena for immigrant succession: Irish, Italian and blacks, Hispanic, Asian, Eastern European, a microcosm of history.
How do people react when they learn about your passion for boxing?
People react in various ways -- if they know anything about boxing, they are sympathetic. It has been years since women have greeted me with naive stares -- ''How can you look at something so brutal?"
What do you remember about the times you and your father watched bouts?
My memories of boxing matches with my father are more likely those of Golden Gloves matches in downtown Buffalo, in the 1950s. These were exciting evenings which I could scarcely comprehend, of course -- I might have been 11 or 12 at the time. It's rare for a young girl to have such an experience of a virtually all-male world. As a writer-to-be, I was very fortunate to have a father who included me in certain of his activities, which the fathers of most of my friends did not.
Did you ever have the urge to box rather than just watch or write about it?
No, certainly not. (I'd written about boxing as a quintessential observer: a woman, a feminist, a person at the periphery of the "sport." I haven't the slightest interest in inflicting hurt on anyone, still less on being hurt physically.)
How have your feelings changed about Mike Tyson with everything that has happened with him?
I don't think that my "feelings" have changed enormously. My interest in Tyson has been primarily in terms of his boxing skill and his place in boxing history. I am not much interested in the cult of celebrity per se. Tyson was a very exciting boxer originally -- as all the world knows -- and it is somewhat tragic that he failed to develop, and evidently did not even trouble to train seriously, after he'd won the heavyweight title and after the premature death of his manager, Jimmie Jacobs. He exudes now an appeal of poignancy and vulnerability -- who knows how sincere it is, or how long it will last. Yet he is, like Elvis Presley, James Dean and Marilyn Monroe, a true "American original"-- a victim of his own youthful success.
Why do you think we have so many boxing movies and so few from other sports?
Boxing is a dramatic spectacle: two individuals pitted against each other and thus suggestive of an elemental, primitive struggle: the self vs. the self. (One boxer's strength is another boxer's weakness, and vice versa.) It is an intense drama in an illuminated, ringed space, with a "referee" overseeing -- a symbol of civilization, rules and conscience, to distinguish boxing from mere fighting. The recent movie "The Fighter" is more expansive, for here we see the fighter's family -- the movie is really about the remarkable Ward family. (Of course, Martin Scorsese's brilliant classic ''Raging Bull" is about the individuals surrounding Jake LaMotta nearly as much as it is about LaMotta.)
What is the worst sport to write or read about?
I wouldn't know -- there aren't any "worst" subjects if the writer is involved and skilled. Maybe curling?
What do you think of MMA?
Not much.
What do you think boxing's future is?
No one really wants to suffer brain damage -- so the sport will likely continue to decline. This should be true of football also, but perhaps not for a while. I had once suggested, at the conclusion of ''On Boxing," that ''In a perfect society, boxing would not exist"-- but though our society is far from perfect, young men (and some young women) may find other, less dangerous ways of supporting themselves.
Classic Lit 101
I can remember a couple occasions when a book was so chilling I had difficulty sleeping afterward. One was finishing the first section of Truman Capote's "In Cold Blood." Another was reading Stephen King's short story, "Children of the Corn." But neither was as disturbing -- or as gripping -- as Bill Buford's "Among the Thugs."
Buford is a fabulous writer and reporter, and he shows both skills in this superb account of his days following English soccer hooligans and watching them drink and riot and assault. We tend to think of hooligans as a bit of a punchline in this country, but Buford makes it clear they are no joke (even if there are funny moments in the book). The riot scene following a game in Turin is particularly harrowing. This is a sports book, but Buford might as well have been a war correspondent.
The two Dodgers fans who brutally attacked a Giants fan on Opening Day this season represent an extreme, isolated example of fandom raging out of control. As Burford shows, it is far worse when the examples are not so isolated. His book's title makes it clear -- these are not fans, these are thugs.
Jim Caple is a senior writer for ESPN.com. You can follow him on Twitter at jimcaple.