Friday, July 8, 2011
Updated: July 11, 11:05 PM ET
What does future hold for LeBron, Heat?

---
ESPN.com


With a year in South Beach under their belts, what does the future hold for LBJ and the Heat?
One year ago to the day, LeBron James left his hometown team to chase titles by the beach with his buddies. But after flaming out in the NBA Finals, that elusive ring is still on the "con" side of the King's résumé.

A full 365 days removed from the decision that defined the ballyhooed Summer of 2010, where do James and the Miami Heat go from here? After looking at what might have been on Thursday, today we're tackling your most pressing questions (fielded via Facebook and Twitter) about the future of the Heat, Cleveland Cavaliers and, of course, LeBron.


1. How many rings will LeBron win with the Heat?
Submitted by Bob Holman via the @NBAonESPN Twitter account.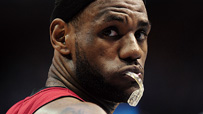 Tom Haberstroh, Heat Index: However many he wins, it probably won't be enough to pacify his critics. Assuming the lockout doesn't wipe out the entire 2011-12 season, James has at least three shots at the title with the Heat before he can opt out. I'd say Miami is a good bet to win two out of the next three championships. That whole "process" Erik Spoelstra kept saying the Heat needed to go through in the early going? That's a thing of the past. Rahat Huq, Red94: It all depends on Dwyane Wade's body and the next collective bargaining agreement. If the almost-30 guard holds up and the Heat can make smart use of successive mid-level exceptions, they'll win at least three. If Wade breaks down, there's a chance this group goes ringless. John Krolik, Cavs: The Blog: I'm going to go with four. I think he spends the rest of his career in Miami, I think Miami was extremely close to winning the championship while running at about 80 percent of its capability this season, and I don't think LeBron will blow many more golden opportunities to win a ring. Danny Savitzky, Nets Are Scorching: Two. LeBron & Co. still have some time to put together a solid supporting cast, figure out their chemistry issues and win a few titles, but they have to get on that path soon. Dwyane Wade turns 30 in January, and the next wave of superstars (Kevin Durant and Derrick Rose, to name two) aren't going to stand idly by and let the Heat reign over the NBA. Jared Wade, 8 Points, 9 Seconds: Three. James has had some personal flaws exposed that may prevent him from becoming a champion for the ages. But he also has such a wealth of talent, not to mention two incredible teammates, that should enable him to win several titles even if he proves unable to improve.
---
2. With two first-round picks in tow, has Cleveland finally moved on?
Submitted by VJ K.M.X.E. via the @NBAonESPN Twitter account.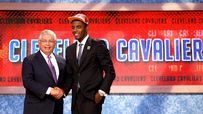 Tom Haberstroh, Heat Index: Right now, the Cavaliers are like survivors of a sunken ship who finally fetched some life jackets after hours of treading water. Sure, the life jackets are essential, but finding land will still be an enormous challenge. The Cavaliers needed talent above all else, and they got it with Kyrie Irving and Tristan Thompson. It'll help, but they're still a few years away from playoff contention. Rahat Huq, Red94: I don't think you can just "move on" after losing the top individual talent of the past 20 years during the prime of his career. It won't be until the Cavaliers have stockpiled a roster of blue-chip lottery picks (similar to the Clippers) that you can say that the memory of LeBron is in the rearview mirror. John Krolik, Cavs: The Blog: "Moved on" is an odd phrase. I think the subject of LeBron will always be a sore one in Cleveland. He'll be booed loudly there for the rest of his career. But with Irving and the other young players the Cavs have, I think they're ready to be the Cavaliers again and not "the team that lost LeBron." Danny Savitzky, Nets Are Scorching: Cleveland's rebuilding process looks surprisingly promising, but the city won't move on as long as LeBron keeps showing up deep in the playoffs every year. Kyrie Irving might be good, but he'll never be that good. Being in a position to contend three years or so down the line might ease the pain, at least. Jared Wade, 8 Points, 9 Seconds: No, in the sense that windows for titles don't come around often and Cleveland is unlikely to have another one soon. But yes, in the sense that they now have a post-LeBron identity. Given the odds, it's unlikely that they will match their recent success with James. But the fan base now has something to cheer for instead of merely one person to root against.
---
3. Will the perception of the Heat change if they win it all next season?
Submitted by Hanson Huynh via the @NBAonESPN Twitter account.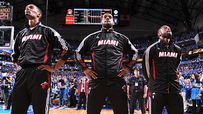 Tom Haberstroh, Heat Index: Of course. Winning the title has a way of rewriting the script. Dirk Nowitzki supposedly didn't have what it takes to win a title -- until he did. Same goes for Kevin Garnett and even Michael Jordan early in his career. The Heat won't win the hearts of America with a title next season, but a ring will certainly go a long way to validating LeBron's decision in the public eye. Rahat Huq, Red94: Yes. Victory and time heal all wounds. The Heat will always be hated, but it won't be as venomous with success on their résumé; it's not as "fun" to hate the bad guy when he keeps winning. John Krolik, Cavs: The Blog: Yes, absolutely. History is the propaganda of the victors, and perception of the Heat will change if they win it all. Remember when Dirk Nowitzki was a great player who couldn't win the big one after the 2006 Finals and 2007 playoffs? Danny Savitzky, Nets Are Scorching: Yes and no. If they win a title next season, it will answer questions some have about their ability to close the deal and may even adjust the focus to appreciating how good they are at basketball. Nevertheless, those who have already decided to hate LeBron won't change their minds, even if he wins. He's going to be loathed by some for a long while. Jared Wade, 8 Points, 9 Seconds: Yes. I don't think one title will completely reverse the way people see the individual players on the team, but perception is constantly in flux. Many people will be forced to re-evaluate their perspective the moment David Stern hands Micky Arison the Larry O'Brien Trophy.
---
4. Is LeBron the best player in the NBA?
Submitted by Eric Black via the @NBAonESPN Twitter account.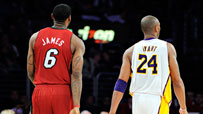 Tom Haberstroh, Heat Index: Yes. Even with an inconsistent post game and an average 3-point shot, no one brings it on both ends of the floor quite like LeBron. He is the best player on the planet, even if he hasn't experienced the team accomplishment of winning a championship. Rahat Huq, Red94: I'm not sure what "best" means, but he's certainly still the most productive, regardless of what happened in June. The numbers back that up. Hold a draft tomorrow and every GM in basketball would use the first pick on LeBron. Every last one of them. John Krolik, Cavs: The Blog: Yes, with an asterisk. On a night-in, night-out basis, no player gives his team a better chance to win than LeBron does. However, he hasn't come through on the biggest stage like some of his peers have, namely Kobe Bryant and Dwyane Wade. Danny Savitzky, Nets Are Scorching: Without question. He hasn't accomplished the most, but he puts up the best numbers in the league every year thanks to otherworldly physical gifts and unmatched skills. A few brain farts of passivity in the NBA Finals certainly don't undo his utter dominance of the league each season. Jared Wade, 8 Points, 9 Seconds: Yes. And as much as I love Dirk, Kobe, CP3 and Dwight, I don't think there is another contender for the pedestal aside from the other guy wearing cardigans alongside LeBron at news conferences.
---
5. What's the legacy of "The Decision?"
Submitted by Anoribe Nwannewuihe via the @NBAonESPN Twitter account.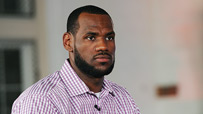 Tom Haberstroh, Heat Index: It was a blown PR opportunity that also netted millions for charity. Every great player has a stain to his legacy, and the way LeBron handled this change will be his. But did you see the ratings this year? Make no mistake, the NBA was better off for it, even if LeBron suffered in the court of public opinion. Good news for LeBron: Time is a great healer. Rahat Huq, Red94: It will eventually be erased from the public consciousness but its practical implications could linger ad infinitum. Depending on what happens these next few months, it could be remembered as the linchpin for a massive overhaul of the NBA's current economic structure. John Krolik, Cavs: The Blog: I think it was the moment where fans realized the players were taking complete control of the league, and realized that they didn't like it. Fans want to be able to construct their own mythologies around players -- LeBron has always tried to construct his own, and I think others will learn from that mistake. Danny Savitzky, Nets Are Scorching: LeBron's show was over the top and egotistical. What most people forget, however, is that LeBron was over the top and egotistical throughout his entire career before "The Decision." Hating him for that night demonstrates a colossal double standard that will haunt him for the rest of his career. It will be the league's most infamous free-agency move for decades to come. Jared Wade, 8 Points, 9 Seconds: Whether "The Decision" is remembered as a silly, foolhardy marketing decision by an all-time champion or the moment a misguided, overhyped talent jumped the shark is something we will not know for another decade. It will be a footnote in a great career or a landmark in tragic one -- but nothing in between.



---