Friday, December 9, 2011
Rising NBA prospect classes up Page 2 Jeopardy!

---
Welcome back to another edition of Page 2 Jeopardy!, the quiz that tests your knowledge of sports, pop culture and assorted trivia. Please remember to phrase your responses in the form of a question.
(Correct questions at the end of the quiz.)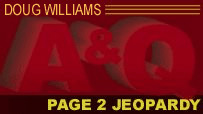 1. Answer: She was the first famous performer at a Super Bowl halftime show, in 1970.
2. Answer: This 6-foot-11 center likely has a future in the NBA, but his college chancellor raves about the intellect of the economics major -- who graduated from high school at 14 -- saying he has an interesting perspective "on world trade and globalization."
3. Answer: His wife gave birth to twin girls this week on the same day his major league team offered him a $25 million, three-year deal to remain on its roster.
4. Answer: He was the first junior ever to be awarded the Heisman Trophy.
5. Answer: He's an NFL safety who's been a hit since being drafted in 2009, but his mom was a hit long before as a reggae star in Jamaica and the United Kingdom in the '80s.
Question 1: Who is Carol Channing?
Question 2: Who is Festus Ezeli of Vanderbilt?
Question 3: Who is the Twins' Michael Cuddyer?
Question 4: Who is Felix "Doc" Blanchard?
Question 5: Who is Patrick Chung?
---