Tuesday, January 10, 2012
Updated: February 17, 3:58 PM ET
Tilted Kilt Viewing Party

---
By 710 ESPN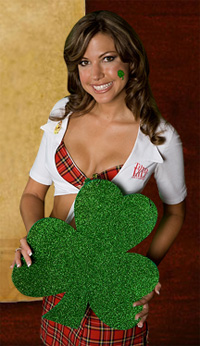 Take a look at the World Famous Tilted Kilt Girls!
NBA Fans, Join 710 ESPN's Drew Belzer at the Tilted Kilt Sports Pub in Long Beach on Wednesday, February 22 as the Lakers face the defending champions Dallas Mavericks! Come down for your chance to win cool prizes including a 37 inch Flat Screen TV from Mir Audio and Video in Westwood! Don't miss any of the action, tipoff is at 6:30pm! Tilted Kilt is the best sports bar in Long Beach and includes 40 beers on tap, 40 flat screens and 40 of the best looking waitresses in So Cal! The Tilted Kilt is located at 6575 East Pacific Coast Highway in Long Beach.
About the Tilted Kilt
Welcome to the Tilted Kilt Pub & Eatery! Pull out a barstool and get comfortable - we're going to show you what you can expect inside each and every Tilted Kilt across America. For starters, you will always find five things: ice cold beer and plenty of it, a mouthwatering menu full of the pub fare you love, every sporting event you desire to watch year-round, a festive atmosphere full of fun and friends, and, last but not least... attractive cast members eager to put a smile on your face and make you feel right at home.
We're in the business of lifting spirits one burger, one beer, one guest, one visit, at a time. So, the next time you're nearby, whether at happy hour, noon or night, stop in and see us. The Tilted Kilt experience is one-of-a-kind and will always leave you in a better mood than when you arrived.
Now, it's up to you to find out why "A Cold Beer Never Looked So Good." Get in here!
---