Wednesday, February 15, 2012
Updated: February 17, 12:15 AM ET
Willis Reed gives ringing Lin-dorsement

---
By Ian O'Connor
ESPNNewYork.com

NEW YORK -- Jeremy Lin's New York Knicks were playing Red Holzman basketball again, finding the open man, honoring the romantic ideals of the early Seventies and making the team's forever captain wonder if Lin would be the one.

The one to win the Knicks' first championship since 1973.

"I thought it was going to be Patrick Ewing," Willis Reed said. "But maybe it's going to be this kid."

The undrafted, unwanted economics major out of Harvard.

"Jeremy Lin reminds me so much of Walt Frazier," Reed said from his Louisiana home. The captain was watching the Knicks blow out the Sacramento Kings, watching Lin run a layup drill -- more like an alley-oop drill -- through the sorry Sacramento defense, and in the Knicks' No. 17 all Reed could see was the Knicks' old No. 10.

"It's how Jeremy controls the game," Reed said, "gets the ball to the right people for easy baskets, the lobs he's throwing to Tyson Chandler -- it all reminds me of Clyde. People said Dave DeBusschere was our missing piece, and he was, but to me the biggest thing we did was make Clyde a starter and give him the ball."

Lin was making more music with Clyde's ball Wednesday night, and after watching the kid deliver nine of his 13 assists in the first half, most of them contributing to a dunk contest, Reed couldn't help but dive into the deep end of the Linsanity pool.

"Jeremy has proven that he can bring a new vitality to a team," he said. "Before, the Knicks looked like a dead team to me, and Jeremy brought them back to life, made them play with spirit. You can tell his teammates enjoy playing with him."

Lin just didn't bring the Knicks back from the dead, he took the most dormant month on the sports calendar, February, and turned it into a magic show. It started on the eve of the Super Bowl, with Lin hours away from being cut by his third NBA team. He shredded Deron Williams, and a week later Lin was a more recognizable global figure than any of the New York Giants, their MVP included.

He dropped 38 on Kobe Bryant and the Los Angeles Lakers, outplayed Ricky Rubio in Minnesota, and beat the Toronto Raptors on the shot heard 'round the world. Lin watched the replay after the Knicks' plane landed and said, "And then I was done with it."

[+] Enlarge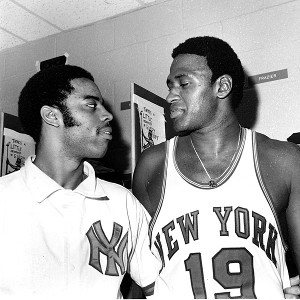 AP PhotoWhen Willis Reed, right, watches Jeremy Lin, he sees shades of former teammate Walt Frazier.
Lin had to get ready to blitz the Kings, to lead the Knicks to their seventh straight victory and an honest-to-God .500 record. But Lin didn't need to beat Sacramento with a relentless series of twisting drives and 3-point daggers. He killed them semi-softly with lobs and dishes to the likes of Landry Fields, Chandler and Amare Stoudemire, who must be wondering how this 23-year-old playmaker just dropped out of the sky.
"When you're getting guys involved like that," Fields said, "you're making everybody look like All-Stars."
And this is the best part: Lin wants to pass more and shoot less. He wants to be John Stockton, not World B. Free.
"As a point guard, my field-goal attempts have been really high," Lin said. "I don't think that's necessarily good. I think it's more my job to distribute and get people in rhythm, and hopefully when Melo comes back … my shots will go down and my assists will go up."
No, Carmelo Anthony won't have any problem playing with this kid. Lin called his turnover numbers "sky high right now" and criticized himself for occasionally losing focus.
Nobody in the Madison Square Garden crowd wanted to hear it, not after Lin gave them those 13 assists and 10 points and 5 rebounds in 26 minutes, and not after Mike D'Antoni's decision to rest him inspired the fans to chant "We want Lin," with the Knicks up 26 early in the fourth.
Lin had already given the people what they paid for. One longtime Knicks season-ticket holder from New Jersey, Andy Leeds, said he had fielded more requests for his seat on this night than he had for any regular-season game in 20 years. "And I couldn't give my tickets away for 10 of those years," Leeds said.
This for the ultimate NBA underdog, an Asian-American star out of the Ivy League and the D-League, too. Golden State fired him, and so did Houston. Glen Grunwald, interim GM, signed Lin after Iman Shumpert went down, and the Knicks executive usually forbidden from speaking publicly stopped in a hallway Wednesday night to offer a few words of appreciation.
[+] Enlarge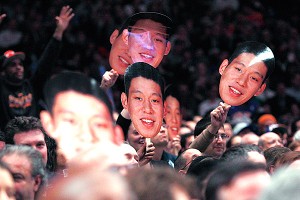 AP Photo/Frank Franklin IIMeanwhile, when opposing players try to watch the basket, Knicks fans make sure they see shades of Lin -- just about everywhere.
"I don't know what else can be said about Jeremy, other than he's a great kid and a great story," Grunwald said. "I'm just happy the team's winning. It looks like he's a really good player, and hopefully he can keep it going."
Suddenly Grunwald's boss, Jim Dolan, appeared out of nowhere to cut the conversation short. "Can I steal you away?" Dolan asked his man. "This is unauthorized anyway."
Dolan was smiling when he said it. He escorted Grunwald into a meeting room, presumably not to fine him.
Nobody fines the man who signed Jeremy Lin, a ballplayer good enough to catch President Obama's discriminating NBA eye.
"Wow, the president," Lin said. "There's nothing better than that."
Maybe, maybe not. Over the past week and change, Lin has been compared to everyone from Steve Nash to Tim Tebow to Fernando Valenzuela to Mark Fidrych to Kurt Warner to you name it, all for various reasons.
But when Willis Reed compared Lin to Walt Frazier, he did so within the context of winning basketball. Championship basketball. Nothing else.
As he walked away from his postgame news conference and toward the Garden exits, Lin was told what Reed had said of him.
"I'm careful not to ever compare myself to a legend," he said of Frazier. "Obviously that's nice to hear, but I want to stay away from that."
It was too late, the captain had spoken.
"Clyde made the game easy for us," Reed said, "and that's what Jeremy is doing right now for the Knicks. There wasn't enough ball movement before, and now Jeremy's made them fun to watch."
Fun and dangerous. Jeremy Lin was told that he wasn't good enough for a Division I scholarship, and that he wasn't good enough to be drafted out of Harvard.
So what's the point in telling the point guard he isn't good enough to win the Knicks' first title since Frazier and Reed won their second in a different life?
Ian O'Connor is the author of "The Captain: The Journey of Derek Jeter." "Sunday Morning With Ian O'Connor" can be heard every Sunday from 9 to 11 a.m. ET on ESPN New York 1050.
---