Sunday, February 19, 2012
Could clowns start invading the sports world?

---
How do you feel about clowns? If you are a fan of the New York Mets, there's no need to answer 'cause we already know. But what about everyone else? Do you love them, fear them or somehow love and fear them?
This is topical because the most athletic of all our reality shows, "Amazing Race," begins its 20th season Sunday night with a pair of married clowns among the competitors. As far as we know, they do not have to compete wearing those big clown shoes because that would be tough.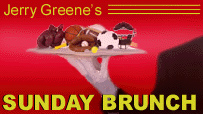 But their presence in "Amazing Race" caused us to wonder where else would we like to see clowns? Here are a few possibilities:
• The BCS boardroom.
• Mount Rushmore (Yes, I have a fifth President in mind but I'm not telling you which one.)
• John Daly's playing partner.
• The Sports Illustrated Swimsuit cover.
• Fighting a MMA match (just visualize that).
• Did I mention the Mets?
BTW, let's pray for the "Amazing Race" clowns, Dave and Cherie Gregg, because the title of Sunday night's first episode is "Tears of a Clown." That doesn't sound good.
---